 Every year, there's always a few people that start out quite low compared to what they should in MLB The Show's ratings system on Diamond Dynasty's dynamic cards. While some would like to look for the diamonds in the rough to try and find this year's Mookie Betts.
However, what most people don't pay attention to, is the high golds that could go Diamond much easier and quicker. This year's version of that is Justin Verlander.
Some might say that the Detroit Tigers' Justin Verlander seems fairly rated at an 88 overall. Fair enough, to each their own, however, what's most important, particularly for user gameplay, is their actual ratings in each particular category.
Verlander's stats are impressive when averaged out:
This year, Verlander starts out with 76 H/9, 77 K/9, 75 BB/9 and 60 HR/9 to go along with 69 control, 66 velocity and 65 break. Now consider that those stats are mostly based on the last three years, and that may still be fair.
‪Since 2008, Justin Verlander has had 159 or more K's every year except one. 2015. He's also given up an ERA better than 3.45 all but once, 2014, and issued more than 65 walks only once, 2013 (which doesn't count towards the ratings being 4 years ago). The last two years he's also allowed career lows in hits allowed totals and has allowed 25 or more home runs only once in his 11 year career, last year.
‪Now, that makes the ratings seem even more fair, given how he's had a bad year in every notable category. However, when you combine his three years, you get a very solid stat-line. Over the last three years combined, he averages a strikeout per inning, a quarter of a walk per inning (two walks per eight innings), and seven tenths of a homer per game.
‪Also, he failed to hit 95 MPH in only 2/34 starts last year, his swinging strike rate was a whopping 12%, indicating break. His slider was the fourth fastest in the league last year at 88 MPH, leading .647 OPS, tenth best in the MLB against sliders. He still also features an elite 12-6 curve, that was good enough for sixth-best in the majors OPS at .499.
Also of note, last year his strikeout rate was a career high 28%, and he continues to show no sign of slowing down as he ages. While he may carry some health risks, particularly as he's 34 years old, at least heading into the 2017 season, Justin Verlander should be a solid fantasy and MLB 17 The Show investment option.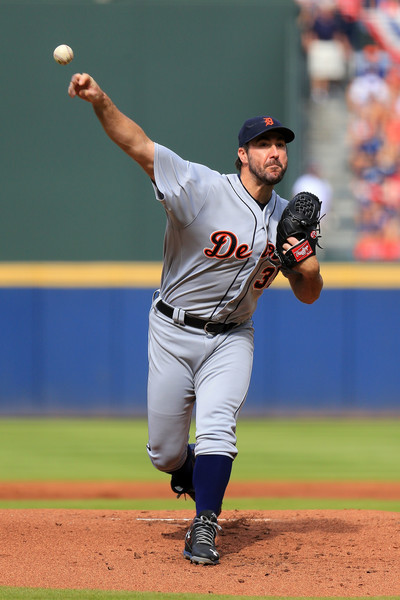 Justin Verlander may also be a legitimate fantasy ace as well:
Verlander had a year that surprised some people last year, but this year he may not be as much of a surprise. Is he really worth the potentially increased price some might pay to get him on their fantasy teams?
If he can have a similar year to what he averages the last three years, yes. While Verlander may not be as reliable as Clayton Kershaw for example, he definitely deserves the chance to once again be a top ten fantasy option at the SP spot. There will be a few names that may go before him in some leagues (Chris Sale) who have the potential for a down year.
Verlander may be in that group again this year, but he's also been in that group almost every year since the Tigers hired Brad Ausmus to replace Jim Leyland. An owner of Verlander should feel comfortable with him as their team's ace going into the 2017 season, and thrilled if he's not.