 The New York Mets improved their MLB-best Opening Day record to 36-20 with a 6-0 shutout of the Atlanta Braves. New York scored all of their runs in the bottom of the seventh inning of off four Braves relievers.
Noah Syndergaard pitched six solid innings, giving up five hits while striking out seven before leaving the game with a blister on his middle finger. The Mets recorded their first Opening Day shutout since 2012 when they also shut out the Braves.
Teheran, Syndergaard dominate
Syndergaard's mound opponent, Julio Teheran also turned in a performance, tossing six shutout innings of his own, running his consecutive scoreless innings mark against the Mets to 35.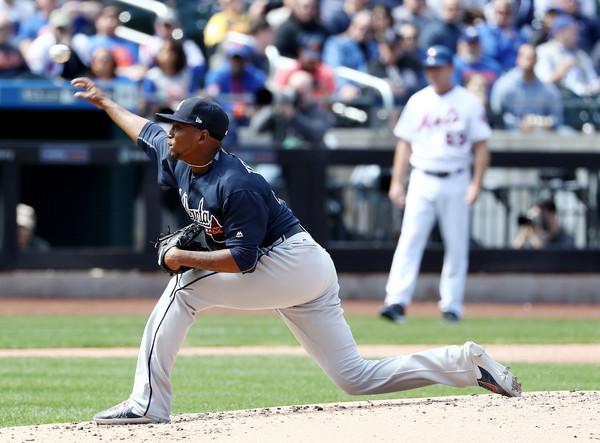 The Mets had the first chance of the game in the bottom of the first when Asdrubal Cabrera singled, his first of three hits on the day, and stole second, but Yoenis Cespedes and Curtis Granderson struck out swinging.
Syndergaard was faced with his first jam when Freddie Freeman tripled, but like Teheran in the first, Syndergaard whiffed Matt Kemp and Nick Markakis.
In the bottom of the fourth, Granderson reached on an infield single and advanced to second on a wild pitch and Jay Bruce walked, but Lucas Duda struck out and Teheran induced Rene Rivera to ground into an inning-ending fielders choice.
Back-to-back one out singles by Dansby Swanson and Freeman saw the Braves with another threat, but Kemp struck out once again and Markakis lined out to left.
Mets take advantage of Braves' leaky bullpen
After Teheran exited the game in the bottom of the seventh, Ian Krol came out of the bullpen and promptly gave up an infield single to Rene Rivera. Travis d'Arnaud pinch ran for Rivera and was forced out at second on a fielder's choice off the bat of pinch-hitter Wilmer Flores.
Flores stole second, Jose Reyes walked and Cabrera stepped up to deliver the decisive hit of the game, a single to center field. Initially called out at the plate, but after a challenge by Mets manager Terry Collins, the call was overturned and New York had a 1-0 lead.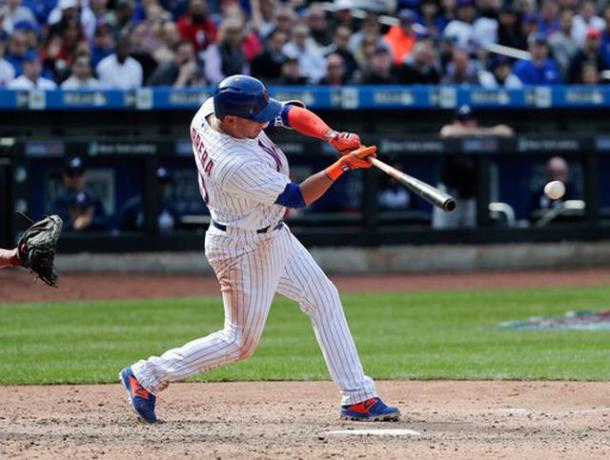 Chaz Roe relieved Krol, faced one batter and walked Cespedes to load the bases before being relieved by Eric O'Flaherty. Reyes made it 2-0 with a sacrifice fly followed by back-to-back walks to Neil Walker and Jay Bruce, the latter forcing in another run to bring the Mets lead to 3-0.
Duda then cleared the bases with a double to deep left-center to put the game out of reach at 6-0. Hansel Robles pitched a one-two-three seventh to pick up the win before Fernando Salas and Robert Gsellman finished up the game.
Up next
After an off day on Tuesday, the second game of the series will be played Wednesday night. Former Met Bartolo Colon takes the hill against Jacob DeGrom with first pitch scheduled for 7:10 PM EST.