 Following the Opening Day loss on Sunday, the San Francisco Giants evened up the opening series with an 8-4 victory over the Arizona Diamondbacks Tuesday evening at Chase Field.
At the plate, Gorkys Hernandez gave the Giants plenty of offense, going 2-5 with a double, brining in four runs batted in, while scoring one. In Johnny Cueto's first outing of the season, he only went five innings but proved effective allowing four runs on six hits, striking out five and walked two.
Giants get D-Backs pitching early
It was a rough night for Patrick Corbin and the Arizona bullpen. In his four innings of work, Corbin fell behind majority of the batters that he would face. After giving up a two-run single to Hernandez in the second and a sac fly to Chris Marrero in the third, the Giants took a 3-0 lead.
With Randall Delgado replacing Corbin in the fifth, the Giants bats woke up once again. The Giants batted through the lineup one time, adding five more runs in the process. Archie Bradley came in to pitch for Delgado, finally putting an end to the inning.
Bradley pitched his way into the eighth inning. In his three and a third innings pitched, he gave up just three hits, striking out seven, allowing no runs.
"We liked the matches. We like the idea that Randell [Delgado] was going to be able to walk the ball around different types of hitters. We just didn't play a good inning," D-Backs manager Torey Lovullo told the media when asked about the fifth inning.
D-Backs try to fight back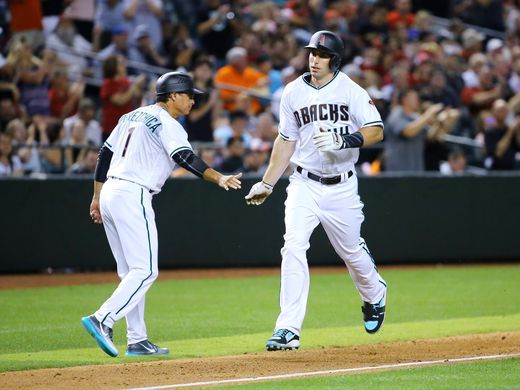 For the second game in a row, Arizona once again found themselves trailing early. Paul Goldschmidt led off the bottom of the fourth inning with a solo shot to left center field.
Four batters later, and RBI single from Chris Owings brought the Diamondbacks within a run.
In the fifth, Jake Lamb crushed a two run home run to bring the deficit to four.
With Cueto out of the game, the Diamondbacks registered just one hit against four combined pitchers.
Other notes
The Diamondbacks went1-7 with runners in scoring position, leaving seven runners on the bases.
Five Giants hitters tallied five at-bats or more. The Giants out hit the D-back 15 hit to seven.
David Peralta has yet to get going for the Diamondbacks, going hitless his first two games of the season. Yasmany Tomás is also hitless in the first two games.
Up Next
These two teams will duel once more Wednesday for the third game of the four-game series.
Taijuan Walker will make his season debut for the Diamondbacks. Walker went 8-11 with a 4.22 ERA last season as a member of the Seattle Mariners.
For the Giants, they will send Matt Moore to the mound. In two starts against Arizona last season, Moore went on to be the winning pitcher in each matchup.