The Arizona Diamondbacks are off to the best start in franchise history. They owned 6-1 record before for the game on Monday and were riding a five-game win streak.
That all came to an end Monday afternoon following the 4-1 loss to the San Francisco Giants.
Matt Moore earned the victory for the Giants, going eight innings allowing three hits and struck out five. The lone Diamondback run was a home run off the bat of Yasmany Tomas.
Buster Posey exits early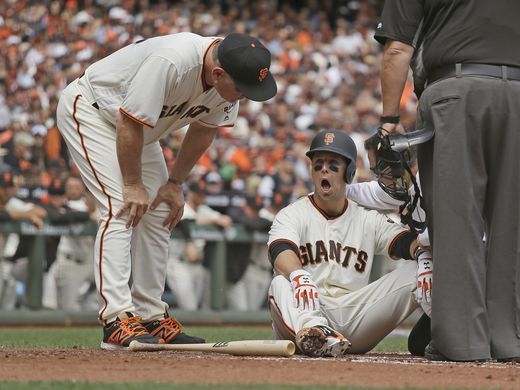 Giants catcher Buster Posey was struck in the head following a 0-1 fastball form Diamondbacks starter Taijuan Walker.
Giants athletic trainer Dave Groeschner and manager Bruce Bochy sprinted towards the home plate immediately. Posey got up on his own power but exited the game. Nick Hundley came in to replace Posey.
"It's a scary moment, dangerous moment," Bochy said. "It's one of the worst sounds you can hear in baseball, the ball hitting the helmet. It's a scary moment. There's been a lot of damage to hitters hit in the head."
Posey will be re-evaluated Tuesday, in all likelihood missing the Giants next game.
D-Backs could not muster any offense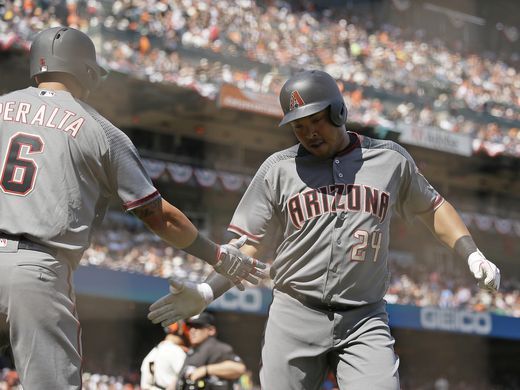 A Jake Lamb single in the second, Yasmany Tomas home run in the fifth, Jeff Mathis double in the fifth, and a Chris Owings double in the ninth was the only offense for the D-Backs.
A.J. Pollock, Paul Goldschmidt, Brandon Drury went hitless in the game. Last week in Arizona, these three were a problem for the Giants, with Goldschmidt and Pollock each hitting home runs off Giants pitching.
Rough start for Tiajuan Walker
In his second his second start of the season, Tiajuan Walker allowed three runs on five hits, walking four and struck out two in five innings of work.
With the bases loaded in the bottom of the fourth, Matt Moore tapped a dribbler that was fielded by Walker. Walker threw the ball widely past home, enabling Brandon Crawford to score. Jeff Mathis fielded the ball behind the plate and fire the ball past Walker at the plate, allowing Joe Panik to score. Goldschmidt retrieved the ball and threw it home immediately. Jarrett Parker slid under the tag giving the Giants a three-run lead.
Up Next
The Diamondbacks will send Robbie Ray to the mound as the D-backs look to even the series against Jeff Samardzjia and the Giants.