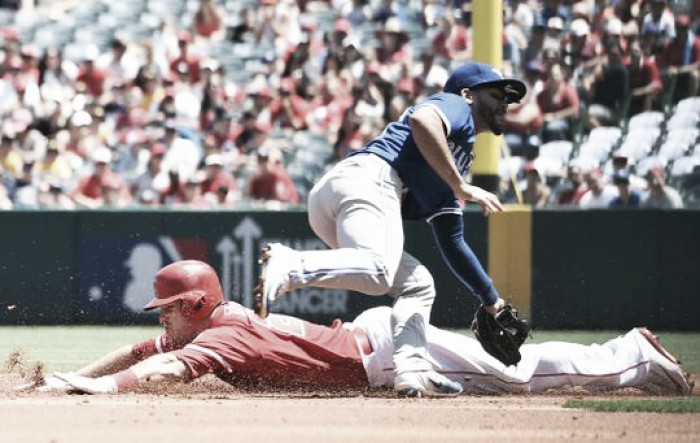 BALL GAME!!! The Angels win 2-1 after Bud Norris gets Travis to ground out into a double play!
Top 9, 1 out: Coghlan couldn't hold his swing up, strikes out. Not a good at bat after two failed bunt attempts earlier.
Top 9, 0 out: Norris loses Martin to bring the tying run to second.
Top 9, 0 out: Smoak gets the inning started with a single and Darwin Barney comes in to pinch run.
Bottom 8, 3 out: Simmons lines out to Smoak to bring up the last three outs of the game.
Bottom 8, 2 out: Jefry Marte hits a ball to the warning track, but Pillar is there to put him away.
Bottom 8, 1 out: Pujols hits a soft ground ball to third.
Top 8, 3 out: Hernandez picks off Carrera to end the inning.
Top 8, 2 out: Morales flies out to Maybin.
David Hernandez comes in to make his Angels debut on the mound.
Top 8, 1 out: Petit wins the battle with Bautista who pops up to the catcher Maldonado.
Top 8, 0 out: Carrera singles off Petit to begin the eighth.
Bottom 7, 3 out: Smith makes quick work of his former team by grounding out Mike Trout easily.
Bottom 7, 2 out: Joe Smith then strikes out former teammate Kole Calhoun.
Bottom 7, 1 out: Escobar grounds out to the 2B to start the Angels half of the 7th.
Top 7, 3 out: Pillar ends the frame with a flyout to Maybin, still 2-1 Angels.
Top 7, 2 out: Petit gets Goins to pop out and now there are two down in the inning.
Top 7, 1 out: Or not, they're sending Coghlan back to first because of catcher interference. And Travis is out as well.
Top 7, 0 out: With Yusmeiro Petit now in the game, Coghlan gets his first hit of the game with a single to Calhoun before stealing second base.
Bottom 6, Top 3: Leone does his job out of the bullpen and gets Maldonado to strike out to end the inning despite having the bases loaded.
Bottom 6, Top 2: Leone fools Espinosa badly and enduces a strike out.
Dominic Leone comes in to pitch for the Blue Jays.
Bottom 6, Top 1: The Blue Jays use the intentional walk signal to load the bases with Maybin batting which ends Liriano's night on the mound.
Bottom 6, Top 1: Simmons puts two runners in scoring position with his double to left.
Bottom 6, Top 1: Jefry Marte is the Angels' first base runner of the inning after drawing a walk.
Bottom 6, Top 1: Albert Pujols breaks his bat but grounds out to the third baseman to start the frame.
Blue Jays manager John Gibbons was ejected in the middle of the inning for the second time this season.
Top 6, 3 out: Russell Martin starts to walk to first base before the umpire rings him up to end the inning, and probably Chavez' night.
Top 6, 2 out: Smoak reaches base for the first time with a walk to extend the Jays' inning.
Top 6, 2 out: Morales continues his bad night at the plate with a strike out -- Chavez' sixth.
Top 6, 1 out: Jose Baustista gets retired for the first time tonight with a pop out to Calhoun in right.
Bottom 5, 3 out: Liriano prevents any more damage by striking out the current AL MVP, Mike Trout.
Bottom 5, 2 out: Kole Calhoun can't bring in Espinosa from third after his fly ball was hit too shallow for a tag.
The call on the play stands! Not enough evidence to overturn the play.
But the play is going to be under review, so hold on tight.
Bottom 5, 1 out: The Angels take the lead after the speedy Maybin beats the throw home from Travis. Runners on 1st and 3rd now.
Bottom 5, 1 out: Liriano struggling a bit this inning to find the zone, has a 2-0 count on Escobar.
Bottom 5, 1 out: Maldonado lays down the perfect bunt to move both base runners over 90 feet.
Bottom 5, 0 out: The Angels' first two batters of the inning reach after Espinosa draws a walk.
Bottom 5, 0 out: Maybin gets into scoring position with a stolen base.
Bottom 5, 0 out: Maybin reaches base for the first time with a single to shallow left.
Top 5, 3 out: Despite that home run from Pillar in the fourth, Chavez is quiting Toronto's bats, and gets Carrera to quietly ground out back to him to end the inning.
Top 5, 2 out: The Angels turn their first double play of the night by getting Pillar to ground out to Simmons at short to start the play.
Top 5, 0 out: Goins finds the hole up the middle to start the top of the fifth.
Bottom 4, 3 out: Liriano only gives up one run in the fourth as he gets it with his fourth ground out of the night.
Bottom 4, 2 out: Jefry Marte grounds one back to Liriano and the Blue Jays turn their second double play of the game.
Bottom 4, 0 out: Albert Pujols comes in clutch and singles home Trout to tie the game at 1.
Bottom 4, 0 out: Bautista bobbles a ball in the right field corner which allows Mike Trout to scamper to third base.
Top 4, 3 out: Mike Trout retires the last two batters with balls hit straight to him, this one off the bat of Travis.
Top 4, 2 out: This one stays in the yard as Coghlan flies out to Mike Trout.
Top 4, 1 out: Russell Martin breaks the scoring open with a home run to straight away center field.
Top 4, 1 out: Chavez gets Smoak to strike out for the second time tonight.
Bottom 3, 3 out: Calhoun ends the inning by hitting into the 2B shift.
Bottom 3, 2 out: The ball glances off Coghlan's glove, but it falls to Goins who gets Maldonado out at second on the force out.
Bottom 3, 1 out: Maldonado reaches base the not fun way -- getting hit on the backside by a Liriano pitch.
Bottom 3, 1 out: Danny Espinosa starts the bottom half of the third with an easy ground out to the first baseman, Smoak.
Top 3, 3 out: Chavez, however, gets out the jam by getting Morales to ground out to Marte at first.
Top 3, 2 out: Toronto has something brewing here with two outs, as Bautista draws his second walk of the night.
Top 3, 2 out: Carrera lines a single to Calhoun in right to keep the inning going.
Top 3, 2 out: Pillar strikes out for Chavez' fourth K of the game.
Top 3, 1 out: Ryan Goins leads off the inning with a ground out to second.
Bottom 2, 3 out: Just like that, Toronto turn two and the inning is over.
Bottom 2, 1 out: Liriano loses his first batter of the night by walking Andrelton Simmons.
Bottom 2, 1 out: Ezequiel Carrera makes a nice running catch to rob Jefry Marte of a hit.
Top 2, 3 out: Devon Travis ends the inning just as the Jays did in the first, by popping out to left field.
Top 2, 2 out: Chavez gets his third K already striking out Chris Coghlan.
Top 2, 1 out: The Blue Jays' first hit of the night comes off the bat of Russell Martin.
Top 2, 1 out: Justin Smoak strikes out swinning to begin the second.
Bottom 1, 3 out: The inning comes to an end when Albert Pujols grounds out to Goins.
Bottom 1, 2 out: Liriano gets Mike Trout to fly out to Bautista right on the right field foul line.
Bottom 1, 1 out: Kole Calhoun gets tonight's first hit of the game with a single.
Bottom 1, 1 out: Francisco Liriano strikes out Yunel Escobar.
Top 1, 3 out: Kendrys Morales promptly ends the inning on the next pitch as he pops up to Cameron Maybin in left.
Top 1, 2 out: Jose Bautista keeps the inning alive for Toronto as he too reaches base with a walk, Chavez' second of the inning.
Top 1, 2 out: Chavez proceeds to strike out Ezequiel Carrera.
Top 1, 1 out: Pillas is then thrown out with a strong toss to second from Maldonado.
Top 1, 0 out: The Blue Jays get the leadoff hitter, Kevin Pillar on base as he works a walk.
Top 1, 0 out: Jess Chavez throws a first pitch ball and we are underway!
Toronto Blue Jays starting lineup: Pillar, Carrera, Bautista, Morales, Smoak, martin, Coghlan, Travis, Goins -- Liriano (P)
Los Angeles Angels starting lineup: Escobar, Calhoun, Trout, Pujols, Marte, Simmons, Maybin, Espinosa, Maldonado -- Chavez (P)
Come back later when we have your starting lineups!
Despite a poor start offensively for Jose Bautista is still the Canadian team's main man. Bautista is hitting a measly .132 -- good enough for second to last on the team. In ten at bats against the Angels, Bautista has accrued only three hits and has struck out five times. Thankfully for him, the rest of the team is picking up the offensive slack, but if Bautista can get going, the Blue Jays can be a dangerous team again.
Mike Trout is always going to be the spark plug for the Angels no matter what their record is. The two-time AL MVP is leading his ball club in home runs (5), doubles (7), hits (24), batting average (.340), is tied in RBIs (14), stolen bases (3), and a few more offensive categories. It's safe to say that he is on his way to another MVP-type season. But if Liriano can shut down Trout, the Blue Jays will have a big shot at winning the series.
Both of Monday's starting pitchers are looking to get their season back on track. Toronto is going to send Francisco Liriano (1-1 5.11 ERA). In the first game of the season, Liriano could not even record two outs in a wild offensive showing. During that start against the Tampa Bay Rays, Liriano gave up three hits, four walks and five runs -- all of them earned. His command, though, has gotten better over the course of his last two starts, having only given up two runs combined.
Former Blue Jay, Jesse Chavez will go toe-to-toe with the veteran pitcher, Francisco Liriano. Chavez has already appeared in this series, coming on as a reliever in the extra inning game Saturday night. The 33-year-old came into the 13th inning and gave up a three run home run to Jose Bautista, which eventually won the game.
The Blue Jays, on the other hand, started the season slowly. Toronto won only three of their first 15 games of the season, plummeting them to the bottom of the AL East. And even after picking up two wins so far in Anaheim, they are still 7.5 games back of the Baltimore Orioles. But in Southern California, the Jays seem to be finding their rhythm on offense. In the first three games, Toronto has scored 18 runs.
Currently, the Angels are sitting fourth place in the American League West with an 8-12 record, after the season strongly. Luckily though, the season is still young, and are only 3.5 games back of the division leading Houston Astros. LAA will look to split the series with the Blue Jays after dropping the Friday and Sunday game.
Hello everyone! Welcome to VAVEL USA's live coverage of the Los Angeles Angels vs Toronto Blue Jays. My name is Kyle Sennikoff and I'll be your host for this game. We will provide you with pre-game analysis, line up announcements, and news as it happens here on VAVEL. The first pitch, at Angels Stadium, is slated for 10:07 PM EST.