The New York Yankees (22-12) took the opening game of a doubleheader 11-6 over the Houston Astros (25-12) with a six-run seventh inning. Houston (26-12) bounced back to take the nightcap over New York (22-13) by a 10-7 score.
The day brought the news of Yankees closer Aroldis Chapman going on the disabled list with shoulder inflammation. Early prognosis has the fireballing lefty not resuming any baseball activities for at least four weeks.
The night saw former Yankees shortstop Derek Jeter honored in a pregame ceremony with his number retired into New York's famed Monument Park, the last of the single digit numbers ever to be worn by a Yankees player.
Back and forth contest throughout first game
The Yankees drew first blood with a run in the bottom of the first inning on a Matt Holliday groundout, scoring Brett Gardner, who had doubled off of Astros starter Mike Fiers to lead off the inning.
Houston would take the lead in the third with five singles, three of those coming consecutively by Carlos Correa, Evan Gattis and Marwin Gonzalez. Yuli Gurriel would get the last of those five singles, chasing New York starter Luis Severino from the game.
The Yankees re-took the lead in the bottom of the fourth. Holliday walked, took second on a wild pitch by Fiers and scored when Starlin Castro tied the game with his seventh home run of the season. The very next batter, Aaron Judge belted his MLB-leading 14th long ball of the season to give the Yankees a 4-3 edge.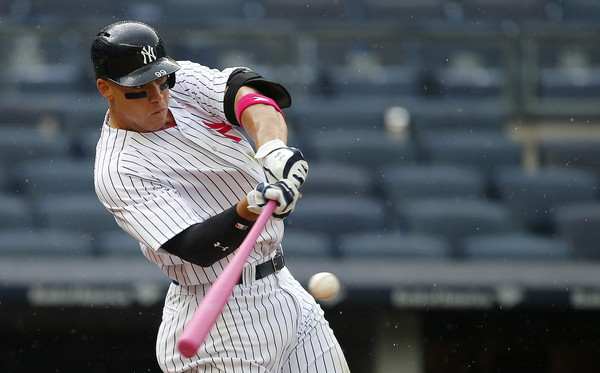 The Astros touched up reliever Adam Warren for three runs on an RBI single by Gattis, a fielder's choice by Gonzalez and a sacrifice fly by Gurriel to reclaim the lead at 6-4.
Will Harris was on to pitch for Houston and with one out, Brett Gardner singled, Jacoby Ellsbury doubled and Holliday reached on an infield single to pull the Yankees within 6-5. Chris Devenski relieved Harris and gave up the game-tying double to Castro.
After intentionally walking Judge and striking out Didi Gregorius, Chase Headley cleared the bases with a triple to give New York a 9-6 lead. Ex-Astro Chris Carter capped the scoring with an RBI double to cap the scoring for the inning. Gardner's seventh home run of the season in the bottom of the eighth closed out the scoring.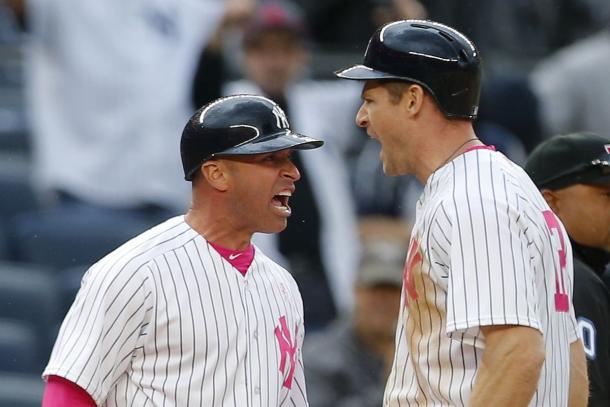 Astros pound Tanaka in second game, earn split after Jeter ceremony
With his wife, parents and sister on hand as well many of his former teammates, former manager Joe Torre and current manager Joe Girardi in attendance for the festivities, Jeter's #2 jersey was immortalized in famed Monument Park. Jeter said the following:
First of all, I just want to say happy Mother's Day to all the mothers out there, especially my mom, my grandmother, my sister and my wife, who is very soon going to be a mother. So happy Mother's Day.
What do you say on a day like this? You know, I'll start with thank you to George Steinbrenner and the Steinbrenner family for giving me the opportunity to play my entire career for the only team I ever wanted to play for.
I want to thank my managers, coaches, teammates, support staff, those of you that are here today and those of you who aren't for being with me along that entire journey.
I want to thank my family for their love, support, honesty and more importantly their presence at everything I did both on and off the field.
And the fans — wow — I want to thank you guys for pushing me, for challenging me, making me accountable, more importantly for embracing me since day one.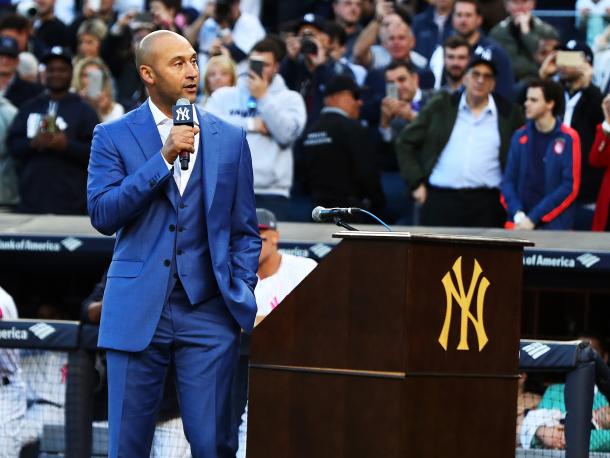 You know, I was asked recently by someone, they said if you could trade places with one person, who would it be? And I say this very humbly, that there isn't a person or player I would trade places with that's playing now or ever. And the reason why I say that is because I got a chance to play for a first-class organization and in front of the greatest fans in the history of sports.
You know, you play here in New York for 20 years, you know I learned that time flies, memories fade, but family is forever, and I'll be eternally grateful to be a part of the Yankee family. So I can't thank you guys enough. Thank you very much".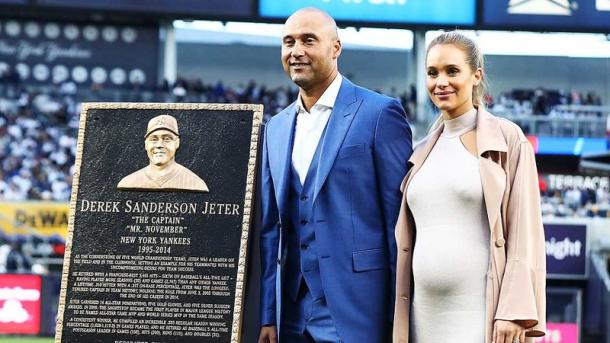 Once the nightcap got underway, George Springer and Josh Reddick hit back-to-back home runs off of Yankees ace Masahiro Tanaka to lead off the game. When the dust cleared, the Astros had a 6-0 lead after Alex Bregman's grand slam.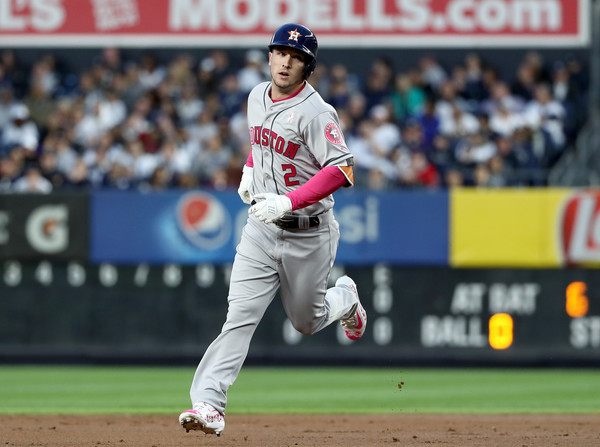 Springer would homer again in the second inning and ex-Yankee Carlos Beltran drove in Correa with an RBI double to make it 8-0 Houston. Tanaka was pulled after one of his worst outings as a Yankee.
Correa's fourth inning sacrifice fly extended the Astros lead to 9-0 and starter Charlie Morton held the Yankees scoreless through four. New York's offense roared to life in the fifth with an RBI single by Gardner and a three-run shot by Holliday and the Houston lead was now 9-4.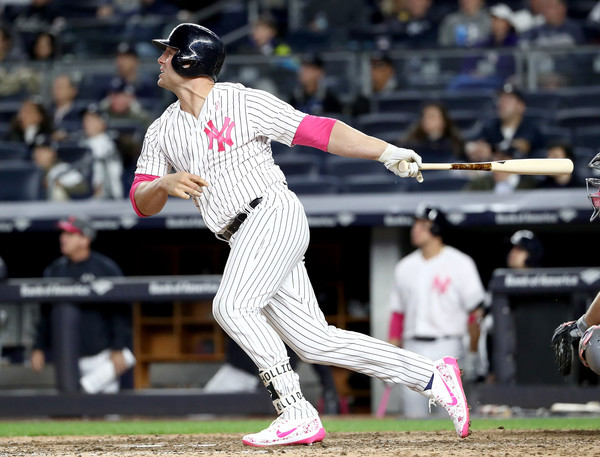 Both bullpens settled down until the ninth inning. Gary Sanchez' passed ball allowed Correa to score Houston's tenth run of the game and in the bottom of the ninth, Ronald Torreyes scored on a wild pitch by Dayan Diaz, Castro and Judge singled in runs to make it 10-7, but Diaz induced a game-ending groundout right back to him by Aaron Hicks to conclude an eventful day in the Bronx.