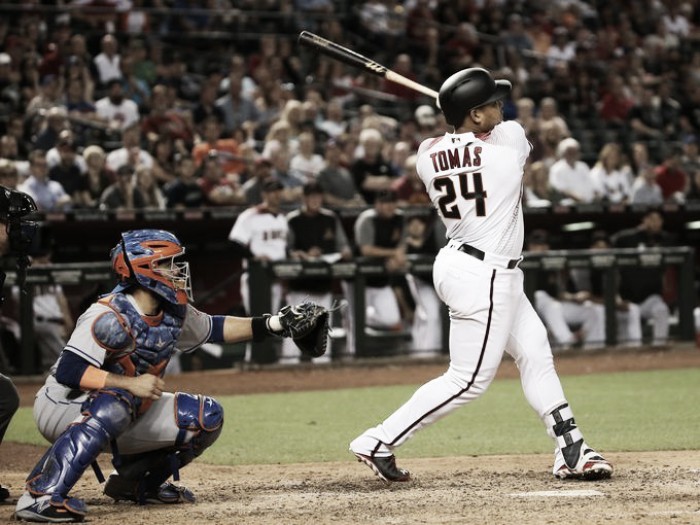 The Arizona Diamondbacks ended their two-game losing skid with win over the New York Mets Monday night at Chase Field. The Mets losing streak continues, now dropping their fifth game in a row. Four home runs off D-Backs bats pushed Arizona towards victory.
Mets lead early, D-backs recover
In the second inning, the Mets struck first when Rene Rivera singled in Jose Reyes to give the Mets the 1-0 lead.
Zack Wheeler delivered a strong performance for the Mets. The only mistake came in the sixth inning, with Jake Lamb taking Wheeler deep to tie the game at one. Wheeler tossed six innings, struck out six and walked one.
D-backs take over in the eight
The game remained tied until the bottom of the eighth inning. With two and no outs, Yasmany Tomas hit a three-run homerun to give the Diamondbacks a 4-1 lead. With one on and one out, Jeff Mathis also hit a home run which added to the D-backs lead.
After Josh Edgin relieved Hansel Robles for the Mets, Daniel Descalso homered to cap off the six-run inning for Arizona.
"We'd been a little dormant with our offense," Arizona manager Torey Lovullo said after the game. "We hadn't seen a big inning like that in several games, so it was nice to kind of get off the ground a little bit and watch the guys have a little fun and get after it."
Silvino Brancho came into pitch in the ninth for Arizona. New York tried to set up a comeback victory scoring three runs in the ninth. Brancho settled down and close out the game.
Notes
Mets: Asdrubal Cabrera was not in the lineup for New York on Monday night. Cabrera could be heading for the disabled list with a left thumb injury.
Diamondbacks: It is becoming more evident for the Diamondbacks that Zack Godley is the pitcher to replace injured Shelby Miller in the rotation. Godley went six and two thirds innings, allowing one run on one hit, striking out seven and walked five.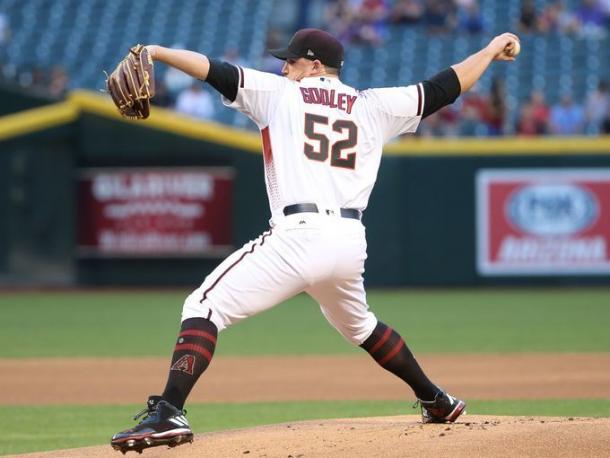 Outfielder A.J. Pollock was placed on the 10-day DL with a right groin strain. Pollock was hurt in the 10th inning of Sunday's loss to the Pittsburgh Pirates. Arizona would select the contract of fellow outfielder Reymond Fuentes from Triple-A Reno. David Peralta was out of the lineup after leaving Sunday's game with right glute tightness.
Up Next
Zack Greinke will take the mound for the Diamondbacks as they go for the second win of the series against Tommy Milone and the New York Mets Tuesday night.
The last time Greinke was on the mound he took a no-hit bid into the eighth inning in the D-Backs victory against Pittsburgh.