 One of the hottest starts to the 2017 Major League Baseball season was abruptly halted last Wednesday night in Atlanta.
The Atlanta Braves' first baseman Freddie Freeman will be out for approximately 10 weeks after breaking a bone in his left wrist during the team's 8-4 victory over the Toronto Blue Jays. After conducting multiple scans of the wrist, the team placed Freeman on the 10-day disabled list on May 18.
The injury occurred in the fifth inning while Freeman was batting. Blue Jays relief pitcher Aaron Loup threw a fastball inside that struck Freeman's left wrist as he checked his swing. The pitch was initially ruled as a ball by the home plate umpire. But after video replay and an Atlanta challenge, it was determined to be a "hit by pitch".
Freeman left the game immediately after sustaining the injury.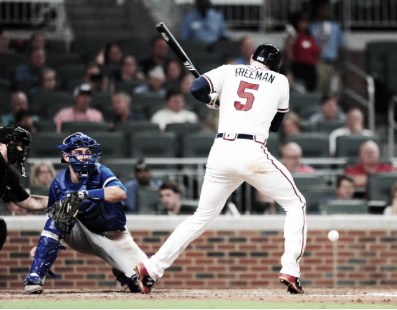 Major Loss of Offense
While the injury is categorized as a nondisplaced fracture and the Braves' franchise player will attempt to heal without undergoing surgery, the loss of Freeman had an immediate impact on the Braves offense.
Before being injured, Freeman was on pace for perhaps his best season of his seven-year career. The first baseman was leading Atlanta in almost all major batting categories, including hits, home runs, RBIs, and on-base percentage. In addition to that, Freeman was leading the National League and tied for the lead in all of the MLB for home runs (14). He was also seventh in the National League in batting average and tied for first in wins above replacement (2.5).
It will be very difficult for Atlanta's current roster to replace Freeman's offensive and defensive production, considering his all-star capabilities on both sides of the ball. He was the team's only true first baseman at the time of his injury and the rest of the team has struggled to find consistent offense so far this season.
There are, however, some players that will be asked to step up in his absence. The burden will likely fall heavier upon outfielder Matt Kemp, who is second on the team behind Freeman in RBIs and home runs. It will be important for regular players like center fielder Ender Inciarte, right fielder Nick Markakis and rookie shortstop Dansby Swanson to pick up some offensive slack too. Swanson began the season in a bit of a slump, but he is beginning to work out of it following a productive series against the Blue Jays.
Freeman will be dearly missed as the Braves to try and hang tough in the division, but if the other players find some offensive consistency and finish out in close games, they have a chance to battle back to a .500 record until their star comes back.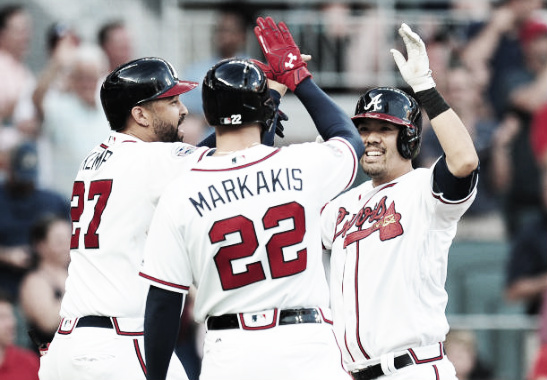 Roster Implications for Atlanta
Following confirmation that Freeman's wrist was fractured, the Braves made some roster moves to fill his absence. Having already sent third baseman Adonis Garcia to the disabled list earlier in the week with an Achilles injury, Atlanta's infield will likely be a patchwork of players for the immediate future.
Utility infielder Jace Peterson started at first base during Thursday's game against Toronto and was also filling in a third base during Wednesday's game when Freeman was injured. Infielders Johan Camargo and Rio Ruiz were both recalled from Triple-A and are expected to split time playing first and third base. It has also been reported that the Braves have signed veteran first baseman and free agent James Loney to a minor league deal.
It would not be out of general manager John Coppolella's range to swing a trade for a first baseman to try and fill Freeman's spot until he returns. Considering Freeman's position as the franchise player, though, it would likely be a veteran who could immediately step into the position and then provide infield depth once Freeman is cleared to play.
The Atlanta Braves (17-22) will continue hosting the division-leading Washington Nationals over the weekend, after winning 7-4 on Friday night.