 The Atlanta Braves (26-32) were expected to have a tough 2017 season before their first pitch was even thrown. Losing their star first baseman, Freddie Freeman, after only 37 games certainly did not help their outlook for contention, or even competitiveness, in the NL East.
Atlanta, however, have not completely fallen apart following Freeman's broken wrist. The team does hold a losing record in his absence (10-11) and are still six games back from a .500 record, but they are also currently hold second place in their division and have still showed flashes of offensive potential at times.
This is largely thanks to a crucial trade made by management to acquire first baseman Matt Adams from the St. Louis Cardinals on May 20. Occurring just three days after Freeman's injury, Adams' addition was one of several other signings Atlanta made to try and find a short-term replacement at first base. Since then, Adams is the only acquisition from that weekend that remains on the Braves' roster, and he has given the team valuable production as they fight to get back to a winning record.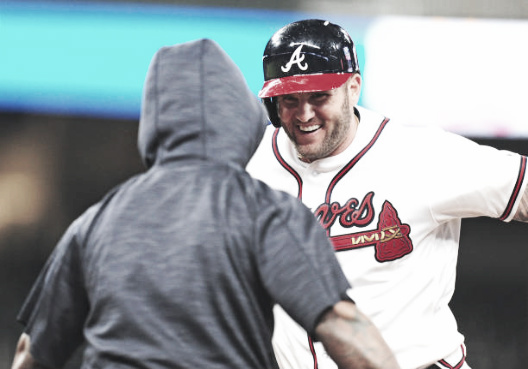 Important for Offense
Following Freeman's injury, the Braves had very few options on their roster to play at first base. The leading candidates at the time were utility infielders Jace Peterson and Johan Carmago, neither of which seemed ideal for Atlanta either offensively or defensively. Peterson and Carmago have natural positions elsewhere in the infield (second and third base, respectively) and neither have stellar offensive stats in the majors. Carmago has a .250 batting average and has struck out in over a quarter of his at-bats, while Peterson has struggled with a .194 batting average and a mere .293 on-base percentage.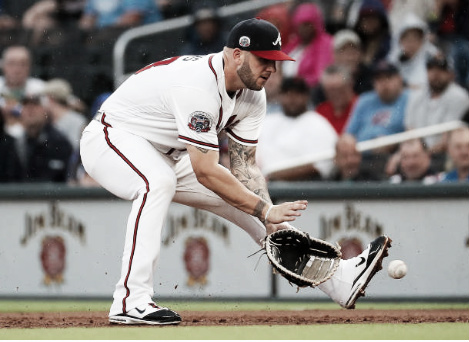 The trade for Adams was clearly a move that made much more sense. Though he had early offensive struggles for St. Louis earlier in the season, Adams has had plenty of solid offensive production for the Cardinals in the past. Considering that he was receiving less playing time than in previous seasons (due to St. Louis trying to transition him to an outfield role), it made sense for the Braves to target the 28 year-old as a natural first baseman with some offensive firepower.
Since his arrival, Adams has certainly been able to give the Atlanta roster an offensive jolt. While the five-year veteran has not been able to match Freeman's league-leading home run pace and slugging percentages, he is seeing improved power stats compared to his performances in St. Louis. Adams hit one home run for the Cardinals in 2017 through 31 games, but he's already hit six homers in the 17 he's played with the Braves. He has also received a lot more plate appearances than in St. Louis (71 to 48, respectively) and is almost averaging an RBI per game.
In comparison to the rest of the team, he is already tied for third for the most home runs and is second only to Freddie Freeman in slugging percentage. Adams has also reached some personal milestones with his new team, like recording his first career grand slam and even hitting a triple during his fourth game with the Braves, something he had not achieved since the 2014 season. His offensive production has generally reflected how much Atlanta's roster feeds off a hard-hitting first baseman. In the eight games that Adams has reached base twice or more, Atlanta is 7-1. When he reaches only once or not at all, the team has gone 1-8.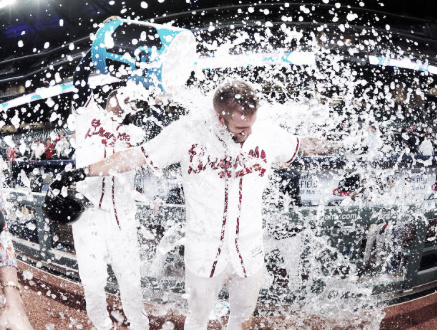 Although no one can truly fill the shoes of the Braves' franchise player, Adams has done well in his short time with Atlanta. Through a combination of a change in scenery, a home ballpark friendly to left-handed hitters, and consistent playing time, his production has returned in full force and he is helping the Braves from falling into the bottom third of the MLB.
Can the Braves Recover?
Despite this, it seems unlikely that Atlanta has much chance at competing for a spot in the postseason. With how the rest of the National League is playing right now, it is difficult to find a way for the Braves to sneak into playoff contention. The Washington Nationals are running away with the NL East and the NL West has three teams competing for its division title and the subsequent two wild card spots.
The most likely scenario seems that the Braves will continue to be a sub-.500 team in Freeman's absence and his return towards the end of the season will not be enough to help Atlanta claw into a wildcard spot. For that to happen, Freeman would need to continue his incredible offensive tear from earlier in the season, the Nationals or the NL West teams would need to falter, and the rest of the NL East would need to remain out of contention. Worst-case scenario for Atlanta is if the team plays so poorly down the homestretch that they decide not to activate Freeman and plummet to the basement of the majors for their third straight season.
After splitting their most recent series with the Philadelphia Phillies, the Braves are now continuing their string of divisional matchups, and will play the New York Mets on June 10 and June 11 before traveling to Washington to play the Nationals from June 12-June 14.