 The Atlanta Braves (48-53) sent rookie shortstop Dansby Swanson to the minor leagues on Thursday afternoon. He was optioned to the roster of Triple-A Gwinnett following the Braves' 10-3 loss to the Arizona Diamondbacks the night before. The team also demoted starting pitcher Aaron Blair and recalled outfielder Micah Johnson and right-handed pitcher Jason Hursh on Friday afternoon to fill the open roster spots.
Swanson, the first overall pick in the 2015 MLB Draft, has struggled at the plate all season, particularly in the month of July. He went 6-for-48 over 17 appearances for a .125 batting average, while also striking out 16 times over that span. Before collecting two hits in the loss to the Diamondbacks on Wednesday, Swanson was in the midst of a six-game hitless streak.
Although July has been Swanson's worst stretch in the major leagues in his young career, the rest of his season has not been much better. The shortstop holds a .213 batting average and a .287 on base percentage, collecting just six home runs and 35 RBIs. He has continued to have a high strikeout rate too, with 84 Ks over 324 at-bats this year, which was a notable problem during his few months in the major leagues during the 2016 season too.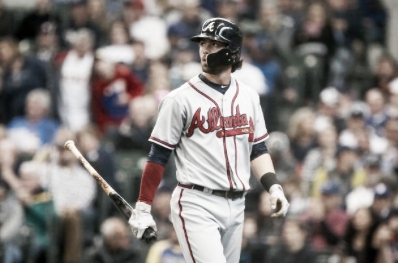 Another factor into Atlanta's decision to send Swanson down was likely the abundance of infielders they have. With veteran Sean Rodriguez returned from shoulder surgery and rookie infielder Johan Camargo having a strong season, the Braves now face a crowded infield. With Swanson struggling on offense, the move allows more flexibility while giving the young shortstop a chance to find his groove.
Coming Up Short
Coming into this year, the Braves expected to be within another rebuilding year where they could allow their young talent, primarily Swanson, to receive valuable playing experience in the major leagues. Atlanta has certainly not tanked like last season and they are tied for second place in the NL East division with a record five games below .500.
Expectations for Swanson, however, have not quite been met this year. After a fairly impressive debut in 2016, the organization hoped that a full year in the majors would help the shortstop develop his batting more and establish him as a clubhouse leader. It seems that Swanson has certainly moved into the latter position, his offensive tools just have not been able to keep up with major league pitching.
While expectations may have been set too high from a small sample size last year, the title of a number-one overall pick carries enough expectations on its own. The rest of Atlanta's young talent brought up from Gwinnett this season, such as Camargo and pitcher Sean Newcomb, has generally held their own in the majors. Swanson is meant to be the symbol of the franchise's future during this rebuild, though, and since he has come up short so far this season, management decided to demote him for the time being.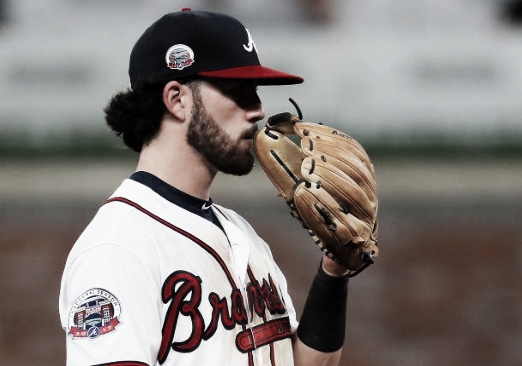 When Will He Be Back?
At 23 years old, Swanson is still a very young player and would possibly still be considered a 'prospect' in other contending organizations. He has clearly shown potential in the major leagues, hitting .302 last year and with his flashy defensive skills at shortstop. He has shown that he is capable of being an emotional leader on the field while complementing the leadership of other stars, like first baseman Freddie Freeman.
This demotion simply seems like a move to help out a player who has fallen into a considerable slump in an infield with a lot of available gloves. It seems pretty clear that once Swanson finds some offensive rhythm in Triple-A, or an infielder for the Braves sustains an injury, then he can expect to return to the majors fairly quickly. The first priority, however, is that he finds his swing again.
The Braves, who lost Friday night's game against the Philadelphia Phillies 10-3, will finish out the four-game series in Philly before returning to Atlanta for a home stand against the Los Angeles Dodgers, Miami Marlins, and Phillies again.