The Toronto Blue Jays picked up another win in Baltimore on Saturday, rallying late with three homers to top the Orioles, 7-2, after losing Marcus Stroman in a scary incident in the second inning. After Stroman was forced to leave the game after being hit in the right elbow by a missile of a line drive, the bullpen provided 7.1 innings of strong relief to get the win for Toronto, putting them in position to take the four-game series win on Sunday.
Stroman Hit by Line Drive, Forced to Leave Game in Second Inning
One of the most consistent starters for the Blue Jays this season, Marcus Stroman saw his night come to an unexpected halt in the second inning when, with a man on and two outs, Mark Trumbo crushed a 107.5 m.p.h. line drive straight back towards the mound, hitting Stroman on his pitching elbow as he was trying to defend himself with his right arm.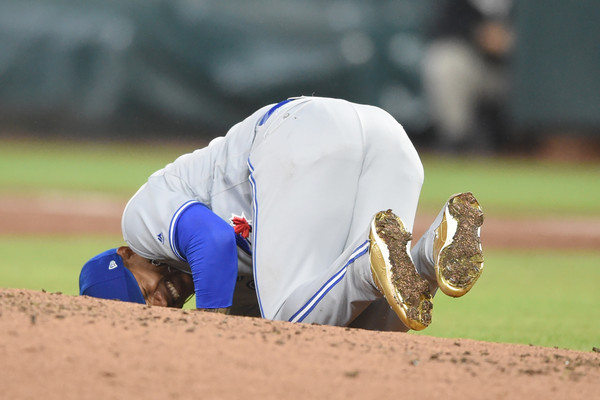 Stroman fell to the ground immediately in agony as Blue Jays Head Trainer George Poulis immediately rushed out to help him before being surrounded by his teammates who, along with the Orioles and the rest of the crowd, were watching with bated breath at the sight of such an unfortunate incident.
"Obviously you panic right at first. It just felt like my arm exploded," Stroman said. "But once I kind of started to squeeze my hand while I was on the ground and kind of feel that I had my strength in my wrist and my hand, I kind of felt a little better."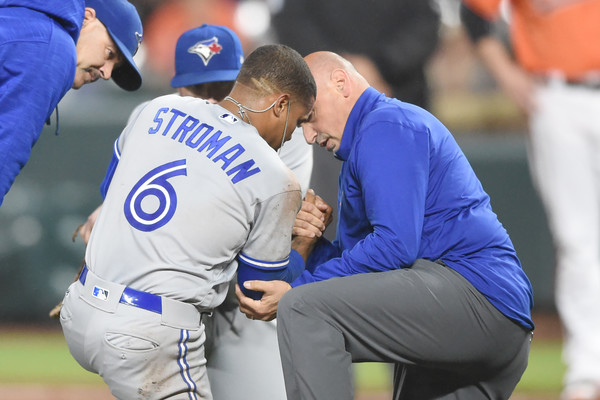 After a few minutes, Stroman was able to stand up and immediately began pleading with Poulis to be given the chance to stay in the game. "One pitch, one pitch," he said to Poulis, only to be denied by the trainer and acting manager DeMarlo Hale who immediately walked him off the field and into the Blue Jays dugout.
During the game, preliminary X-rays on Stroman's elbow were negative, but the contusion and associated swelling, not to mention the excruciating pain in the immediate aftermath of the injury, makes it hard to imagine he'll be ready for his next start. However, being the competitor that he is, Stroman is already looking forward to that next start even if he is considered day-to-day.
"I'll be good," he said. "I'll lobby to try and get back out there on Wednesday, to be honest with you, being that I only threw 30 some pitches. But if not, I'll be back out there on Friday."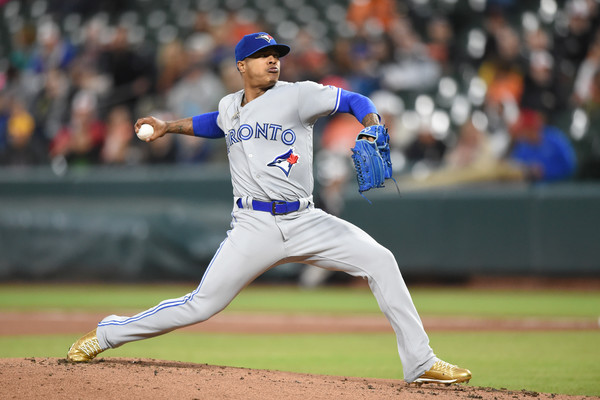 Blue Jays Bullpen Provide Solid Relief While Offence Breaks Out
Left-hander Matt Dermody (2-0) replaced Stroman, going 2 1/3 innings before right-hander Luis Santos, making his major league début, allowed one run and two hits over 3 1/3 innings to keep the Orioles to just the single run.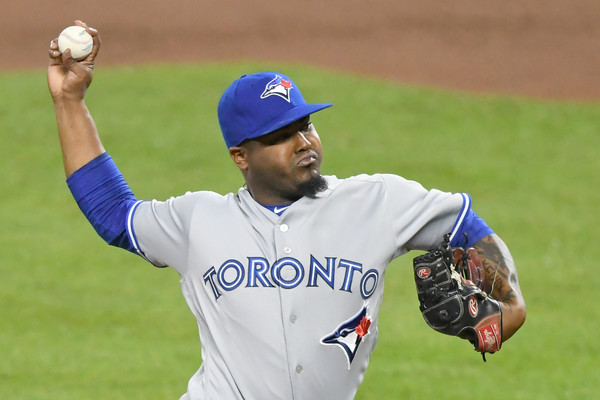 "Can't say enough of what these guys did, keeping this team, with the offence that [the Orioles] have and... the game relatively close until we had a couple of good innings," Hale said.
Meanwhile, it was the unpredictable Blue Jays offence that came to the aid of their bullpen, starting with centre-fielder Kevin Pillar. After a frustrating slump that saw some of his old habits in the batter's box resurface, Pillar seems to have found his groove again, and showed just why he can be so lethal at the plate with a solo homer in the fifth off starter Wade Miley (8-11) to open the scoring between the division rivals.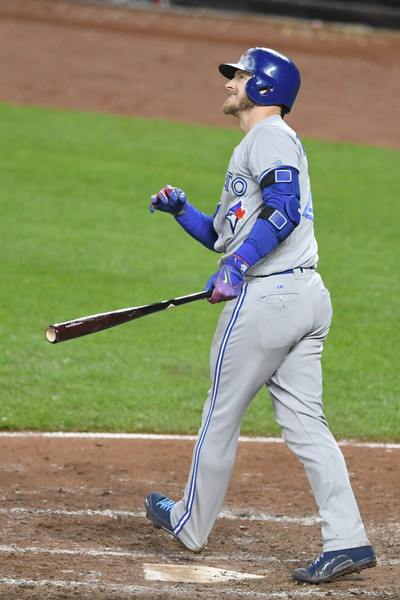 Two innings later, Josh Donaldson gave the Blue Jays some much-needed breathing room after a sac fly from Kendrys Morales scored Steve Pearce in the sixth to make it a 2-0 ball game. With two outs, the Jays looked as though they would strand another pair of baserunners (Darwin Barney and Luke Maile) before Donaldson came to the rescue, working up a full count before belting a three-run homer to left centre off Richard Rodriguez, who was also making his major league début, to give Toronto a 5-0 lead.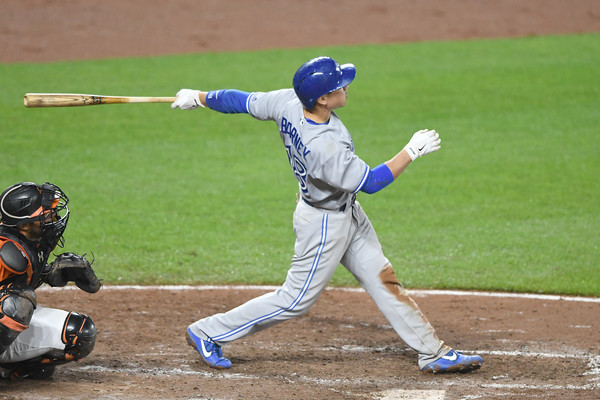 This seemed to spark something in Barney who hit his fourth homer of the season an inning later—a two-run shot also to left centre field—to extend the Blue Jays lead to seven heading into the bottom of the eighth.
Orioles Get a Couple Back, But Jays Hold On
The Orioles would restore some pride in the eighth with Seth Smith's solo homer driving in the first run of the game for Baltimore, and an RBI single from Trumbo in the ninth, but it was a case of too little, too late as Tim Mayza got Joey Rickard to fly out and Anthony Santander to strike out to close out the win for the Jays.