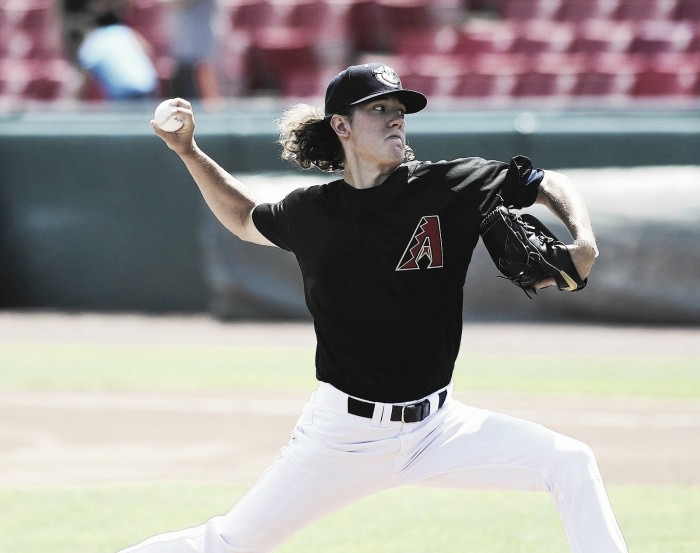 September 1, 2017, a date that 23-year-old Connor Grey will never forget. Grey accomplished something that not many people can say they did, that being pitch a perfect game. 27 up, 27 down, 0 hits, 0 walks, 0 errors; perfection.
Grey threw exactly 100 pitches in the history making outing, after the game, Kane County Cougars pitching coach brought a gift to Connor from the opposing team, the Clinton Lumberkings. The gift, a cup of dirt from the pitching mound. A gift that will be cherished forever in the Grey household.
1. How long after the game did it take before it hit you, did it take awhile to process what had happened?
It didn't set in until about a day and a half after it happened. I was laying in bed and it finally hit that I just threw a perfect game.
2. Take me through your experience in the dugout as the game went along as far as interactions with coaches and players, or did they kind of just leave you alone?
There wasn't much interaction going on towards the end of the game I kinda sat at one end of the dugout with the coaches then all the players were on the other end. In the beginning of the game, they said keeping working and that's it. But the pitching coach Rich Sauveur kept saying "keep going after every inning" when I came in after an inning.
3. When did it start to come to your mind that pitching a perfect game was a possibility?
I finally realized it after the sixth when I went through the lineup twice and realized I haven't given up a hit or walk.
4. Talk about Ramon Hernandez's leaping catch in the 5th inning, when that ball left the bat did you at all think that it was going to get through?
I knew it wasn't hit all that well off the bat but he still hit it pretty well and I thought it was gonna sneak over his glove but Ramon got up for it and caught it.
5. As you reached the latter end of the game like the 8th and 9th innings, did you still feel pretty strong at that point?
I still felt pretty good at the end of the game. I had a pretty low pitch count throughout the game and I've thrown that many pitches in just about all my games and adrenaline was kicking in when it got deeper in the game.
6. What was going through your mind on the final play, as the ball pops in the air and is falling back down?
Relief... I was getting anxious every time I came back in the dugout after I just pitched because I was ready to go back out there and the innings felt so long when we were hitting which isn't necessarily a bad thing but I just wanted to get back out there and finish another inning.
7. Talk about the job that your counterpart did in that game, you didn't shake Jose Herrera off a whole lot that night, did you?
Jose called a great game, for the most part, we were always on the same page as what I wanted to throw and then if we weren't it was either I wanted the other location or another breaking ball as if he called curveball I wanted the slider and likewise if a slider was called. But for the most part, we were always on the same page.
8. Was there a dialogue you had with Jose throughout the course of the game or did he pretty much just not come near you?
Not really he just said keep working after every inning.
9. What did Jose say to you at the mound when you two met after the final out?
No words were really said. I hugged him and said heck of a job back there and couldn't have done it without you. And we were both just elated that we finally did it.
10. Who's the first person you thought of after you get through the final batter?
Probably my grandma. Growing up, she came to every one of my baseball games and since she passed away I've always said a prayer before every inning saying let her watch over me.