Diamondbacks ace Robbie Ray did it once again, Ray came away with 12 k's today over six innings allowing only two runs. The win propelled Ray to his 12th win of the year, improving to a 2.80 ERA. The Diamondbacks utilized a few relievers before turning it over to Archie Bradley in a save situation. Bradley would shut down the San Diego Padres side in the top half of the ninth, to record his first ever MLB save, extended Arizona's lead to five games in the NL Wild Card chase against the Colorado Rockies. Arizona has now won 14 out of their last 16 games dating back to August 24th.
Just Dingers
J.D. Martinez had two home runs putting him at 37 total on the year. The two-home run performance from Martinez is his second multi home run game this week. On Monday, Martinez had four home runs, all of which came off four different Los Angeles Dodger pitchers. In only 45 games as a Diamondback, this season Martinez has 21 home runs.
Birthday Bomb
Diamondbacks All Star first baseman Paul Goldschmidt tallied his 34th home run this season on a fastball that ran a little high from San Diego pitcher, Luis Perdomo. Goldschmidt's homer adds to the already impressive resume for potential NL MVP, as of right now it's all but official for Goldy.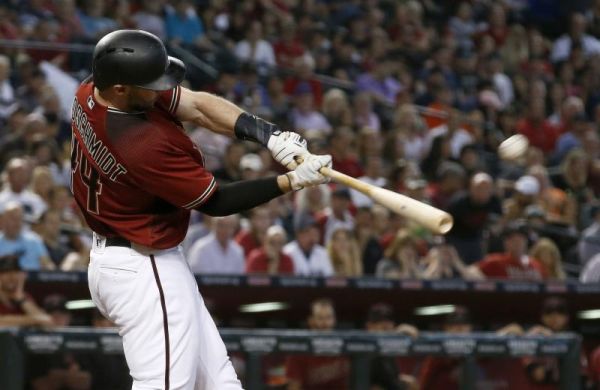 Playoff Forecast
The Diamondbacks are closing in on securing that NL Wild Card spot each and every game, though the Colorado Rockies are up next for Arizona. Both the Rockies and Diamondbacks are fighting for that final spot, the four-game series against the Rockies could very easily make or break the Diamondbacks postseason hopes.
The series against Colorado begins on Monday, Arizona will send their ace Zach Greinke (16-6, 3.01 ERA) to the mound to square off against Rockies pitcher Kyle Freeland.