Marcus Stroman continued his career-best season on the mound, while Darwin Barney continued his great form of late at the plate to lead the Blue Jays to a 5-2 victory over the Royals in the opener of their final homestand of the season, with their playoff hopes very much out of question at this point.
Stroman Stalls Royals With Seven Strong Innings
With his sights set on reaching 200 innings pitched by October 1st, Stroman put together another great outing, allowing just one run on four hits against a very free-swinging Royals offence, and picked up his career-high 12th win of the season.
To put things into perspective, the 26-year-old has allowed one earned run or less in 14 of 31 starts this season and has pitched 7+ innings 11 times. Of all the other starting pitchers who have pitched for the Blue Jays in what has admittedly been a very disappointing season, all of them combined have gone 7+ just 17 times.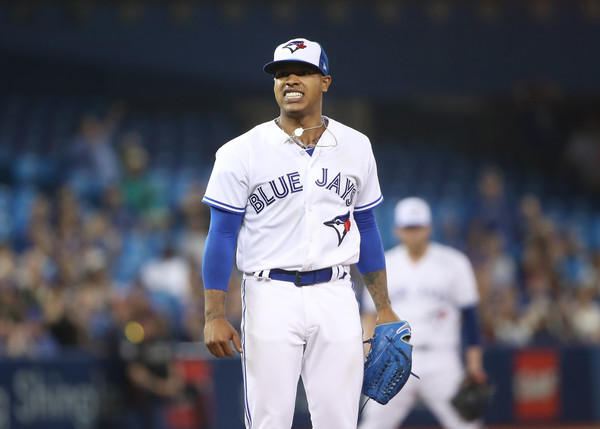 "Me and Russ [Martin] got on a pretty good roll and the sinker felt good, so I was just kind of sticking with that and using my changeup and slider off of my sinker," said Stroman, who now sits at 191.1 innings pitched this season and has two more scheduled starts before October.
"I feel extremely strong," he later said. "I feel like I could throw another however many innings. I feel great and I'm looking forward to my next two starts."
Barney Homers, Records Three RBIs; Martin Doubles to Plate Two
After five innings of no-run ball, it was second baseman Darwin Barney, batting ninth, who would open the scoring in the bottom of the sixth, launching a two-run homer—his fifth of the season—on an 0-2 pitch from Royals starter Ian Kennedy to give the early advantage to the Jays, which in turn ended the right-hander's night on the mound.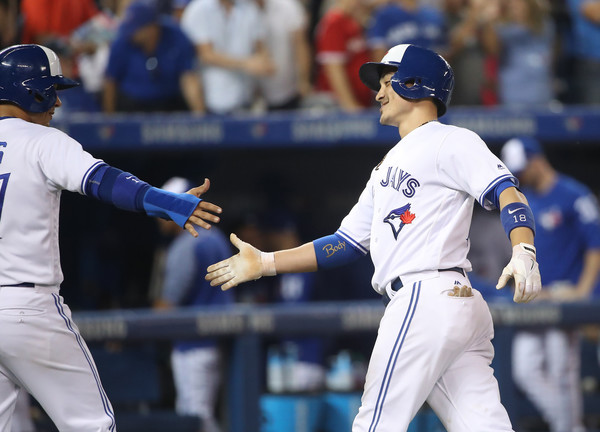 "I was looking to get a bunt down," Barney noted. "Unfortunately, that didn't work out and I guess the best-case scenario after that is what happened."
"I battled a couple pitches and got one I could handle."
The Royals, however, would respond immediately in the following frame. Leading off the top of the seventh, Eric Hosmer and Salvador Perez hit back-to-back singles to put runners on the corners, before Mike Moustakas' sacrifice fly to centre field cut Toronto's lead to 2-1. That would be all they would get though as Stroman would wrap up his strong outing, recording the last two outs with some great pitching and even better work from his defence.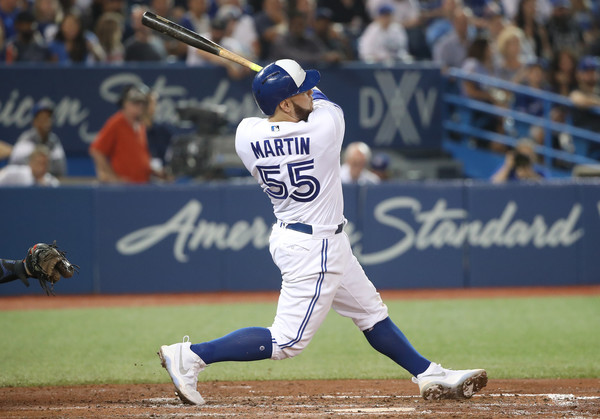 In the bottom of the frame, with two men on, Martin would hit a two-run RBI double to centre field to bring home Kevin Pillar and pinch-runner Rob Refsnyder before Barney drove the catcher in a couple batters later to make it 5-1 going into the bottom of the eighth.
Gordon Hits Record-Breaking Home Run
Leading off the top of the eighth against reliever Ryan Tepera, Royals left fielder Alex Gordon would make MLB history, hitting the 5694th long ball of the season to break the mark set in 2000 in the midst of the Steroid Era.
"A pretty cool thing to be a part of," he said. "I didn't hit many this year, but I guess I made one count."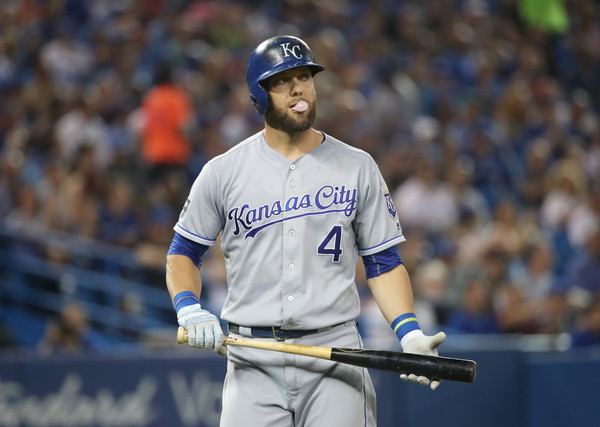 Osuna Matata: Blue Jays Closer Clinches Career-High 37th Save
After giving up the leadoff homer and a line drive single to open the eighth, Tepera would settle down, getting Lorenzo Cain to ground into a double play and Melky Cabrera to pop out to set the scene for Roberto Osuna, who was looking for a new career-high in saves.
After making a winning return to the Blue Jays roster from a three-game paternity leave, Osuna looked back to his clinical best to work a perfect ninth inning, getting the Royals to go in order the top of the ninth to pick up his 37th save of the season.