The Toronto Blue Jays have locked down another key piece of their starting rotation for the 2018 season.
In a press release published on Wednesday afternoon, the team announced they have signed a one-year, USD$13-million extension with right-hander Marco Estrada, who has been a vital part of the pitching staff during his three-year tenure in Toronto.
The veteran right-hander, who is set to turn 35 in the middle of next season, had expressed an interest in staying in Toronto all season, especially in recent months as he was nearing the end of his two-year, $26-million deal with the ball club. In fact, he maintained that his top priority was to stay with the Blue Jays beyond the 2017 season, and he followed through and got exactly what he wanted.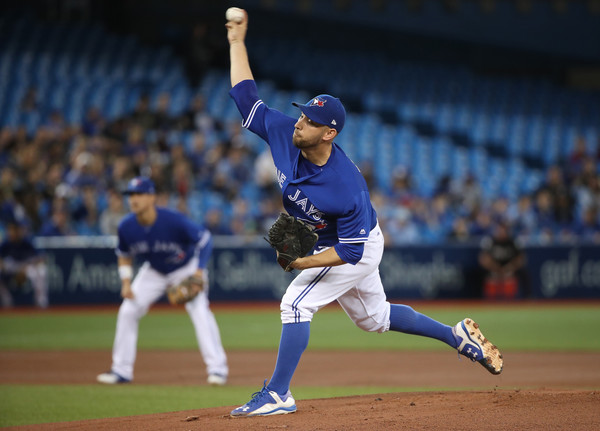 "I'm happy here, and I knew I wanted to come back," Estrada said at a pre-game press conference on Wednesday. "I knew if I got a fair offer, I would definitely listen to it. Obviously, that's what happened. I liked what they offered. I like what I heard from them. I knew in my heart that I wanted to come back and it was the right move for me. It was pretty easy to decide to come back."
Estrada's extension sends a big message to the rest of the league that the Jays remain optimistic going into the 2018 season after what has admittedly been a very disappointing 2017 campaign for an inconsistent offence. With all talks of a possible rebuild now seemingly being put to rest with this news, Estrada has his sights set on helping Toronto reach the heights they did in 2015 and 2016, and possibly going beyond with a few new faces on the roster next year.
"I'm extremely optimistic about our chances next year," he said. "That was the main reason why I wanted to come back. I feel like things are about to happen for this team."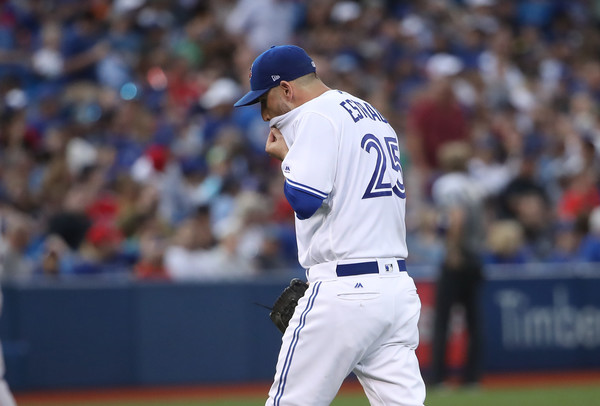 Estrada's re-signing would have seemed impossible midway through the season where, after hitting the ground running with a 3.15 ERA in his first 11 starts, he fell into a frightening slump in June and July, clocking in an 8.87 ERA in his next 10 starts where he allowed a minimum of three earned runs in each of those outings.
According to the righty, this slump came at the worst possible time for last season's All-Star amidst some unexpected personal issues—which have since been resolved—and a lot of talk about being possibly leaving the team in the July 31st trade deadline, which all seemed to get into Estrada's head time and again.
"I feel that month and a half this year where I was really bad, I was dealing with a few things," he briefly reiterated. "It happened, I got over it. Once I got over that, I've turned things around ever since."
"I know that I can do that for these guys for an entire year. That's why they believe in me and wanted to bring me back to this team."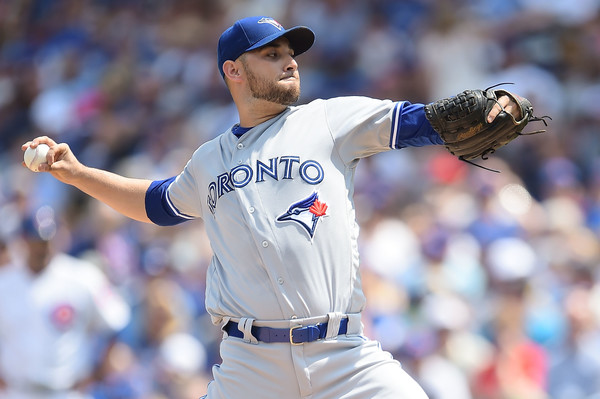 And since then, the veteran hurler has looked better and better with every passing outing, showing shades of his 2015 and 2016 postseason form with a 3.75 ERA in his last ten starts, and surrendering just three earned runs or less in eight of those ten outings.
On the year, Estrada is 9-8 with a 4.84 ERA over 31 starts this season and leads his team with 170 strikeouts, which surpassed his career-high of 165 last season. In his three years in Toronto, he has gone 31-25 with a 3.81 ERA, and will be looking to continue a similar trend in a starting rotation that shows plenty of promise.
A staple of the starting rotation in his three seasons in the Six, Estrada is expected to fit into a 2018 rotation with Marcus Stroman, Aaron Sanchez and J.A. Happ, which was a lethal combination last season where all four were relatively unhampered by injuries. Joe Biagini and a whole host of other candidates—from experienced, seasoned pitchers to younger pitchers from the minor leagues—are expected to battle for the fifth spot.
"We had a really good team this year, there was a lot of injuries," Estrada said. "These things happen and who's to say those things don't happen again this [coming] year. But if we stay healthy, we're going to be in the mix of things."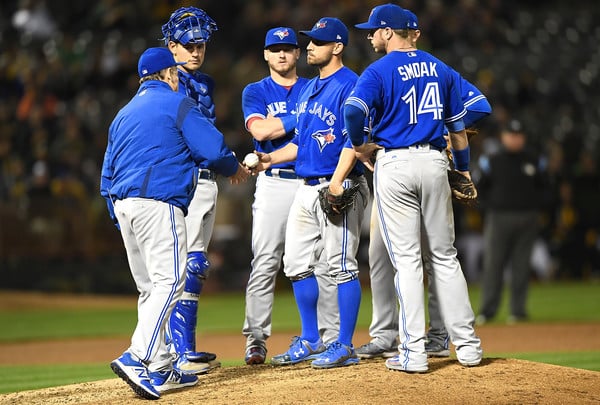 "And from what I'm hearing, it sounds like positive things are going to be made for this team. I feel this is the start of it, just bringing me back. I know I can help these guys out."