 The Houston Astros are one win away from their first championship in franchise history after a 13-12, 10 inning victory over the Los Angeles Dodgers in Game 5 of the 2017 World Series.
In a game that featured five ties and five lead changes, it was Houston third baseman Alex Bregman who had the last word, driving in pinch-runner Derek Fisher with a single in the bottom of the tenth off of Dodgers closer Kenley Jansen.
Keuchel roughed up early
In what was expected to be a classic pitcher's duel between Cy Young award winners Clayton Kershaw and Dallas Keuchel turned out to be the exact opposite. The Dodgers struck first. Chris Taylor singled to lead off the game and Keuchel then walked Justin Turner with one out.
Kike Hernandez then drew a second straight walk to load the bases and after a strikeout of Cody Bellinger, Logan Forsythe singled home Taylor and Turner to make it 2-0 Los Angeles. With Yasiel Puig at the plate and the count at 2-2, Yuli Gurriel's attempt to catch Forsythe stealing was errant and Hernandez scored to make it 3-0 on the first baseman's throwing error.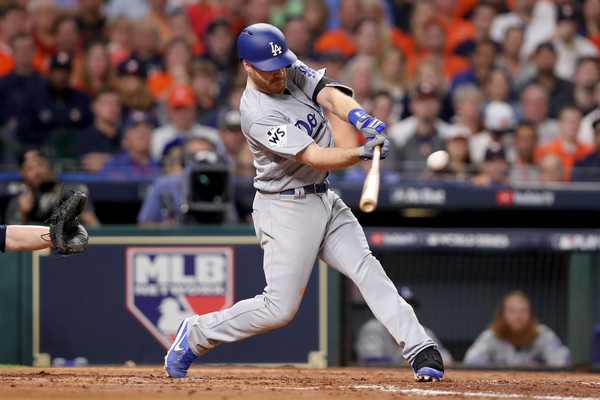 Forsythe would again be the catalyst in the top of the fourth as he doubled with one out. After Puig struck out, catcher Austin Barnes singled in the second baseman to make it 4-0 Dodgers and end Keuchel's night after just 3 2/3 innings, giving up four runs and five hits, walking three while striking out four.
The 2015 Cy Young winner admitted to being nervous: "Honestly, it felt like I didn't even pitch," he said. "I've never been so nervous in my life. The bubble-gut feeling. The highs, the lows. I'm glad that us pitchers are with the No. 1 offense and they provided a good show."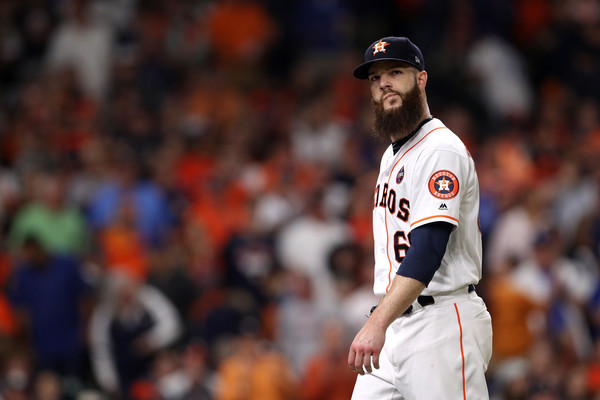 Astros fight back against Kershaw
Houston mounted a rally in the bottom half of the fourth after having just one baserunner through the first three innings. George Springer led off with a walk and with one out, Jose Altuve dumped a single into shallow left field, moving Springer to second.
Carlos Correa drove in the Astros first run with a double and on the very next pitch, Gurriel, the subject of controversy following his Game 3 gesture to Dodgers pitcher Yu Darvish, crushed a slider into the Crawford boxes in left to tie the game at 4-4.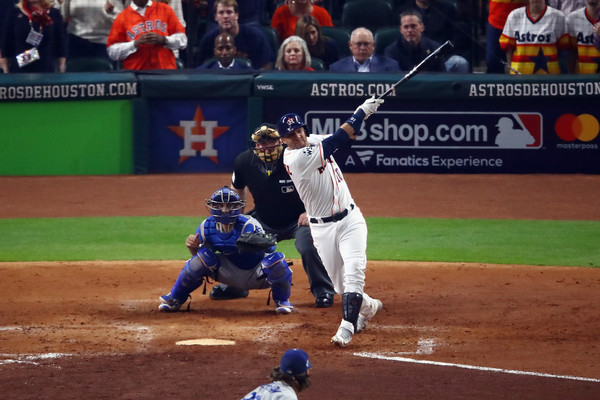 Eventful fifth inning sees teams trade long balls
With Collin McHugh now pitching for Houston, the Dodgers retook the lead. Corey Seager and Turner drew back-to-back walks to lead off the top of the fifth. After Hernandez struck out, Bellinger deposited a 2-2 curveball into the right field seats for his second home run of the series, putting Los Angeles in front 7-4.
Again, the Astros responded. After retiring the first two hitters, Kershaw walked Springer and Bregman, leading manager Dave Roberts to remove his ace and bring in righty Kenta Maeda. Altuve greeted him with a 415-foot shot to center field to tie the game at 7 and you could sense something special was unfolding.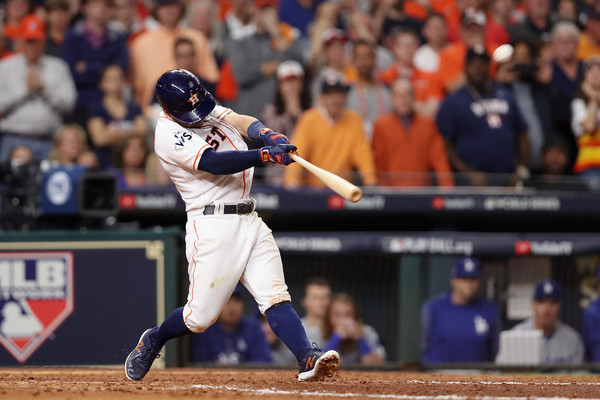 Speaking to the press after giving up six runs in 4 2/3 innings after the game, Kershaw said it was a matter of command: "I just lost my command there in the fourth inning and that's all it took". He also was tired following the over five hour marathon: "I'm sure everybody's pretty exhausted after that one, both emotionally and physically".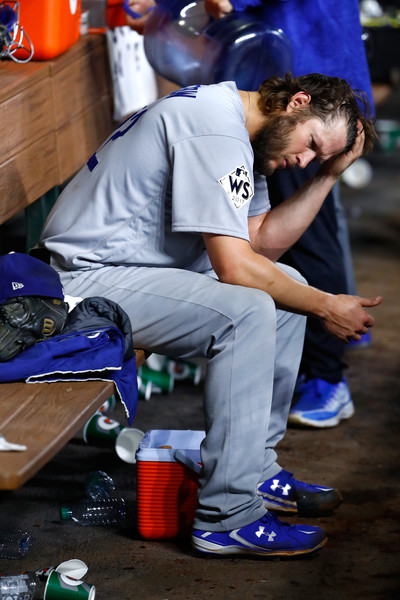 He also praised his offense after the shortest postseason outing of his career: "Offense was amazing tonight," the three-time Cy Young award winner said. "You can't say enough about our team, what they were able to accomplish with what I gave them."
Astros take command in the seventh
With the game once again tied, Houston brought in Game 3 hero Brad Peacock. Turner led off the inning with a double to deep right-center, but was cut down at third on Hernandez' attempted sacrifice bunt. Bellinger then hit a line drive to center that Springer dove for, but missed, allowing Hernandez to score all the way from first and give the Dodgers an 8-7 lead.
He quickly atoned for his error in the bottom half of the inning when he tied the game with a solo blast off of Los Angeles reliever Brandon Morrow. He later said he felt the full range of emotions: "That's about as low to about as high as you could probably feel. I made a bad decision. I tried to make a play, but I should have stopped. But then to come out and tie it, that's a feeling that I don't think I can ever describe to anybody".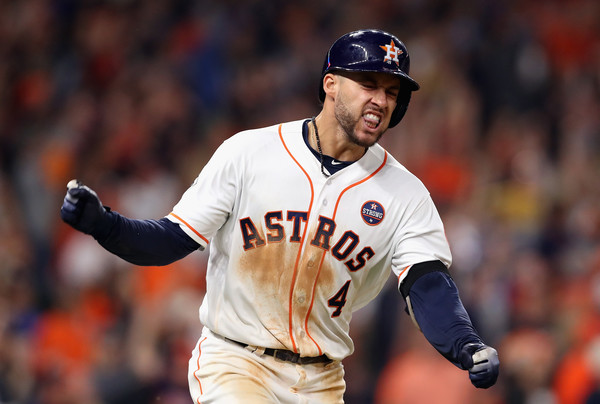 Bregman singled, Altuve doubled him in to give the Astros lead and Correa extended the lead with a two-run shot. In the span of six pitches, Houston had gone from trailing 8-7 to leading 11-8. Morrow was scheduled to get the night off, but after seeing the Dodgers take the lead, he asked to come in and admitted it was probably a bad idea:
"I saw where the game was at in the seventh I was getting loose and I was feeling okay. It was probably selfish on my part to call down and push to let them know that I'm ready and want to get in." He also refused to blame his poor outing on fatigue, saying "Everybody's fatigued at this point. I don't feel it when I'm throwing the ball. It feels pretty good when it's coming out."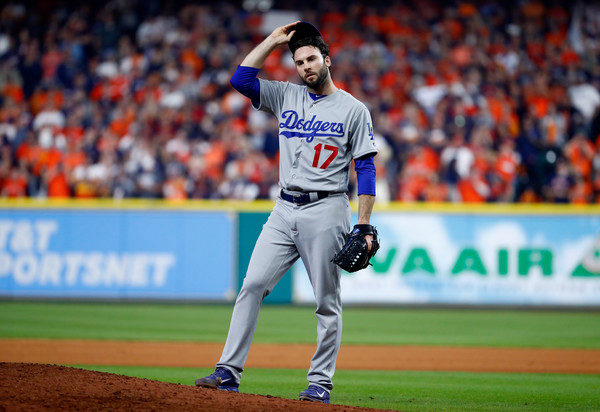 Scoring continues in the eighth, Astros take three-run lead into ninth
The Houston bullpen has been shaky all postseason long and Sunday, it was no different. After Joc Pederson doubled with one out in the top of the eighth, Taylor was a hit by a pitch. Will Harris relieved Peacock and promptly gave up a double to Seager that scored Pederson and closed the deficit to 11-9.
With the tying runs on second and third, Harris got Turner to line out to right and pinch-hitter Andre Ethier grounded out to first off of Chris Devenski, Los Angeles missing a golden opportunity to pull even.
Tony Cingrani had relieved Morrow in the bottom of the seventh and he gave up a one-out solo home run to the suddenly streaking Brian McCann to restore the Astros three-run lead to 12-9 entering the ninth inning.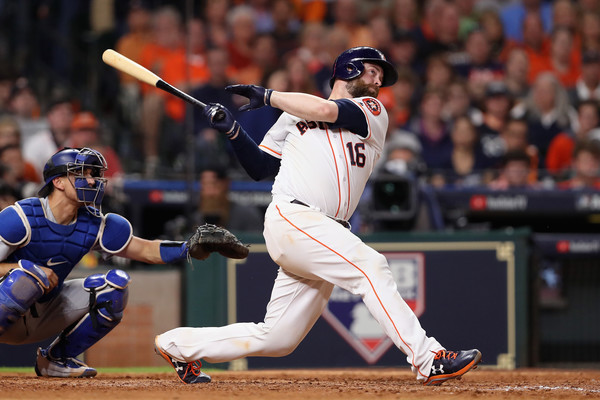 Dodgers incredible rally forces extra innings
Devenski stayed in for the top of the ninth after Astros manager A.J. Hinch had said prior to the game closer Ken Giles would not get a chance to finish off a possible win following several poor outings.
After a leadoff walk to Bellinger, Devenski struck out Forsythe for the first out, but Puig tagged him for a two-run dinger to close the gap to 12-11. Barnes doubled and advanced to third on Pederson's groundout.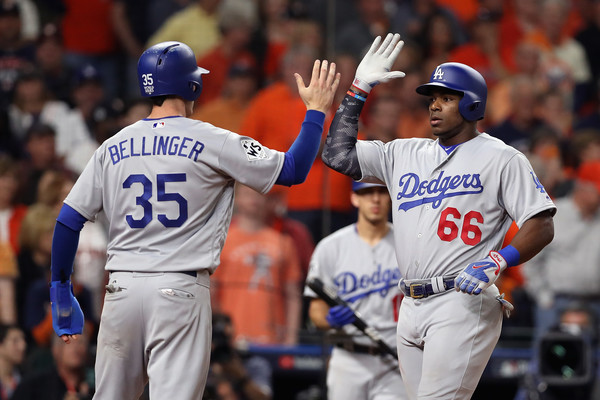 That set the stage for Taylor, who lined a 2-2 changeup up the middle for a game-tying single to make the score of this legendary game 12-12. After pulling even down to their last strike and out, there would be one more twist to the game.
Bregman ends incredible game with walkoff single
Houston summoned Joe Musgrove to pitch the top of the tenth and he got around a one-out single by Ethier to send the game to the bottom of the tenth still tied.
Jansen was in his second inning of work and nearly lost the game in the bottom of the ninth after Gurriel doubled with two outs, but Josh Reddick flew out to end the threat.
After getting the first two outs, the NL Reliever of The Year hit McCann and walked Springer. Fisher came in to pinch-run for McCann and on the first pitch he saw, Bregman lined a single into left field, Fisher scoring ahead of Ethier's throw to put the Astros on the verge of a championship.
"I thought Game 2 was probably the best baseball game I ever played in," Bregman would later say."It was unbelievable, the huge homer and all the home runs that were hit. I didn't think that would ever be topped; I thought that would be the best game I ever played in my career.
"Who knows where this one ranks, right up there with that game -- back and forth, the two best teams in baseball fighting to the very end and going toe to toe with each other", he added."Everybody was used on both teams, pretty much, every single player. It was special for us to come out on top."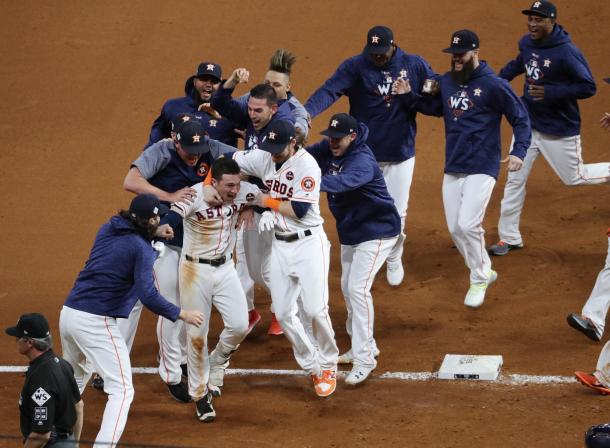 Musgrove was the winning pitcher reiterated that this was now the wildest game he had ever participated in: "I can't tell you how many times I've said this is the craziest game of my life. I mean, again, tonight, this is the craziest game of my life."
McCann was quick to point out the tension: "Drama is at an all-time high. You're on every pitch, your focus is through the roof. You have to be ready for anything, thinking two, three steps ahead, constant communication. It's more mentally exhausting than physically."
He added "This is what I signed up for. I've been waiting my whole life for this moment."
Jansen pointed to location as his downfall in the 10th: "Tried to go up and in, just missed my spot, and he did a great job to put it in play. Just missed my spot."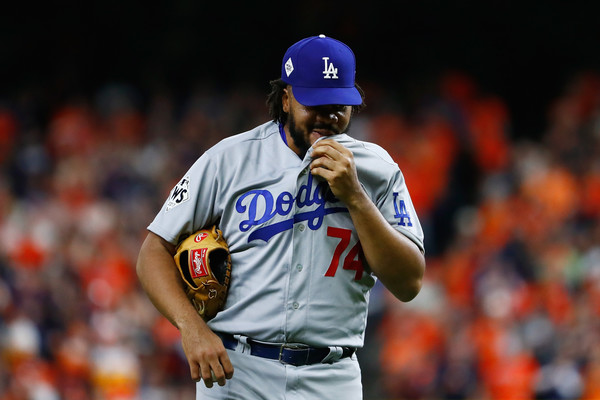 For his part, he feels the series is not over yet: "Guess what? They still have to beat us one more time. This is it. We just can't, can't, can't, can't hang our heads."
Puig guaranteed Game 6 would not be the last game of the baseball season: "This is not going to be finished Tuesday. There is going to be a Game 7."
Notes
The home run Morrow gave up in the seventh inning was the first home run he has allowed all year.
The teams combined to break several World Series records:
Kershaw allowed his eighth home run of the postseason in the fourth inning, setting the record for most homers allowed in a postseason by one pitcher.
It was the second game in World Series history in which each team scored at least 12 runs. The first was in Game 4 of the 1993 Fall Classic when the Toronto Blue Jays beat the Philadelphia Phillies 15-14.
This was the first World Series in which four different players age 23 or younger hit a home run. Bellinger, who is 22 years old, homered on Sunday night, following Bregman (Game 1), Seager (Game 2), and Correa (Game 2 and Game 5), who are all 23 years old.
According to Elias Sports Bureau, the only other World Series with homers by three players age 23 or younger was played in 1934. The young home run hitters included a pair of future Hall of Famers: Joe Medwick of the Cardinals and Hank Greenberg of the Tigers. The other was Bill DeLancey, the Cardinals' rookie catcher.
• Sunday's game was the highest-scoring extra-innings game in postseason history.
• It was the first game in World Series history with three three-run homers (two by Astros, one by Dodgers).
• The Astros became the first team in postseason history with three game-tying home runs in a game.
Game 6 preview
With the chance to wrap up their first championship in club history, the Astros give the ball to Justin Verlander. The righty took a no-decision in Game 2, a game Houston won in 11 innings. It was the first time he had not won a game since his trade from the Detroit Tigers, posting victories in his nine previous games.
Rich Hill will be called upon to force a Game 7 for the Dodgers. He also took a no-decision in Game 2, striking out seven in four innings before being removed from the game. He spoke of his task on Tuesday night:
"Going out there in Game 6 and having the ability to be in that position and go out there and leave everything on the field is just an amazing thought," he said.
"I think it's something that, looking back on it, whatever the outcome might be, that you did everything that you could to put your team in a position to win."