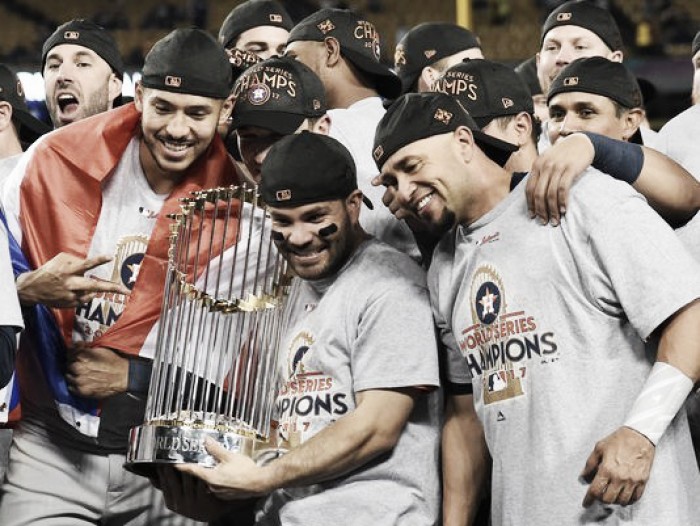 The Houston Astros have won their first championship in franchise history with a 5-1 victory over the Los Angeles Dodgers in Game 7 of the 2017 World Series.
Series Most Valuable Player George Springer doubled and homered in the win, tying the Fall Classic record with five home runs. Neither starter lasted long with the Dodgers Yu Darvish again knocked out in the second inning and the Astros Lance McCullers Jr. pulled in the third inning.
Astros offense strikes early
In a rematch of Game 3, Darvish again was roughed up. Springer led off the game with a double and scored the game's first run when Alex Bregman hhit a chopper in the hole between first and second. Dodgers first baseman Cody Bellinger fielded it, but threw wildly to Darvish, who was covering first.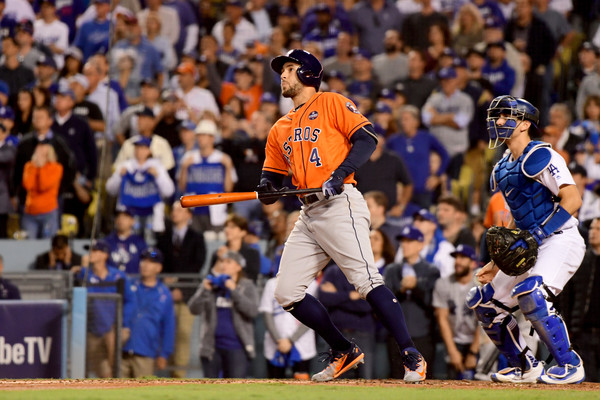 Advancing to second on the throwing error, Bregman stole third and made it 2-0 when Jose Altuve grounded out to first. Houston essentially put the game away in the top of the second inning. Catcher Brian McCann walked to lead off, Marwin Gonzalez doubled and McCullers helped himself with an RBI groundout to make it 3-0.
Springer then punctuated the night with his Series-tying fifth home run, a 438-foot blast to center field for a 5-0 lead, chasing Darvish from the game. He later said he failed to do anything different to combat the Houston offense: "I didn't make adjustments or the stuff that I didn't have, hurt. It hurt the team. But this pain is going to stay in me for a while."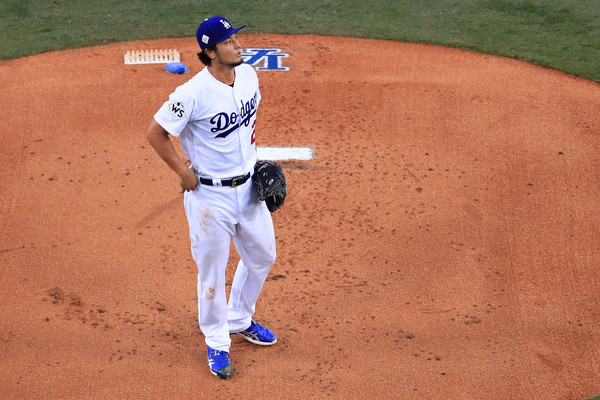 Dodgers squander multiple scoring opportunities
Despite the big early deficit, Los Angeles had plenty of chances to get back in the game. In the bottom of the first, Chris Taylor led off with a double, McCullers hit Justin Turner and Yasiel Puig, but he escaped the jam by getting Corey Seager to ground out to short.
The bottom of the second saw a leadoff single by Logan Forsythe and a walk by pinch-hitter Kike Hernandez to put runners on first and second, but Taylor lined out to Carlos Correa, who threw behind Forsythe to double him off at second, ending the threat.
Seager singled to lead off the bottom of the third, Turner was hit by a pitch for the second time, McCullers' Series-record fourth hit batter of the game. Brad Peacock was summoned from the bullpen and he got a long flyout from Puig and then got out of the inning by striking out Joc Pederson.
Kershaw enters the game, pitches four scoreless innings
After Brandon Morrow recorded the final out of the second inning, Dodgers manager Dave Roberts called on Clayton Kershaw. The ace lefty entered in the top of the third and proceeded to hold the Astros at bay until he was lifted after the top of the sixth.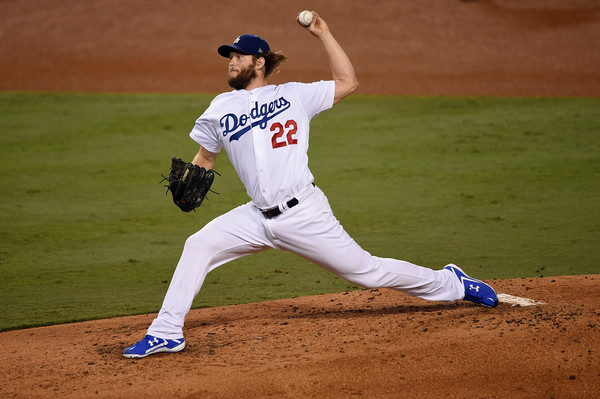 Following his brilliant outing, Kershaw spoke about his desire to eventually win a championship: "Maybe one of these days I won't fail, we won't fail and we'll win one of these things…There's only one team that can succeed. There's only one team that wins the last game, so that's tough.

"I think once the dust settles and we go home, we can realize that we had a pretty amazing season and we finished in second place, which nobody cares about or remembers.''
He felt drained after going through a postseason that saw the Dodgers fall one win short of their first championship in 29 years: "This month felt like 27 years,'' he said. "You can ask my wife too. I think it took 10 years off her life. It's just every game, every pitch, it's just so intense. …

"It's hard. You go through this much effort to win that many games against this many good teams and it's, I mean, I hope to get to this point again.''
Astros bullpen excels to deliver Houston first title in franchise history
Brad Peacock came in to relieve McCullers and pitched two scoreless innings. After Francisco Liriano and Chris Devenski each recorded an out in the fifth, Charlie Morton came in and tossed the final four innings, allowing only one run, an RBI single by Andre Ethier, on two hits, walking one and striking out four.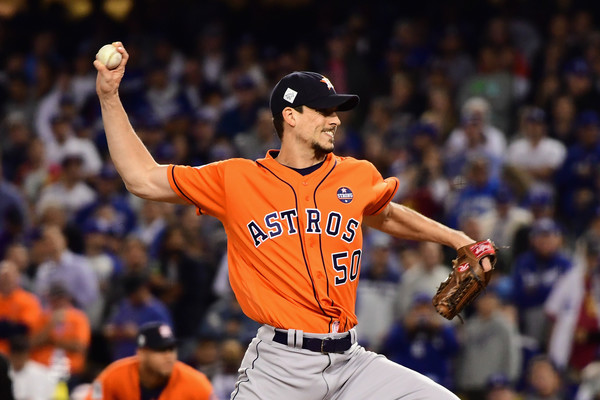 Coming into the game, the bullpen ERA was 7.29, fourth worst in series history, but they pitched 6 2/3 innings, giving up just three hits, walking two while striking out six.
"I came into the game and I was trying to throw the ball as hard as I could," Morton said."I knew we had more arms left in the bullpen, so I was just giving it everything I had straight out of the bullpen, and I think that was my issue. Maybe I needed to actually make some pitches instead of just throwing hard. So, I settled down after that first inning. Just got back into pitching like I know how."
He also said the feeling was indescribable: "I can't even describe that feeling. "That's what we as baseball players have dreamed of all our lives. And it just happened for me ... for us."
Astros reaction
Springer, who broke the World Series record for most extra-base hits (eight) and total bases (29):
"My approach was to get something out over the plate, get something I could drive. If I was going to go down, I was going to go down on my own accord. I just remember swinging and hearing the sound off the bat, and I knew it was a good sound. Then I saw the flight of the ball and I got to first base and I round third and got home and that's a crazy feeling."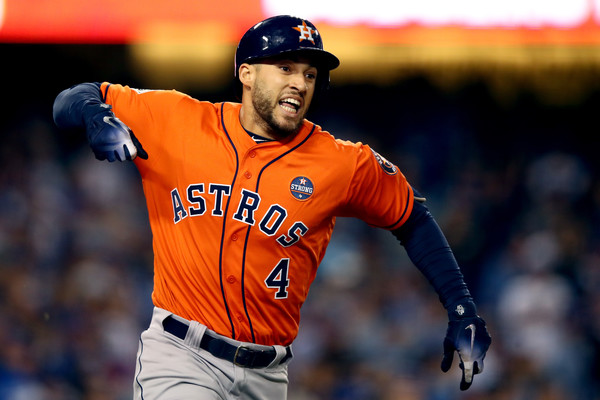 "It's a very surreal feeling because this is Game 7. This is what you dream of as a kid, and for that to happen is indescribable."
Altuve: "I got to the big leagues, you know, I don't know how. They just called me up, and in 2011, we lost 100 games, 2012 and 2013 (too). But I cannot lie – I believe in the process. I believe in what Jeff Luhnow and Jim Crane used to (tell) me, like, 'Hey, we're gonna win one day. We're gonna become a really good team.'
"So I was like, OK, now I want to get better every single day to be part of that team when they become good. And then in 2014, they signed George Springer, 2015 Carlos Correa, Alex Bregman (in 2016), and I was like, 'Wow, we're gonna be a good team.'"
Altuve explained how he could feel the team improving with the addition of these standout players. But something changed this year.
"This year, I felt something in spring training in the locker room – like, you know, a lot of talent but … I saw a good chemistry between everybody – players, coaches everybody. And we only talked about winning, winning, winning. That's all we wanted to do, and now we're here."
Justin Verlander: "I can't even put it into words. The experience is everything I dreamed it would be. But I didn't take a second of this for granted because having been here twice and falling short, I know how hard it is to win the World Series."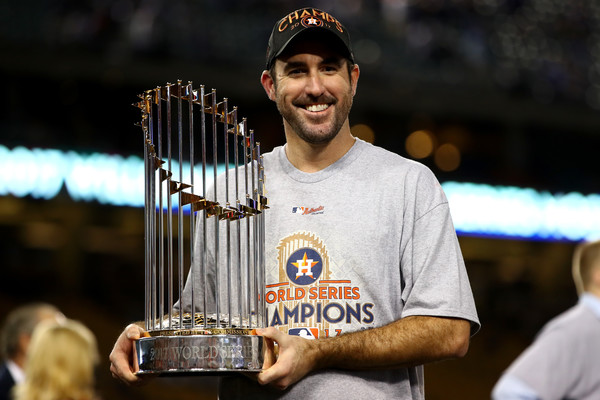 "It's kind of hard obviously now to look back and think that it was such a hard decision, but there's so much history in Detroit for me," he said. "The main reason I left was so I could win a World Series and have a chance to win a World Series again. And here we are."