 The New York Mets got their 2018 season off to a winning start with a 9-4 victory over the St. Louis Cardinals at Citi Field. Mets manager Mickey Callaway won in his managerial debut on a day when the club mourned the passing of former Mets great Rusty Staub.
The New York offense was spread around as five different players drove in runs and while three scored two runs and another trio scored single runs. On the mound, Noah Syndergaard pitched six innings, giving up all four St. Louis runs on six hits while striking out 10. The Mets bullpen pitched three scoreless innings to close out the win.
Offense dominates early on
After Syndergaard got the Cardinals in order in the top of the first, the Mets struck first in the bottom of the inning.
Brandon Nimmo led off with a hit by pitch and Jay Bruce singled with one out to put runners at first and second. Asdrubal Cabrera hit a grounder to first baseman Jose Martinez, who promptly made a throwing error, allowing Nimmo to score and give New York a 1-0 lead.
"That first inning was pretty incredible for me," Nimmo stated. "My hair was standing on the back of my neck. It was awesome to cross home plate (in the first), the crowd erupted. You want to get the firsts out of the way."
The teams traded runs in the second inning with Cardinals catcher Yadier Molina blasting a two-run home run off of Syndergaard to give St. Louis a 2-1 advantage.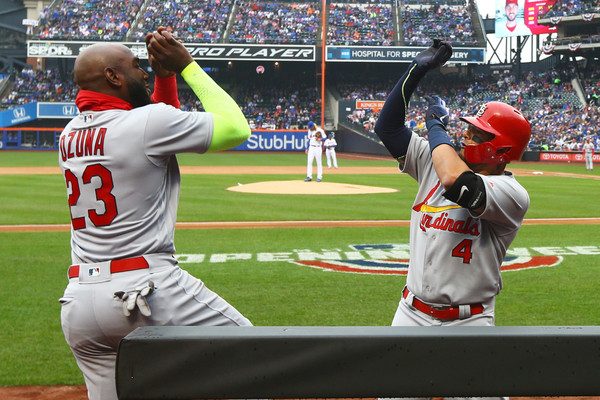 Kevin Plawecki drew a one-out walk off of Carlos Martinez and after Syndergaard struck out for the second out, Ahmed Rosario singled and Nimmo walked to load the bases.
Yoenis Cespedes, a key man for the Mets this season, dumped a single to shallow left field on an 0-2 slider, scoring Plawecki and Rosario to put New York back on top 3-2. "I just have to focus when I have two strikes. Mostly when I have runners on base, I have to focus more," he said after the game through a translator.
Martinez escaped further trouble when he struck out Cabrera to end the inning after Bruce walked to reload the bases. Matt Carpenter led off the fourth with a double and Jose Martinez singled him home to tie the game at 3-3.
Mets explode for five in the fifth
With one out in the bottom of the fifth, Todd Frazier walked and Adrian Gonzalez doubled in his first run as a Met, scoring Frazier to give New York a 4-3 lead. Carlos Martinez was pulled in favor of Matt Bowman, who walked Plawecki. Martinez gave up five runs on four hits with six walks after throwing 90 pitches. After Syndergaard sacrificed the runners to second and third, Rosario single in both Plawecki and Gonzalez to give the Mets a 6-3 lead.
"I think my approach is better than last year," he said after addressing his plate discipline, an issue during his rookie season. "I tried to make a different plan and try not to swing at the same pitches that I did before."
Callaway felt hitting the shortstop eighth helped: "I think it takes the pressure off him, hitting behind the pitcher, and he gets to do some damage, too. That was tremendous by him today. We bunted guys over to second and third with two outs to bring up Rosario. The kid can hit."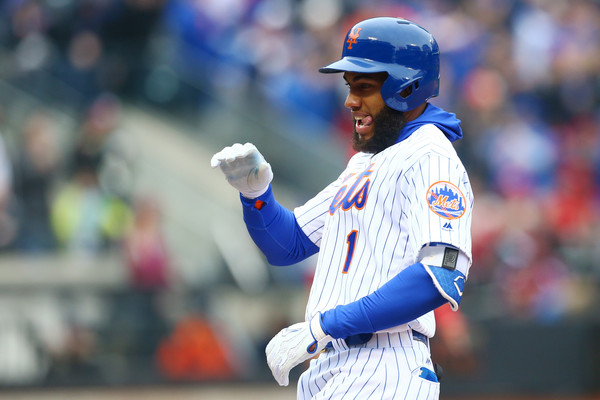 Nimmo singled, Cespedes followed suit with a run-scoring hit to make it 7-3 and Bowman was replaced for former Toronto lefty Brett Cecil, who surrendered another two-out RBI hit, this one to Bruce to cap the scoring and give the Mets an 8-3 edge. Cecil got out of the inning by getting Cabrera to foul out to Molina after Bruce had stolen second.
New York bullpen pitches spotless three innings in relief of Syndergaard
After Syndergaard gave up a solo home run to Jose Martines in the sixth, the Mets bullpen was near-perfect as former starter Robert Gsellman struck out the side in the top of the seventh, Anthony Swarzak threw a perfect eighth in his debut for the team and Jeurys Familia worked around a one-out walk to Molina to close out the game and improve the Mets record to 37-20 on Opening Day, the best of any team in baseball.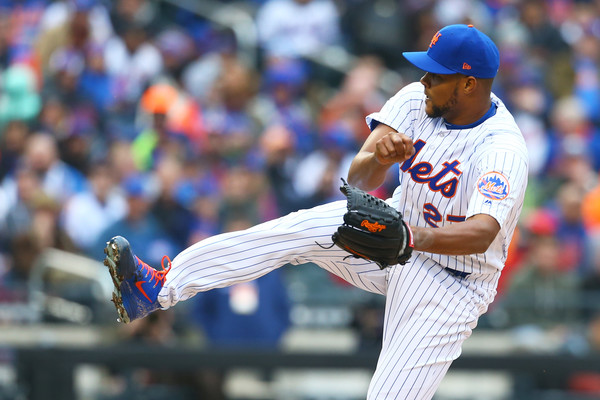 "I felt like he had done his job," Callaway said of Syndergaard. "We wanted to get some of our relievers in the game, so there was no second thought there at all.
"He looked really good. It was a pretty good pitch to Molina. He pulled his hands in and let Noah supply the power. But [Syndergaard] was tremendous.
"That Martinez kid kind of had his number, but other than that he looked really good. He was nice and relaxed, he wasn't overthrowing it at all and he just made pitches. Good breaking ball there at the end, too. He started mixing his curveball in, really good job."
After an off day on Friday, the series continues on Saturday with the Cardinals sending Michael Wacha to the mound looking to even the series while the Mets counter with Jacob DeGrom. First pitch is scheduled for 1:10pm.