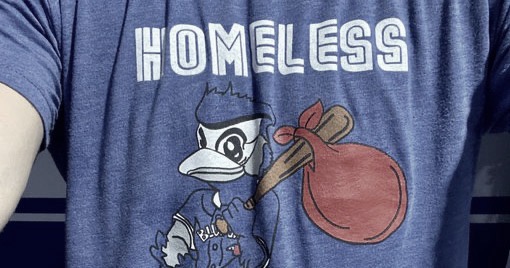 The Toronto Blue Jays are playing their home games this season at Sahlen Field in Buffalo, New York. Due to the Canadian government regulations regarding COVID-19, the team was forced to move out of the 'six' for this year.
Multiple players from the organization were spotted wearing T-shirts, which show the words 'Homeless Jays', and is a Blue Jay cartoon wearing tattered clothes while holding a baseball bat with a sack of belongings in it.
Despite it being related to them not being able to play their home games at Toronto, many people called it offensive.
The team released a statement, apologizing for a ''lapse in sensitivity'' toward homeless people, and added they won't allow players to wear it.
"The Blue Jays take accountability for ensuring negative stereotypes are not perpetuated and for supporting marginalized groups in our community," the team said. "The club has addressed the issue of the T-shirts with our players and they will not be worn again."
"We recognize the severity of the homelessness crisis in Toronto and throughout Canada and apologize for a lapse in sensitivity towards this important matter."