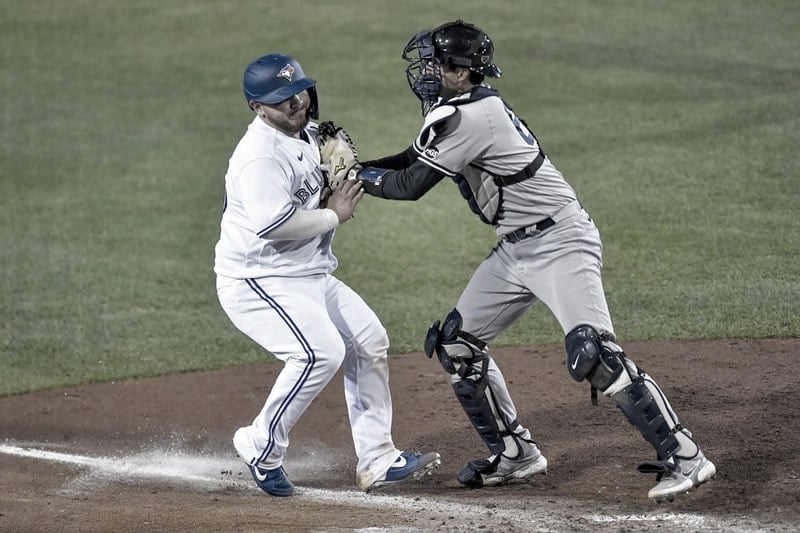 The New York Yankees have gotten it back into winning ways after dropping two consecutive games. The 'Bronx Bombers' put on a batting clinic and defeated the Toronto Blue Jays 12-1 to even the four-game series at Buffalo.
Incredibly enough, there were no homers for New York in the game, as this is only the second time this season the Yankees have won a game without hitting a home run, the other instance coming in the 2-1 walk-off over the Baltimore Orioles.
Gerritt Cole put a vintage performance in his last start of the regular season. Cole, who helped the Yankees clinch their third consecutive season with playoff berth, had a solid game and helped to drop below the three-ERA mark on the year, and his final line of a 2.84 ERA, 0.96 WHIP, and 94 strikeouts in 73 innings.
Zack Britton and Adam Ottavino pitched 1-2-3 innings in the eighth and ninth respectively.
Toronto's lone-run came on a fourth inning Cavan Biggio solo shot, as the Jays' youngster was impressively able to get his hands extended on a Cole fastball on the outer half and drive it the opposite way.
The Yankees have to keep it rolling, as they are neck-and-neck with the Minnesota Twins for the fourth seed in the first round of the playoffs. Masahiro Tanaka and Robbie Ray will start game 3 of the series for New York and Toronto respectively.