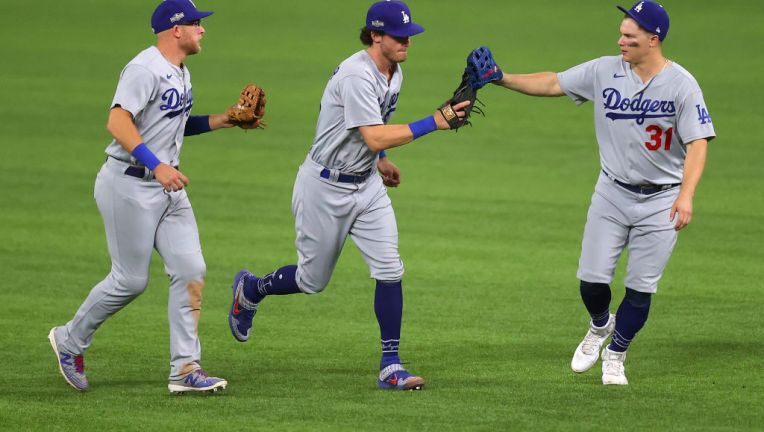 The Los Angeles Dodgers have gotten themselves back in the National League Championship Series after blowing out the Atlanta Braves 15-3 in Game 3.
Los Angeles scored 11 runs in the first inning, a record for most runs scored in any inning in the postseason and cruised to victory, cutting Atlanta's lead to 2-1 in the series. The Dodgers' Joc Pederson had four hits and Corey Seager had three hits as Los Angeles scored all 15 runs over the first three innings.
Dodgers starter Julio Urias took the win, his third of the playoffs, allowing one run and three hits over five innings while striking out five. Braves starter Kyle Wright only faced nine batters, giving up seven runs.
Dodgers roll to cut Braves series' lead in half
Mookie Betts hit the first pitch of the game for an infield single and after Wright got the next two outs, the only two he would record, Seager doubled him home, starting an amazing string of nine straight Dodgers reaching base with two outs.
Will Smith doubled home Seager to make it 2-0, Cody Bellinger walked, Pederson blasted a three-run homer, Edwin Rios followed with a solo shot, Chris Taylor drew another walk, ending the night for Wright.
"That was fun to be a part of", Pederson said. I think some of the momentum from last night, the last inning definitely carried over and got us feeling a little bit more comfortable at the plate."
Bellinger agreed. "It was a carryover. It's not ideal how we started the series, but we feel good about ourselves."
Reliever Grant Dayton walked Betts, Seager singled home Taylor to push the lead to 7-0, Justin Turner was hit by a pitch and Max Muncy capped the scoring for the historic inning with a grand slam before Dayton got the third out.
Manager Dave Roberts was understandably pleased. "I just realized we got all these runs with two outs. Just really good at-bats. We hit some homers, took some walks. Just really a well-played inning. I do think last night's ninth bled over into tonight."

"It's pretty cool. Not too many things are cooler than that", Muncy said following the victory. But the biggest thing to me is our team got a W and got us back on track."
Bellinger made it 12-0 with a solo home run in the top of the second and Seager followed suit in the top of the third, the score now 13-0. Smith's RBI groundout and Bellinger's RBI single pushed it to 15-0.
Christian Pache hit his first major league home run off of Urias in the bottom of the third and Atlanta scored two more runs in the bottom of the ninth off of Adam Kolarek on an Austin Riley groundout and an RBI single by Johan Camargo.
Up next
The Dodgers will turn to their ace Clayton Kershaw to try and even the series while the Braves will start Bryse Wilson. First pitch for Game 4 is scheduled for is at 8:08pm.