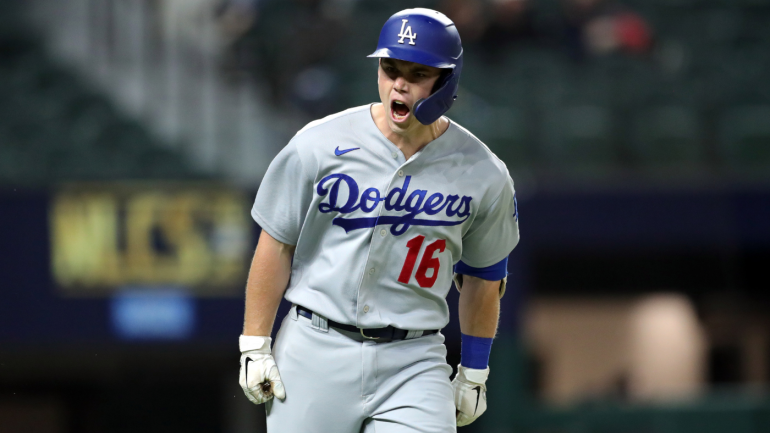 The Los Angeles Dodgers have staved off elimination with a 7-3 victory over the Atlanta Braves in the National League Championship Series.
Trailing 2-1 in the top of the sixth, Los Angeles catcher Will Smith hit a go-ahead two-run home run off of Atlanta reliever Will Smith, the first time two players with the same name have faced off, to put the Dodgers ahead for good.
Ex-Brave Blake Treinen picked up the win in relief while Smith suffered the loss.
Smith, Seager key Dodgers offense in Game 5 win
Atlanta got off to an early lead against Los Angeles starter Dustin May. A one-out double by Freddie Freeman saw him advance to third and come home on a sacrifice fly by Travis d'Arnaud. The lead was doubled in the bottom of the second.
Dansby Swanson walked, Nick Markakis singled and Cristian Pache singled home Swanson to make it 2-0 after two innings. May retired Ronald Acuna Jr. and Freeman to limit the damage.
Braves starter A.J. Minter was magnificent, striking out seven over his three innings of work, throwing 42 pitches. Singles by Marcell Ozuna and d'Arnaud put two men on with no outs, but May got through the inning after Ozuna left third too early on Swanson's fly ball.
Tyler Matzek relieved Minter and immediately gave up a solo home run to Corey Seager to cut the lead to 2-1 and in the sixth, Smith, who gave up a single to Mookie Betts and walked Max Muncy, gave up a three-run shot to the Dodgers' catcher Smith as Los Angeles went in front 4-2.
Jacob Webb came on in the top of the seventh and after two quick outs, he gave up a double to Chris Taylor, a run-scoring single to Betts to extend the lead to 5-2 and a two-run shot to Seager, which made the score 7-2.
Freeman doubled in the bottom of the eighth, went to third on an Ozuna ground out and scored on a sac fly by d'Arnaud. After adding another run, the Braves did nothing against Kenley Jansen and the Dodgers kept their season alive for at least one more night.
Up next
The Braves will again try to book their first World Series appearance since 1999 when they send Max Fried to the mound for Game 6 while the Dodgers counter with Walker Buehler. First pitch is at 4:37pm.