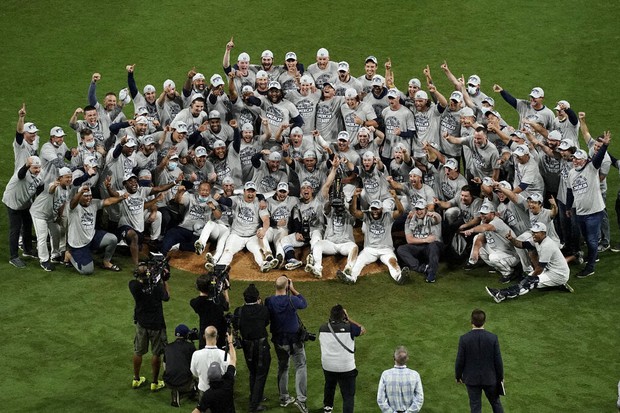 The Tampa Bay Rays are the American League champions after defeating the Houston Astros 4-2 in Game 7 of the American League Championship Series.
The Rays built a 4-0 lead and withstood a late Astros rally to clinch their second American League pennant in franchise history, denying Houston a third pennant in the last four years.
Randy Arozarena was named MVP of the series with six home runs while Charlie Morton picked up the win, throwing just 66 pitches over 5 2/3 innings, striking out six.
"We are lucky to have Charlie Morton", said Tampa Bay manager Kevin Cash. "For a group that doesn't have a wealth of experience in these roles, Charlie does. He has been there, done that. He lined it up really, really well for us."
Lance McCullers Jr. took the loss, his second of the series after only going 3 2/3 innings, giving up three runs and four hits, two of them home runs while striking out seven.
Rays jump out to four-run lead through seven innings
Morton got around a one-out single from Michael Brantley in the top of the first and the Rays jumped out to a 2-0 lead in the bottom of the inning. McCullers hit Manuel Margot with his first pitch of the night and after striking out Brandon Lowe, Arozarena blasted his seventh home run of the playoffs.
Mike Zunino fell behind 0-2 and after working a full count, he added to Tampa Bay's lead with a solo homer to make it 3-0 after two innings. Morton was cruising through the first five innings until he allowed a walk and infield single to put runners on the corners with two outs in the top of the sixth.
"You go up 3-0, whether we get a little complacent or a little comfortable, whether we put a little pressure on ourselves to end it quicker, we took ourselves out of our game", said Zunino. "Guys came back today and there was a sense of calm. It felt like how the clubhouse usually feels, and these guys responded."
He was pulled for Nick Anderson, who got Brantley to bounce out to second to end the threat. The Rays added a run in the bottom of the frame as Ji-Man Choi singled and Willy Adames walked to put men on first and second with no outs. Choi took third on a flyout by Joey Wendle and he came home on a sacrifice fly by Zunino.
Anderson remained in the game for the seventh, but ran into a jam when Alex Bregman and Kyle Tucker singled with one out. Yuli Gurriel came up and rapped into a 6-4-3 double play to get the Rays reliever through the difficulty.
Astros cut the lead in half, Rays hold on to win
The Astros finally got on the board in the top of the eighth. After Anderson got the first two outs, he walked Aldemys Diaz and gave up an infield single to Jose Altuve. Pete Fairbanks relieved Anderson and he walked Brantley before Carlos Correa drove home two with a single.
After striking out Bregman to end the threat, Fairbanks stayed in to nail down the pennant and he struck out Tucker and Reddick in between a single by Gurriel. One out from a trip to the Fall Classic, Fairbanks got Diaz to fly out to right and the Rays were in the World Series for the first time since 2008.
"Pretty special feeling", Cash said after the Rays advanced. I don't know if I had many better [moments] other than getting married and having three kids. This is right there below that. It can't get much better than that. This is a special group to be a part of."
"We don't have a lot of household names, but at the same time, people are making a name for themselves", said Kevin Kiermaier. "And if they don't know the names by now, they better learn them because we've got some boys who can play."
Astros manager Dusty Baker reflected on the season as his team's historic comeback bid fell just short. "The legacy of this group is that these guys are ballplayers. These guys are men. They have been through a whole bunch other than on the ballfield.
"[Now] these guys can forget they had that is out there and come together as a group and forever be friends. A lot of people didn't have us making the playoffs. This team is a bunch of fighters. One thing for sure is we'll be back in this position next year."