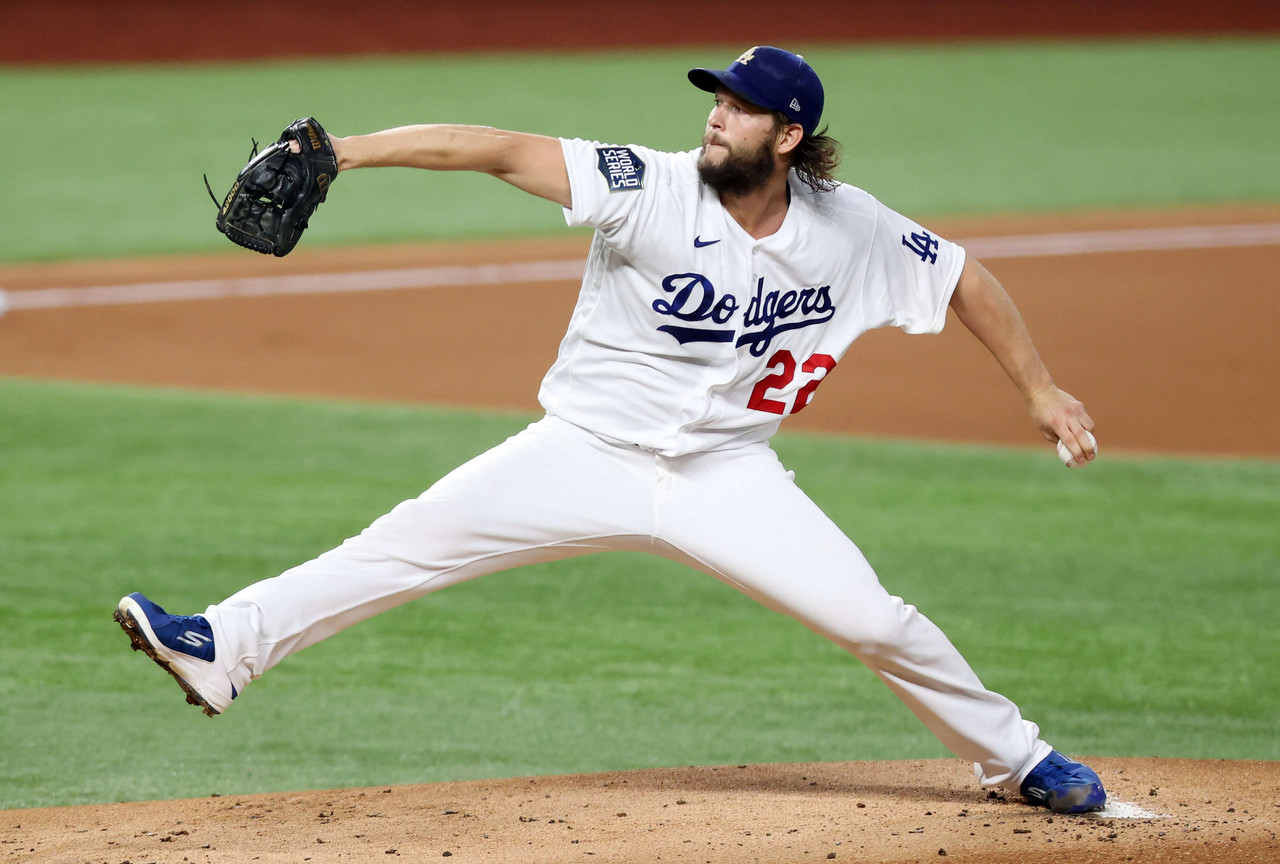 The Los Angeles Dodgers have taken Game 1 of the 2020 World Series 8-3 over the Tampa Bay Rays at Globe Life Field in Arlington, making this the first Fall Classic to be played at a neutral site.
The story of the game was Los Angeles ace Clayton Kershaw, who was making his third career Game 1 start in a World Series. The lefthander baffled Tampa Bay through six excellent innings, striking out eight while only allowing two hits.
The Dodgers scored two runs in the bottom of the fourth, four in the fifth and two more in the sixth to put the game away and providing Kershaw with more than enough run support.
Rays starter Tyler Glasnow labored through 4 1/3 innings, throwing 112 pitches, also striking out eight, but allowing six runs on only three hits.
Kershaw stifles Tampa Bay hitters through six sharp innings
It was a shaky start for Kershaw as he allowed a leadoff single to Yandy Diaz and a one-out walk to ALCS MVP Randy Arozarena before striking out Hunter Renfroe and getting Manuel Margot to ground back to him to end the threat.
His slider wasn't working the way he wanted it to, but catcher Austin Barnes wasn't worried. "He said he'd find it and he did", he said. "He had a lot of swing and misses with it, and made a lot of big pitches with it. It was that prototypical Kershaw slider."
"I didn't really have an alternative", he stated. "I kind of have to figure it out. After that, I kind of locked it in a little bit better. After that, I started feeling good about it."
He retired the next 16 of the last 17 Rays hitters he faced, a solo home run to Kevin Kiermaier that cut the lead to 2-1 in the top of the fifth the only other hit he allowed besides the single to Diaz. Kershaw threw just 78 pitches to improve to 3-1 this postseason.
"One through nine, they're dangerous", Kiermaier said. "These are things we all knew coming into the Series, and they displayed that tonight. It's the World Series, two great teams playing each other, and they had the upper hand tonight."
Glasnow had allowed a runner in each of the first three innings, a walk to NLCS MVP Corey Seager in the first, a two-out single to Chris Taylor in the second and another walk to Seager in the third. The fourth inning is where the Rays righthander found trouble.
Dodgers get to Glasnow, erupt for six runs off of Rays starter
A walk to Max Muncy, the third given up by Glasnow, was followed by a groundout by Will Smith that advanced Muncy to second. Cody Bellinger, who won Game 7 of the NLCS with a home run, drove a first-pitch fastball into the right-center field stands to give Los Angeles a 2-0 lead.
"I said it before the game, if I hit one today, i'm not touching anyone's arm. I'm going straight foot", referring to his celebration after his home run in Game 7 of the NLCS that led to his shoulder popping out of its socket.
Mookie Betts walked to lead off the bottom of the fifth and proceeded to steal second before Seager drew his third free pass of the game. Despite striking out Justin Turner, the Dodgers executed a double steal that paid off when Muncy brought home Betts with a fielder's choice and Smith singled in Seager to make it 4-1.
Tampa Bay manager Kevin Cash had seen enough and he lifted Glasnow for Ryan Yarborough, who gave up run-scoring singles to Taylor and Kike Hernandez that increased the Los Angeles advantage to 6-1.
"That at-bat with Muncy right there...(we) felt like he was the best guy to get a strikeout", Cash said. "We needed a strikeout after we weren't able to hold the runners. Felt like [Glasnow] still, with his stuff, was equipped to get a strikeout."
Glasnow has had trouble holding runners on and the Dodgers took advantage, stealing three bases. He knows it's something he has to work on.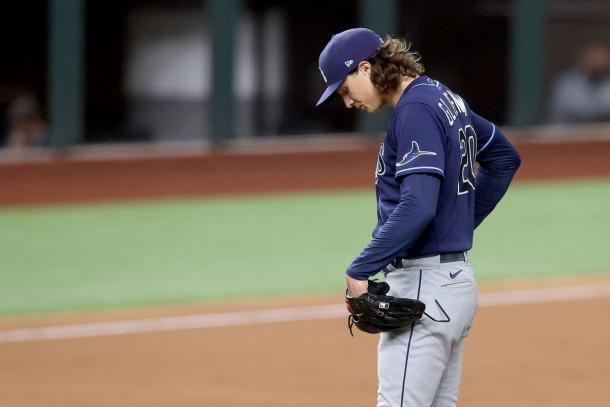 "That's definitely the weak part of my game, just holding runners. They took advantage of it tonight. It has to be something I focus on in the future."
Teams trade runs late, Bellinger shows off defensive prowess
The Dodgers tacked on two more runs against Josh Fleming, a solo home run by Betts making it 7-1 and back-to-back doubles from Turner and Muncy boosted the Los Angeles lead to 8-1. The Rays answered those runs in the top of the seventh with consecutive RBI singles by Mike Brosseau and Kiermaier.
In the top of the ninth, Bellinger robbed Austin Meadows of a home run, capping off a dominant start to the Fall Classic for the National League champions.
Looking ahead to Game 2
The Rays will look to even up the series with ace Blake Snell on the mound against the Dodgers' Tony Gonsolin.
The Tampa Bay lefty is 1-1 with a 3.38 ERA this postseason, having lost Game 6 of the ALCS against Houston in his last outing. This will be his first World Series start.
Gonsolin's only decision this postseason was a loss in Game 2 of the NLCS against Atlanta, but he did pitch two effective innings in Game 7. He'll be starting on two days rest and figures to be on a short leash.
First pitch is scheduled for 8:08pm Eastern time and can be seen on FOX.
Notes
Kershaw joined Justin Verlander as the only pitchers with 200 or more strikeouts in the playoffs. He also got 19 swings and misses, the most in a World Series game since 2000.
"So much gratitude. I'm just so thankful. It's incredible. Nothing is deserved in this game. You don't deserve to be a part of anything like this. So it's just an opportunity, man. It's so special."
Betts was the fifth Dodger to homer and steal a base in a World Series game, joining Davey Lopes, who did it twice, Joe Ferguson and Wes Parker. "I did a good job tonight, but my main responsibility is to win a World Series. That's all i'm trying to do."