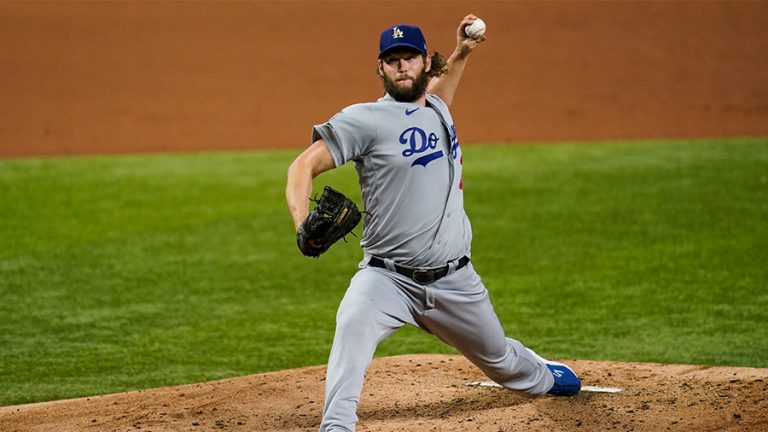 The Los Angeles Dodgers have moved to within a game of their first World Series title since 1988 as they defeated the Tampa Bay Rays 4-2 in Game 5 of the Fall Classic to take a three games to two lead.
For the second time in the series, Clayton Kershaw outdueled Tyler Glasnow with the Dodgers lefty pitching 5 2/3 innings, striking out six. Glasnow fared a bit better than his Game 1, hurling five innings, allowing four runs and six hits while also striking out six.
Dodgers get off to quick start again
As they have throughout the postseason, Los Angeles took an early lead, scoring three runs in the first two innings. Mookie Betts worked an eight-pitch at-bat before doubling and Corey Seager singled him in to put the Dodgers ahead 1-0.
He took third on a pair of wild pitches and came home on Cody Bellinger's single to double the advantage. A solo home run by Joc Pederson staked Los Angeles to a 3-0 lead. By this time, Glasnow became the first pitcher in World Series history to throw three wild pitches in a game.
Rays waste opportunities despite scoring two runs
Tampa Bay had chances to score off of Kershaw as in the bottom of the first, Yandy Diaz singled and after just missing a home run, Randy Arozarena grounded into a double play. Manuel Margot led off the second with a bunt single, but nothing came of it.
Perhaps the bottom of the third was the turning point in the game and possibly the series. Kevin Kiermaier singled and Diaz tripled to drive him in and make the score 3-1. Arozarena singled him home to cut the deficit to 3-2. A strikeout of Brandon Lowe combined with Arozarena being thrown out at second got Kershaw through the jam.
Margot tried to steal home and Kershaw, who tells his first baseman to alert him if a runner attempts that, spoke of the play. "If they break, you've got to say something", he said. "It's something that doesn't happen much, but it has happened before and you prepare for it. I just now know to step off fast and throw it."
Los Angeles bullpen preserves lead, put Dodgers on brink of title
After an insurance run was provided courtesy of a solo blast by Max Muncy in the top of the fifth, Kershaw gave way with two outs in the sixth. Dustin May pitched 1 2/3 innings, striking out two, Victor Gonzalez got a pair of outs in the eighth and Blake Treinen worked around a leadoff single by Margot to pick up the save.
Afterward, Treinen focused on Kershaw and his role in putting the Dodgers in the position they're currently in. "Kersh, a lot of credit goes to him for what we've been able to do in this World Series", he said. "There's a tough narrative on him. He's a phenomenal pitcher on the biggest stage."
Looking ahead to Game 6
In a rematch of Game 2, Blake Snell will get the start for Tampa Bay, trying to extend their season. Tony Gonsolin will get the call for Los Angeles as they try to clinch. Snell was terrific in evening up the series, striking out nine in 4 2/3 innings of work while Gonsolin only lasted for four outs.
Notes
Arozarena's RBI single in the bottom of the third was his 29th of the postseason, breaking Pablo Sandoval's record.
Glasnow has now allowed a playoff record nine home runs while also becoming the first pitcher to throw two wild pitches in one inning of a World Series game.
Muncy became the ninth different Dodger to homer, breaking the 1989 Oakland Athletics record of eight.
This is just the second-ever Fall Classic where a run has been scored in the top of the first inning in four straight games, joining the 1932 World Series.
Teams with a 3-2 advantage in World Series history have won the championship 30 of 46 times.