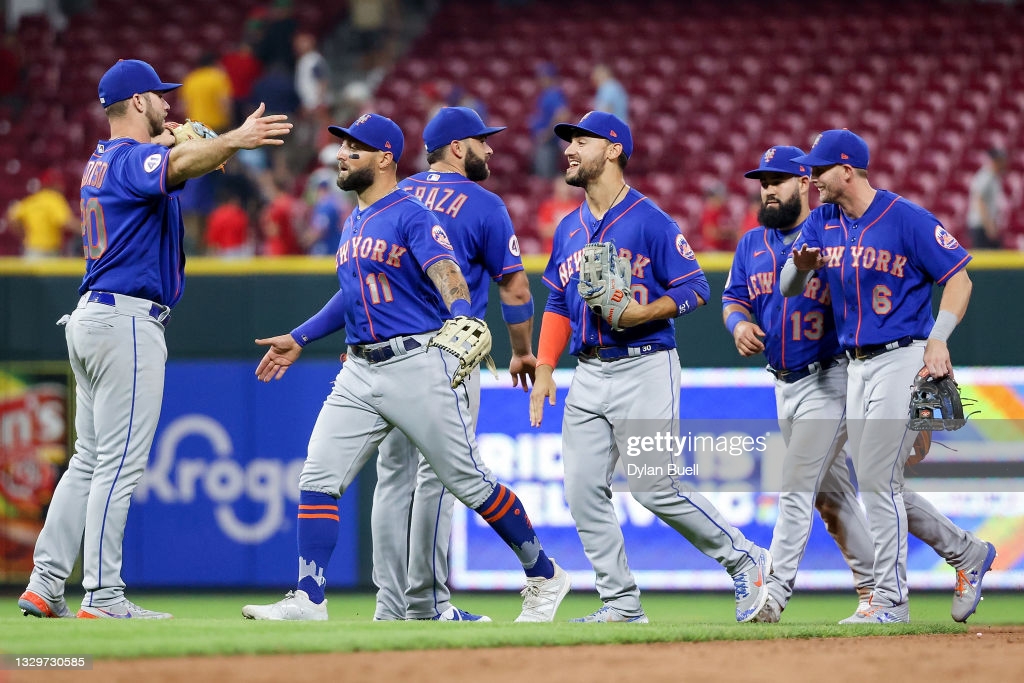 The New York Mets overcame four errors and two blown saves to outlast the Cincinnati Reds 15-11 in 11 innings at Great American Ballpark.
New York (49-42) hit seven home runs and overcame an early 7-3 deficit. They then watched as Cincinnati (48-46) twice tied the game in the late innings before finally hanging on in the 11th for their second straight win.
Mets overcome fielding mistakes, shaky bullpen to overcome Reds
The New York offense touched Cincinnati starter Vladimir Gutierrez for three runs in the top of the first. Pete Alonso blasted his 18th home run of the season to put the Mets in front 2-0 and Jeff McNeil added a solo blast to make it 3-0.
Jonathan India doubled to lead off the bottom of the first against New York starter Jared Eickhoff. Jesse Winker followed with a single and Luis Guillorme botched a grounder by Tyler Stephenson, allowing India to score.
Joey Votto was hit by a pitch and Tyler Naquin doubled to bring home Winker and Stephenson to tie the game. Shogo Akiyama put the Reds in front with a sacrifice fly, scoring Votto.
Cincinnati scored three more runs in the bottom of the second. In an almost instant replay of the first, Guillorme booted a ground ball by Stephenson, scoring India to make it 5-3. The Mets shortstop was charged with a second error on the play.
Votto singled home Winker and Naquin reached on an infield single, Stephenson crossing the plate to make it 7-3 Reds after two innings. Michael Conforto, who won Sunday's game in Pittsburgh with a two-run homer, cut the lead in half with another dinger.
Tomas Nido followed with a double and scored on a two-out single by Alonso to trim the Cincinnati lead to 7-6. Dominic Smith pulled New York even with his tenth home run of the season.
Eickhoff was done after 3 2/3 innings, giving way to Yennsy Diaz, who pitched 1 1/3 of effective relief. Miguel Castro had an easy bottom of the sixth and got the two first two outs in the seventh before giving way to Seth Lugo after a fielder's choice by Tucker Barnhart.
Lugo walked India and Winker doubled home Barnhart to put the Reds back in front 8-7. Stephenson grounded out to end the inning and in the top of the eighth, Conforto led off with a single off of Josh Osich and pinch-hitter James McCann slugged a two-run homer.
Eventually, Edwin Diaz was summoned to try and get the save, but he allowed the Reds to tie things up when Winker doubled in Aristedes Aquino, who pinch-ran for Josh Farmer. Diaz uncorked a wild pitch that sent Winker to third, but he struck out Mike Freeman.
Extra innings would prove to be just as wild the first nine. McCann drove in his third run of the game when he singled in Kevin Pillar, the "free runner" in the 10th. Anthony Banda made his major league debut and Naquin singled home Freeman to make it a 10-10 game.
The Mets erupted for five runs in the top of the 11th on a run-scoring single by McNeil, a three-run homer by Pillar and Conforto's second dinger of the game. India singled in Eugenio Suarez to make it 15-11. Banda was pulled in favor of Trevor May, who got the final two outs.
Banda picked up the win while Edgar Garcia took the loss. May picked up his third save as a Met and his second in a row.
The teams will continue their series on Tuesday night as Robert Stock makes his second start as a Met as he goes up against left-hander Wade Miley. First pitch is scheduled for 7:10pm Eastern time.