Entering the 2017 season, there was only one sure thing in the Boston Red Sox bullpen. However, despite the reassurance of a lockdown closer in Craig Kimbrel, Red Sox manager John Farrell still had to figure out how to build the bridge to his flamethrowing ninth-inning man.
The plan had been to use acquired hurlers Carson Smith and Tyler Thornburg to handle the seventh and eighth innings, with converted relievers Matt Barnes and Joe Kelly handling other duties. Heath Hembree, Fernando Abad, Robbie Ross Jr., and Robby Scott could fit into the picture if needed.
Everything looked set for the Red Sox until both Smith and Thornburg went down with injuries, leaving Farrell with a plethora of relievers, but none with the experience or track record to be trusted in late-game situations. While Kimbrel locked down the ninth inning, Farrell experimented with the sixth, seventh, and eighth innings, plugging different hurlers into different roles.
Eventually, it would be Matt Barnes who earned the set-up man role. At the time, the choice was justified - Barnes opened his season with seven straight scoreless outings and possessed a 2.84 ERA after May 3rd. Beyond that, the Red Sox were 11-0 in games that he pitched in.
However, Farrell's newly developed set-up man began to struggle. On May 5, he gave up a walk-off home run to Joe Mauer. On the seventh, Barnes entered with a 7-4 lead in the eighth inning. He did not retire a batter, allowed two runs, and forced Farrell to bring in Kimbrel in the eighth inning to preserve the lead.
Barnes settled down for much of May, but he was lit up again at the end of the month, allowing a pair of runs to the Chicago White Sox on May 29; he was charged with the blown save and the loss. Throughout June and into the start of July, Barnes was serviceable, but a lack of control was costly as he faltered in several big situations.
Entering the All-Star Break, Barnes holds a respectable 3.57 ERA, but in one-run games, he has thrown nine innings, giving up eight earned runs. Not ideal for your set-up man. The Red Sox have better options for their set-up man, and there is also a better way to utilize Barnes' talents.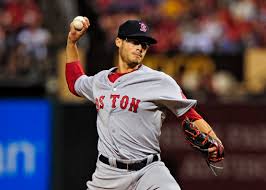 The rise of Joe Kelly
Joe Kelly looked like a big bust for a long time after the Red Sox acquired him and Allen Craig for John Lackey in 2014. A seemingly solid trade for the Sox turned sour when Craig fizzled and Kelly struggled. Craig was released earlier this year, but Joe Kelly, initially a starter with the Red Sox has found a home in the bullpen.
Only there can he reap the benefits of his 101 mph fastball completely. Despite surrendering a two-run home run in the last game before the All-Star break, Kelly boasts a 1.49 ERA, yet somehow, his name was never mentioned as a potential All-Star.
Over the two-month span of May and June, Kelly hurled 20 1/3 scoreless frames. His scoreless streak was snapped on Sunday, but it was at the tail-end of a rare multi-inning relief appearance that was set-up by the struggles of Barnes.
After Barnes entered with a 3-2 lead, he surrendered a walk, sacrifice bunt, and single to put runners on the corners. The idea of giving Barnes the seventh inning and possibly Kelly the eighth fell through as Barnes struggled again. Rather, Kelly entered in the seventh and gave up a sacrifice fly. In the eighth, with two outs and one on, Kelly slipped and surrendered a bomb that handed Boston its fourth loss in five games.
But beyond, that one mislocated pitch, Kelly has been nearly untouchable. When entering a clean inning, Kelly has hurled 20 1/3 innings while giving up just two runs. His 0.89 ERA in games that he entered a clean inning shows a heightened level of dominance. Although his ERA when entering in the middle of an inning is still excellent -a sparkling 2.25 -, Kelly has also allowed 41% of inherited runners to score.
This leads you to believe that Kelly would be much better suited taking the eighth inning for his own, as he seems at his best when he takes control of an inning by himself. On the contrary, Matt Barnes is spectacular when entering in the middle of an inning.
Although it's been a rare occasion, Barnes has excelled when entering with runners on base. Since the first game of the season, Barnes has not allowed any of his seven inherited runners to score. In innings that Barnes enters with runners on base, hitters are 0-6 against him this season.
Obviously, it's a small sample size, but Barnes seems to reach his peak when pitching with runners on. His 49 strikeouts to Kelly's 26 also provide a swing-and-miss ability that is exceedingly useful in jams. Meanwhile, Kelly's pitch-to-contact style is perfect for a set-up man.
John Farrell has been praised for his handling of the Sox bullpen this season, and rightfully so. However, although stats can lie, the statistics, in this case, seem to show that an already dominant bullpen could become absolutely lights out with a simple role switch.
Having a steady eighth inning man would give Farrell some extra ammunition; he could now mix and match lefties Robby Scott and Fernando Abad with righties Barnes, Hembree, and Blaine Boyer, in the sixth and seventh inning, working it according to match-up. Then, after the seventh inning, the Red Sox could nearly be unbeatable with the Kelly/Kimbrel combination to lock the game down for the BoSox.
Is it a guaranteed success? No.
Is it worth trying? Absolutely.