The Houston Astros have been one of the best teams in baseball all season long. Along with the Los Angeles Dodgers, they have been in a class of their own, compiling a 60-29 record. As the trade deadline approaches, what do the Astros need to bolster their chances of postseason success?
The Needs
With their division title almost assured, the Astros will focus on moves that could potentially lift their chances come October. Their top priority should be acquiring a bullpen arm. Although solid, their bullpen does not have the intimidation factor that those of recent champions have boasted. Ken Giles has been serviceable, although not dominant, as their closer, while Chris Devenski and Will Harris have been studs out of the 'pen. Michael Feliz and Luke Gregerson have done well as role pitchers. No one is getting lit up, but the Astros lack the tools to really dominate come October. One key missing piece is a strong lefty reliever that the Astros can mix into their bullpen plan during tight postseason games when manager A.J. Hinch wants pitchers according to the matchup.
With the struggling Tony Sipps serving as Houston's lone southpaw, Hinch would love to have another weapon at his disposal. Such an acquisition would provide some balance in their righty-dominated bullpen. Houston's offense is in good shape. They hit for plenty of power and average. Third baseman Alex Bregman was involved in some rumors, but Houston has expressed that they are looking to keep their major-league roster intact. Trading Bregman, who has been serviceable at the hot corner with a .256 average, would also force them to compete with the Boston Red Sox for a third baseman at the deadline. Bregman is just 23-years-old, and Houston hopes that he factors into their long-term success plan. Plus, with super-utility man Marwin Gonzalez on the roster, Houston has the ability to swap out starters based on who's hot and who's not.
If it is manageable to acquire, Houston also wouldn't mind securing some starting pitching depth as their rotation lacks both depth and postseason experience. Of their five starters, only one - Dallas Keuchel - has pitched 200 innings in a season before, and not one of them has extensive postseason experience. That leaves both their durability and playoff makeup in question as the season progresses. The Astros don't need an ace - they have one in Keuchel - but a mid-level veteran starter with playoff experience would be the ideal addition to their staff.
Houston is in a desirable position because they don't need any major pieces to bolster their roster heading into the final stretch. They can acquire the pieces they need without decimating their farm system.
Here are the trades this writer sees the Astros making:
The Trades
Trade 1 - Astros acquire San Diego Padres LHP Brad Hand for OF Ramon Laureano and SS/2B Jonathan Arauz.
Brad Hand is an obvious fit for the Astros, and they have the prospects to lure him away from the Padres. San Diego's lone All-Star, Hand has excelled since becoming a full-time reliever in 2016. He posted a 2.92 ERA last season, and he has improved that mark to a stellar 2.30 thus far this season. A lefty, Hand would be a dream addition for A.J. Hinch, giving him a much-needed southpaw weapon out of his bullpen. The Padres have one of the best farm systems in baseball and a very young lineup, so there are no glaring needs. But as the Padres continue their rebuild, they will attempt to bolster their outfield depth, one of the thinnest positions in their organization, by picking up Laureano, Houston's #8 prospect. Arauz is the add-on to the package, and the idea makes sense for the Padres, who has the aging Erick Aybar manning the shortstop position. Houston, with 22-year-old stud Carlos Correa at short, and 28-year-old All-Star Jose Altuve at second, can afford to give away Arauz. Laureano is another useful trade chip, as he is part of Houston's loaded farm system that boasts a surplus of outfielders. Combined, they create an attractive package that could entice the Padres to part with Hand as they work on their rebuilding process.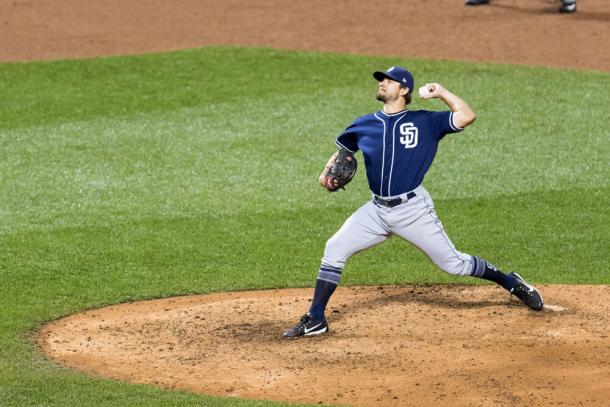 Trade 2 - Astros acquire Toronto Blue Jays RHP Marco Estrada for OF Daz Cameron
Once again, the Astros address another need at a minimal cost. Cameron is a Top-10 prospect but just their fifth-ranked outfielder in their loaded system. Meanwhile, they acquire a veteran in Estrada, who, despite his struggles this season, has a history of success. He was an All-Star in 2016 and his postseason career has been stellar. Over the past two seasons, he posted a 2.16 playoff ERA in six starts for Toronto. Despite just a 5.17 ERA this season, Estrada is a savvy veteran who could benefit from a change of scenery. At 34 years old, he would provide a veteran presence that this Houston clubhouse could need come October. Meanwhile, Toronto, with an aging outfield, acquires a solid prospect in Daz Cameron, son of former All-Star Mike Cameron, as they look to rebuild a shaky farm system that is low on quality outfield talent.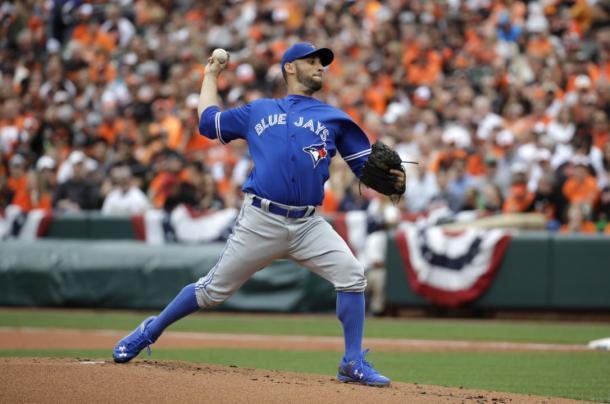 Other Thoughts
Other options that the Astros may look at in the form of starting pitching include Jaime Garcia or R.A. Dickey of the Atlanta Braves, or former Astro Scott Feldman, currently with the Cincinnati Reds. Garcia brings with him postseason experience (7 starts, 3.94 ERA). At 30 years old, Garcia would still provide a veteran leadership along with his 4.55 ERA this season.
Dickey is 42-years-old and has five years of 200 innings or more under his belt. He also has boasted a 4.23 ERA over the course of his career, but his National League career has been significantly better than his American League Career. His postseason success is also not ideal as he has a 7.11 ERA in two starts that have combined for just 6 ⅓ innings.
Feldman has the familiarity factor in Houston, but he has never started a game in the postseason, despite nine relief appearances. He has a 3.94 ERA this season, the best out of the aforementioned options. Like Estrada, Feldman is 34 years old and slated to be a free agent after the season ends.
These are the only two deals that Houston really needs to look into. Their offense is in fine shape and their pitching staff just needs some depth that can be addressed in the moves above. They could use some speed, but they have internal solutions for that problem, including Derek Fisher, who has already played five games with the Astros. He has stolen 14 bases this season plus one in the major leagues.
If the Astros can make these moves, or something similar, expect to see them as one of the last teams, if not the last team, standing.