Kendrys Morales' three-homer night at Oriole Park was enough to lead the Blue Jays to an 11-8 victory over the red-hot Orioles in Thursday's four-game series opener in Baltimore.
While there were no hats thrown onto the field, like traditionally at Rogers Centre, this was still a very special night for Morales, who recorded just the second hat trick of his career and set a new career high of seven RBIs along with four hits, all of which cashed in runs.
"It's difficult to do so you have to feel good about it," the 34-year-old switch-hitter said. "And plus, we got a win on top of that, so it feels great."
"It was the Mo Show," said Blue Jays manager John Gibbons. "Obviously, we needed it on a night like tonight, falling behind. You never feel good in this ball park."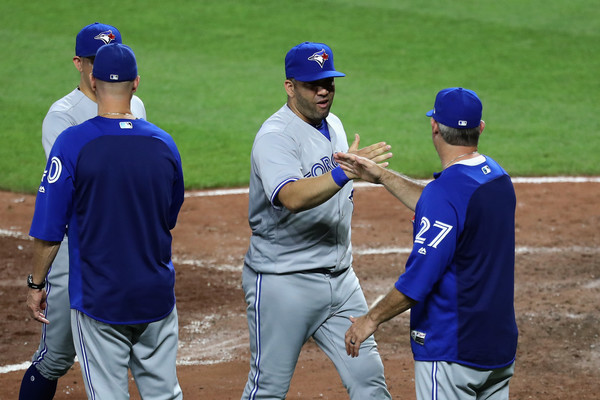 This victory marks the end of a four-game losing skid and an all-around rough month for the Jays, who head into the final full month of the regular season with a 13-15 record in August and stand eight-and-a-half games back of a wild card spot in the postseason. This come-from-behind victory over Baltimore was just their second over the Orioles on the road this year, and their third overall of six played so far this season.
"It was a battle," said Gibbons. "A win's a win. It wasn't necessarily a pretty thing, but it was a win."
Orioles Strike First as Blue Jays' Defence Continues to Crumble
Blue Jays starter Marco Estrada's biggest Achilles' heel, the first inning, began to rear its ugly head again as the Orioles took advantage of an early walk to number two hitter Manny Machado, who promptly stole second, with catcher Miguel Montero's wild throw into centre field moving him up to third before Adam Jones homered a couple batters later to make it 2-0 in favour of the home team.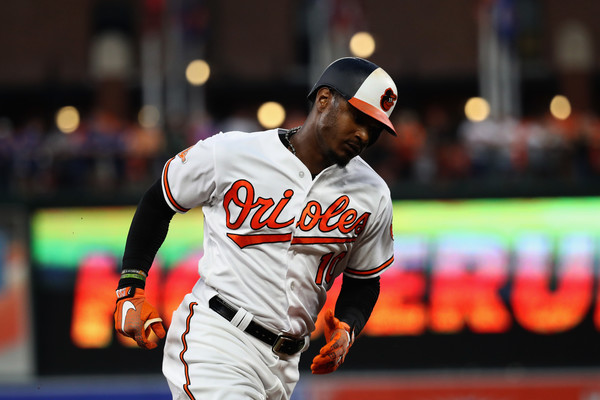 The Orioles would add to their lead in the second when, with men on the corners, Tim Beckham's infield single easily cashed in Chris Davis from third to jump out to a three-run lead.
The Blue Jays, however, would respond in the third as Morales launched his first homer of the night—a two-run blast to centre field driving in Josh Donaldson to cut the deficit to one.
Baltimore would respond immediately, however, in the bottom of the frame with Davis and Mark Trumbo cashing in a pair of runs to restore the Orioles' three-run advantage with a 5-2 lead.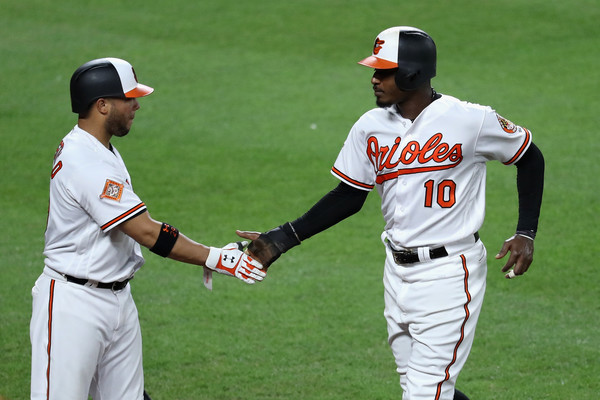 Five-Run Fifth Sparks Blue Jays' Offence
After going in order against right-hander Jeremy Hellickson in the top of the fourth, the Blue Jays' offence would eventually break out in the fifth. A one-out double by Ryan Goins got it started for Toronto and after retiring Steve Pearce, Hellickson walked Donaldson with two outs before the runs started coming in. From there, an RBI single by Morales and a walk to José Bautista would load the bases for Montero, who delivered in a big way to tie the game at five with a two-run double. With two men on second and third, Kevin Pillar would keep the runs coming as he knocked in a two-run double of his own to give the Jays an unexpected 7-5 lead.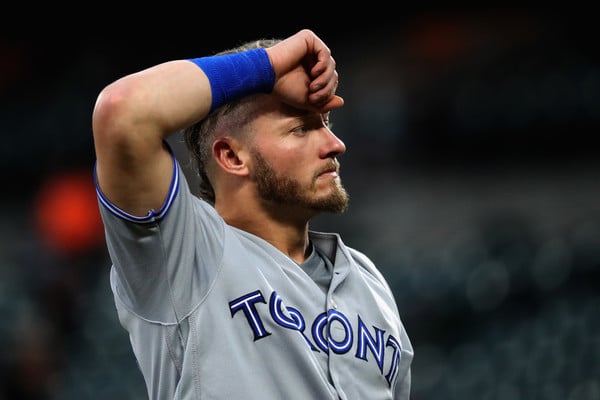 The Orioles got one of the runs back in the bottom of the fifth off a solo homer by Davis, which put an end to Estrada's evening on the mound after five innings where he allowed six runs on 10 hits with four strikeouts and just a single walk in the first. But thanks to some late run support from his offence, it was enough to earn him his seventh win of the season, putting his record now at 7-8 on the year.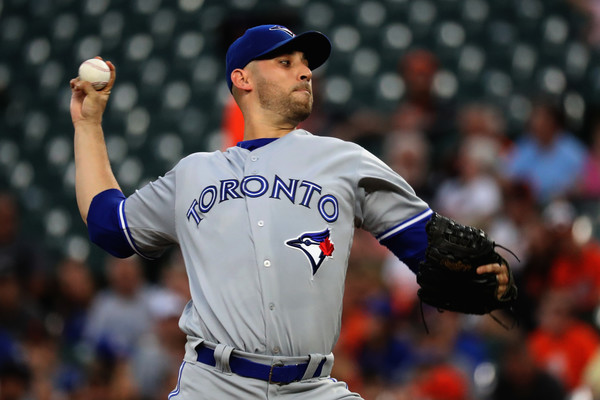 Morales Completes Hat Trick; Osuna Records 35th Save, Makes Franchise History
After going two for three at the plate going into the sixth, Morales would complete his hat trick with a three-run blast to right field, scoring Pearce and Donaldson, and a solo shot to center field, both off Orioles reliever Mychal Givens, to give Toronto a commanding 11-6 lead.
The Orioles got back a couple runs in the bottom of the eighth with a couple line-drive RBI singles off Jays reliever Ryan Tepera, which forced closer Roberto Osuna into an uncomfortable four-out save situation. Remarkably, he retired all four batters that he faced, including recording back-to-back strikeouts off Davis and Trumbo to earn his 35th save, becoming the first Blue Jay ever to earn that many in back-to-back seasons.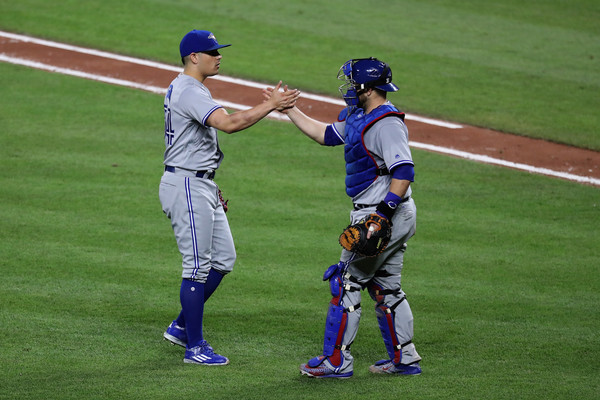 Help is On the Way for Struggling Blue Jays
After all their struggles of late, the Jays will be looking to take full advantage of the September 1 roster expansion to 40 players, which could see some new players getting some extended playing time as the curtain closes on what has been, to this point, a nightmarish season.
After the game, Gibbons announced the five players who would join the Jays' roster for the second game of their four-game series on Friday: Canadian-born outfielder Michael Saunders, catcher Luke Maile—who will be activated from the 10-day disabled list, outfielder Teoscar Hernandez, shortstop Richard Urena from Double-A New Hampshire and right-hander Carlos Ramirez from Triple-A Syracuse.