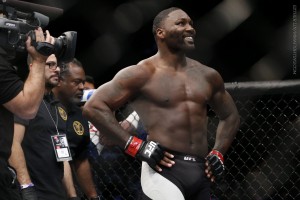 NEWARK, NEW JERSEY---In a matchup that resembled his UFC light heavyweight championship match with current champion Daniel Cormier at UFC 187, the division's second ranked contender Anthony "Rumble" Johnson was more than motivated to put an end to fourth ranked contender Ryan Bader's two-year, five-fight win streak while solidifying himself to be the challenger for the winner of the inevitable return of Jon Jones to the octagon versus Cormier. Mission accomplished! Despite being tested for a takedown right out of the gates, Johnson swiftly slipped out of an isolated arm lock attempt before getting on top in full mount and dropping right handed "bombs" in route to an 88-second knockout victory. With the action quick early, "Darth Bader" (what a great nickname) immediately dove at his higher ranked opponent with a takedown in mind. Stuffed! "Rumble," then taking the back, began to look for a kimura submission attempt. Forget that! Where are the haymakers? Unable to get...
With all the uncertainty around the heavyweight division, thanks to Fabricio Werdum and Cain Velasquez's withdraws from what was suppose to be UFC 196, Ben Rothwell made a championship statement with his performance against Josh Barnett....
Well, it was nice while it lasted. Tonight, UFC prospect Sage Northcutt was defeated for the first time in his professional career....
Worse news than yesterday emerged Monday afternoon, for heavyweight champion Fabricio Werdum will not fight Stipe Miocic on February 6 at UFC 196....
She saw, she came, and she conquered. Cristiane "Cyborg" Justino may just be part "Cyborg" considering she has not lost in over a decade....
Sorry Alistair Overeem. Because of tonight's quick finish of Andrei Arlovski by Stipe Miocic, any sliver of hope the next heavyweight title shot would be coming Overeem's way, has vanished....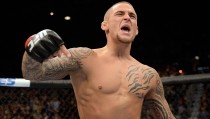 By Peyton Wesner
Get ready top ten, because here comes Dustin Poirier. With Saturday night's victory over Ireland's Joe Duffy, the Louisiana native looks prime to shoot up into the top ten of the lightweight standings....