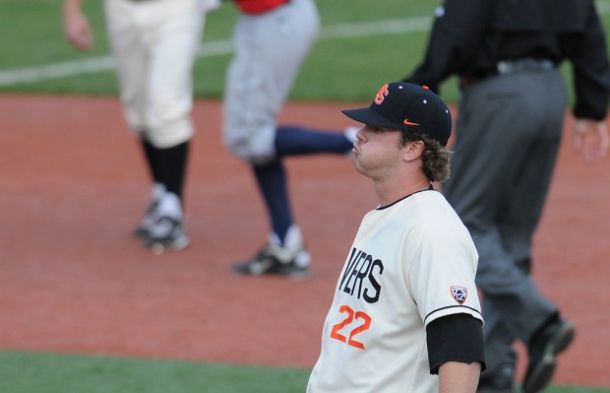 The Atlanta Braves purchased the contract of 24-year-old right-handed pitcher Cole Brocker from the Normal CornBelters of the Frontier League.
Brocker went to Sacramento City College his freshman and sophomore years. In his freshman year, he hurled 25 1/3 innings and posted a 3.20 ERA along with 16 strikeouts. His sophomore year saw him toss 16 innings and post a 2.25 ERA. He also punched out 22 batters his sophomore season.
Following his sophomore season at Sacramento City College, Brocker was drafted in the 39th round by the Detroit Tigers in the 2011 MLB Draft. After he declined to go pro, Brocker attended Oregon State University and pitched for the school in 2012 and 2013. In 2012 - his junior year - he posted a 4.88 ERA in 24 innings of work. He also had 26 strikeouts and nine walks that year. The following season, he pitched 11 2/3 innings and posted a 3.86 ERA while striking out 11 batters.
Brocker made his professional debut earlier this year on May 17th with the Normal CornBelters of the Frontier League. He pitched 2 1/3 shutout innings while surrendering just one hit. He faced eight batters in his debut and he struck out four of them. In 19 games this season for the CornBelters, Brocker threw 30 innings and posted a 1.50 ERA. He also went 1-1 and had 36 strikeouts.
It is still unclear what level of the Minor Leagues Brocker will be assigned to.