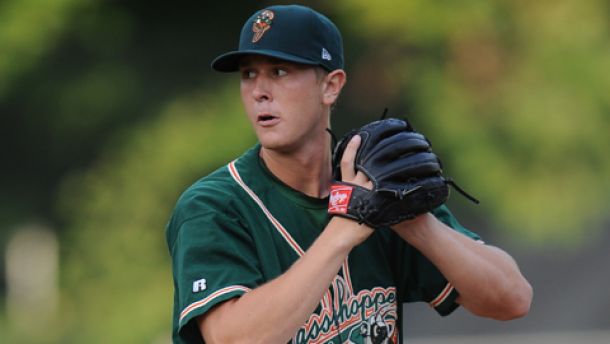 The Texas Rangers purchased the contract of southpaw hurler Chad James from the Evansville Otters of the Frontier League late Sunday night. The 23-year-old becomes the 62nd player in Evansville's 20-year history to be signed by affiliated baseball. He also becomes just the 3rd member of the Otters to be signed this season - (RHP Terance Marin - Chicago White Sox and RHP Robert Ramer - San Francisco Giants).
James was drafted 18th overall by the Florida Marlins back in the 2009 MLB Draft, and was signed to a contract that included a $1.7 million signing bonus. He drew comparisons to Boston Red Sox pitcher Jon Lester and was one of the top prospects in the Marlins' organization during the 2010 and 2011 seasons. However, James never found his footing in professional baseball. He spent his rookie campaign in Class-A - where he went 5-10 with a 5.12 ERA in 114 1/3 innings pitched (24 starts). He also struck out 105 batters while walking 65. The following season in High-A he went 5-15 with a 3.80 ERA in 149 1/3 innings pitched. He punched out 124 batters that season and walked 51.
During the 2012 season, James was suspended for a month by the Marlins' organization for "violating of team policies.". He showed up to camp that year out of shape as well. However, he did pitch in Class-A that season and posted a 4.87 ERA. Much like his first two seasons in professional baseball, James posted a losing record and lost a double-digit number amount of games. In 114 2/3 innings pitched that season, he went 6-10 and struck 80 batters while walking 50.
James' 2013 season was yet another struggle. He posted a career-worst 5.74 ERA in just 53 1/3 innings (13 starts) in Class-A and was released following Spring Training earlier this year. He signed with the Evansville Otters of the Frontier League soon after his release from the Marlins and accomplished something that no other pitcher in the Otters' 20-year history could accomplish. On July 9th, James tossed Evansvillie's first no-hitter in team history. He threw a 7-inning no-hitter and struck out a career-high 14 batters in the 10-0 victory over the Traverse City Beach Bums. James went 4-2 this season for Evansville and punched out 67 batters - second most in the Frontier League.
James is the second player from independent baseball to be signed by the Texas Rangers this week. Designated hitter J.T. Wise was also signed by the Rangers last Monday. Just like Wise, James will be assigned to the Frisco RoughRiders - the Rangers' Double-A affiliate.