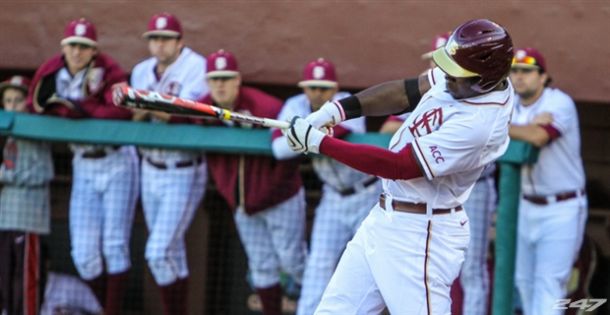 For many Padres draft picks, their professional careers start in Eugene, Oregon, the home of the Padres short-season affiliate in the Northwest League. It is one of the lowest levels of professional baseball, but for many young players, it is the realization that they are getting paid to chase their dreams of playing Major League Baseball.
When a player is drafted in the 24th round, the odds are obviously stacked against him. The Pacific Northwest might be the beginning and the end of the pursuit of a dream most young boys long for. For Marcus Davis, 2013 could have been the end of that journey. A journey that would have ended before it really took flight. A poor season might have led to a career change.
Davis, 22, struggled out of the gate in Eugene last season, hitting just .176, along with a slugging percentage of .206. Davis admitted that he pressed in attempting to impress the organization.
"Last year I really struggled. I made all of this way harder than it needed to be. I just tried to remember that it was the same game that I have been playing my whole life."
A relaxed approach and more experience have truly benefited Davis in his second professional season. Coming into Tuesday night's game for the Eugene Emeralds, Davis is tied for Northwest League with seven homers, and he leads the lead with an impressive 1.111 OPS. Davis credits Emeralds hitting coach and former Padres prospect Homer Bush with helping him alter his approach.
"He helped me simplify my approach. It is really about being selectively aggressive and waiting for a pitch that I know that I can do damage to. That approach has helped me draw more walks and hit for more power. This is my second season of professional baseball so I know what to expect, and Homer has really helped drill a lot of information into my brain.
Davis has only played professional baseball since last season, however, he is already in Cooperstown -- sort of. Davis played for the Midland Redskins, an amateur baseball team that is based in Cincinnati, Ohio. Davis' team won the 2009 Connie Mack National Championship. Davis had his jersey on display in the Hall of Fame.
"The Midland Redskins are a pretty well-known team around the Midwest. The team is based in Cincinnati (Davis' hometown) that has had a long history of success at the amateur level with players and teams. Since I am from the Cincinnati area, they decided to use my jersey as an example of what it means to play for Midland. It was extremely humbling to see a jersey that I wore hung in Cooperstown. It was one of my proudest moments in baseball."
Davis went on to play college baseball at Florida State, but left after his junior season. In his only year as a Seminole, Davis finished fifth in the ACC with 62 RBI's and was one of only two players to play all 64 games for the Seminoles. Playing in the ACC helped prepare Davis for a professional career.
"Playing at a winning program definitely teaches you how to compete. Coach Mike Martin and the whole coaching staff do a great job of preparing you to play professional baseball, while having success year-in and year-out."
Despite the success Davis had his junior year, he slipped to the Padres in the 24th round. Instead of returning for his senior season and perhaps attempting to raise his draft stock, Davis chose to sign with the San Diego Padres. It was a choice that did not involve a lengthy sales pitch from the San Diego brass.
"It has always been a life-long dream of mine to play professional baseball. They did not need to say much, because I was just looking for an opportunity to play baseball professionally. It was really difficult to leave Florida State, but I had to do what was best for myself and my career."
Davis' long-term goal isn't to make a ton of money and buy sports cars or mansions, but to take care of his family, who have made sacrifices to help him achieve his dreams.
"I want to repay my parents for everything they have done for me. Advancing through professional baseball and achieving my goals will help me do that."
Davis is showing the San Diego organization that he can fulfill his potential, and give the Padres the slugger they so desire. For Davis, he hopes that 2014 is just the beginning of something special.