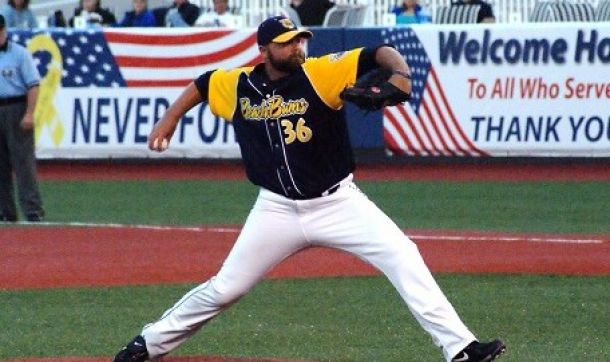 The Minnesota Twins purchased the contract of right-handed pitcher D.J. Johnson from the Traverse City Beach Bums of the Frontier League and signed him to a two-year deal on Friday evening.
Johnson, 24, was originally signed as a non-drafted costless agent by the Tampa Bay Rays back in the summer of 2010. He pitched in the Gulf Coast League that year - posting a 2.05 ERA while striking out 16 batters in 22 innings of work out of the bullpen. However, Johnson was released by the Rays in April of the following year.
Following his release from the Rays, Johnson signed with the Traverse City Beach Bums of the Frontier League. After posting an impressive 1.54 ERA in 23 1/3 innings for the Beach Bums in 2011, his contract was purchased by the Arizona Diamondbacks and he was assigned to the club's Rookie ball affiliate - the Missoula Osprey. In 26 innings pitched for the Osprey, he posted a 2.08 ERA along with 32 strikeouts.
Johnson struggled the following season as he posted a 4.66 ERA between Low-A and High-A. To make matters worse, he suffered a rare injury during the 2012 season that would ultimately cost him his entire 2013 season. Johnson had torn his Teres Major, a muscle that lies on the back of the shoulder, behind the latissimus dorsi. Johnson elected to forgo surgery and rehabbed throughout the winter of 2012. At the start Spring Training in February of 2013, he assumed he was healthy and ready to pitch. Then when heavy workouts started, the pain came back and he was shut down. The following week he threw just four pitches before he felt the pain yet again.
The Diamondbacks decided to shut down Johnson from throwing for ten weeks. During that time, he did an extensive rehab routine that focused on his lower body. He also did some shoulder strengthening workouts, but his main focus was to give his arm a rest. After missing the entire 2013 season, the Diamondbacks cut ties with Johnson, releasing him last fall.
Johnson returned to the Traverse City Beach Bums this year and was phenomenal. In 27 2/3 innings of work, he sported a 1.30 ERA along with 35 strikeouts.
Johnson is expected to be assigned to the Minnesota Twins' High-A affiliate - the Fort Myers Miracle.