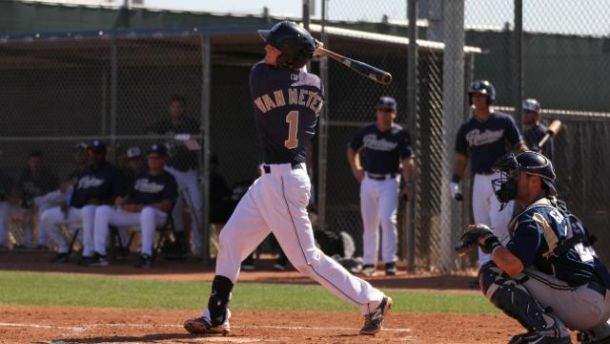 The Fort Wayne Tincaps, the Single-A affiliate of the San Diego Padres, experienced all the plateau's that any minor league baseball club can endure over the course of the season. Their Opening Day starter, Walker Weickel, was demoted to short-season Eugene. The team lost 13 games earlier in the season. Tonight, after making the Midwest League playoffs as a wild-card, the team is just one win away from advancing in the playoffs.
The Tincaps rode a clutch hit from second baseman Josh VanMeter, and the bullpen preserved a dramatic, come-from-behind 7-5 win over the West Michigan Whitecaps (Detroit Tigers affiliate).
The game started as a pitcher's duel as both Tincaps starter Jimmy Brasoban and Whitecaps starter Austin Kubitza looked strong early. Brosoban had a no-hitter through the first three innings, before allowing a single to Midwest League MVP Wynton Bernard. Bernard then stole second, advanced to third on a throwing error, and scored on an RBI ground out.
Fort Wayne took the lead in the bottom of the 4th on a clutch two-run double by designated hitter Dustin Peterson. His drive scored Franmil Reyes and Jake Bauers to give the Tincaps the 2-1 lead.
West Michigan took a 5-2 lead on a pair of homers -- a solo shot from Domingo Leyba and a devastating three-run bomb from Bernard, Bernard went 2-for-4, with two runs, a homer and three RBI's.
The Tincaps battled back again in the battle of fifth with a pair of runs to cut the lead to 5-4. Second baseman Josh VanMeter scored on a wild pitch, and Tincaps RBI leader Fernando Perez delivered with an RBI single.
After tying the game in the bottom of the sixth, on an RBI single from outfielder Nick Schulz, the Tincaps had a chance to go ahead in the eighth innings. Dustin Peterson led the inning off with a single, and catcher Ryan Miller followed with a bunt single. After a sacrifice bunt, Josh VanMeter singled to left, scoring both Peterson and Miller to put Fort Wayne ahead.for good.
Ryan Butler pitched the ninth to close out the win for Fort Wayne. The bullpen came up huge for the Tincaps, as Nick Mutz, Jason Jester and Butler allowed just two hits, while hurling 4.2 innings of shutout ball.
The two teams will play tomorrow in Game 2 at Comstock Park, home of the Whitecaps. Fort Wayne leads the best-of-three series 1-0.