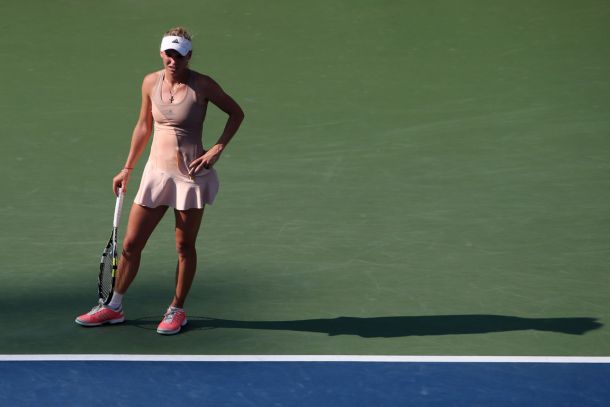 Sunday's US Open Women's Final will be contested between two rightful competitors. Serena Williams steamrolled Ekaterina Makarova while Caroline Wozniacki advanced when Peng Shuai was forced to retire. The number one seed Williams will be favored as she searches for her 18th Grand Slam title. Former number one Wozniacki is playing some of the best tennis in her career.
Makarova was part of a doubles team that eliminated the Williams' sisters from the US Open. Serena Williams got revenge with an easy 6-1, 6-3 victory on Friday. Makarova broke Williams to get the second set to 3-5, but she was broken right back to end the match. The win extended Williams' US Open winning streak to 20 matches.
"She obviously wants to win and go for her first Grand Slam," Williams said about her close friend Wozniacki. "I want to win a Grand Slam for some history."
It only took 26 minutes for Williams to get through the first set. She has won all 12 sets she has played at the US Open and is looking to become the first woman since Chris Evert in the 1970s to win three consecutive crowns in Flushing Meadows. Williams has had a poor Grand Slam season so she knows what is at stake for her and her good friend Wozniacki.
Wozniacki will have to rebound from winning a strange and, at times, scary match. She won the first set tiebreaker and went up 4-3 in the second when serious cramps overcame Peng. A 15-minute medical timeout went without a warning to Peng and was also criticized as unfair to Wozniacki. CBS analyst Mary Carillo repeatedly said it was unsafe for Shuai.
While Wozniacki was serving, Peng appeared to cramp so Wozniacki waited a few moments to resume play. She then double faulted before trainers had to rush to Peng. Peng kept telling them she did not want to quit. It took six minutes for Peng to be ushered into the locker room. By the rules of the game she should have been given point penalties that would have awarded Wozniacki the game.
Peng finally returned barely able to move. Wozniacki double faulted again, but a few points later Peng doubled over in tears. She was eventually taken off the court in a wheelchair on another hot, sticky day in New York. The trainers and officials should have handled the situation better with Peng's health as the number one concern.
"It was horribly, badly bungled," John McEnroe said, also adding that it is "a serious black eye for our sport."
The match was being played under the WTA Tour's extreme heat rules, and both players wore ice-filled towels during changeovers on a day where the temperature on the court was much higher than the 86-degree air temperature. Peng struggled with the heat at the Australian Open earlier this year.
Wozniacki will have to recover from the emotional ending, but has shown poise and maturity both personally and professionally this year. Her hard court season has been impressive and she is playing at her highest level this year. Wozniacki's fitness may also be at its peak. She will make her second appearance in the US Open final after losing to Kim Clijsters in 2009.
The stage does not seem too big for Wozniacki despite the dominance Williams has shown. Fans will hope for the right kind of drama on Sunday. It will be a rejuvenated Wozniacki against a focused Williams. It is the final that fans deserve.