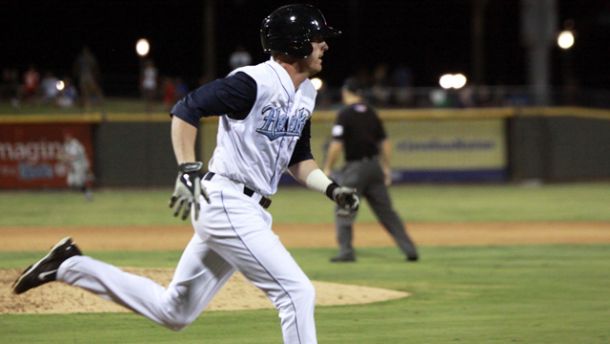 Colin Moran doesn't have the skill set of a traditional third baseman. The 21-year-old's unique hulking body type combined with his low-energy style of play and lack of power can be made out to be quite awkward to look at times. It has some scouts scratching their heads. However, that isn't necessarily a bad thing for Moran -- who was drafted by the Miami Marlins with the sixth overall draft pick in the 2013 MLB Draft.
There are a few things in Moran's style of play that make him unique -- starting with his lack of power. His swing is more geared towards making good hard solid contact with the baseball, causing him to hit more line drives than home runs. In 175 plate appearances for Low-A Greensboro last season, Moran launched just four homers the entire season. He hit .299/.354/.442 along with eight doubles, a triple and 23 RBI in 2013 as well. While playing for Double-A Corpus Christi this season, he hit just two homers in 123 plate appearances. Despite his lack of power, Moran has still been a solid and productive player in the Minor Leagues.
Moran possesses a more advanced approach at the plate than most hitters his age. He does a great job of laying off pitches outside of the strike zone and he covers the plate well with great hand-eye coordination. He also drives the ball to all parts of the ballpark. In his senior season at the University of North Carolina, Moran finished second in the nation in walks with 63 -- trailing Chicago Cubs' prospect Kris Bryant who was able to draw 66 walks in 2013 while playing at San Diego.
Moran isn't the most fleet-footed player, either. In fact, his speed is well below average and is the most glaring weakness in his game. However, he doesn't let that stop him from being a great defensive third baseman. He has improved with his glove since entering professional baseball and is now a sure-handed third baseman with great hands and arm strength. Not only does Moran possess a strong arm, but he is also accurate with his throws.
Scouts are hard-pressed to find a player to compare Moran's style of play to. Two players that come to mind are infielder Dave Magadan -- who was drafted by the New York Mets in the second round of the 1983 MLB Draft -- and current Seattle Mariners infielder Kyle Seager. Magadan posted a career on-base percentage of .390, but he did not possesses much power against Major League pitching during his 16-year career. Seager, who like Moran also attended the University of North Carolina, blasted just 17 homers as a Tar Heel. However, Seager is nearing his third consecutive 20-homer campaign this season.
The Houston Astros don't need Moran to develop like Seager has for him to be a productive player at the Major League level. His unique style of play will certainly be very intriguing to look develop over the next few seasons as Moran is expected to compete for the starting third baseman's job at the Major League level in Spring Training of 2016.