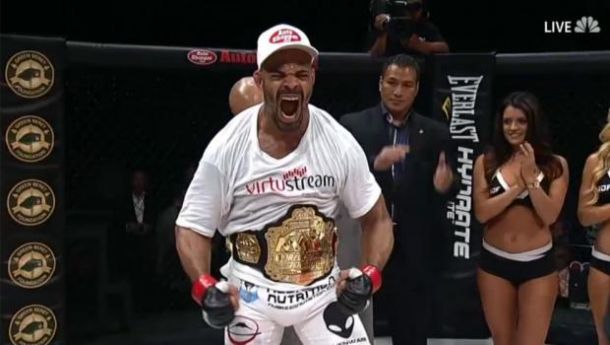 If the presumed narrative of the evening was thought to be ex-UFC talent on display with the intent of taking titles away from WSOF guys then they were wrong. Jessica Aguilar, Justin Gaethje and David Branch all stood their ground Saturday Night to pull off impressive victories at WSOF 15. While Branch and Gaethje fought off former UFC fighters, Jessica tasted success against an up and coming starweight from the XFC organization that came in with a tad bit of controversy. It was an exciting main card to really add to a truly historic night in combat sports.
Mixed martial arts veteran Jorge Patino (36-15-2) kicked off the main card in a bout against Eric Reynolds (18-9). The fight started at a frenetic pace with both fighters finding moments early. During an exchange on the ground, Pantino was in position for a heel hook but an illegal kick by Reynolds put that on hold. It didn't matter too much as Jorge was able to cruise for the next few rounds with Reynolds always ready to exchange. After a bloody second round, Patino was able to grind out the win from Reynolds in the third.
Women's mixed martial arts was no stranger to the spotlight this weekend with a story of an ear and a fighter that may not have been allowed to fight for WSOF. Regardless, Jessica Aguilar (19-3) was looking to yet again defend her title and remain the top strawweight in the world. She would face former XFC standout Kalindra Faria (15-4-1) who brought her impressive record to the table for a shot at the champ.
The first of five rounds started with a good exchanges by both ladies and we were all thrilled to see Jessica willing to strike. Faria was no slouch with amazing foot and head movement that really made this an engaging fight to look. The second round continued to be a striking affair with the champ landing a few overhand rights to keep off Kalindra.
The third became more of a grappling affair as the Jessica was able to show off dominate position leading into the championship rounds. By the end of the fight, Aguilar was still willing to stand with Faria and gave off one of the best performances we have seen in her career. Kalindra has the tools to find success in the cage of WSOF and should be in the position to contend again one day.
If the contract issues aren't enough to deal with on fight night add to that one of your feature fighter missing weight. Melvin Guillard (32-14-2) was set to face Justin Gaethje (13-0) for the lightweight title but came in 3.8 pounds over. So the bout became a catch weight match and we saw two fighters looking extremely sluggish brawling at the heavier weight. The fight was entertaining nonetheless and mimicked what we say in UFC's Silva - Hunt Fight Night.
Back and forth they went with Guillard finding a slight advantage on Justin to win the 1st round. The next two rounds were in more control by Gaethje as he had no issue pursuing Melvin who didn't look into the fight. It was a nice glimpse of what we could expect from the type of talent these two possess but who knows what the outcome could have been if they were both lighter and set for five rounds. Gaethje barely edges out the final round to secure a close split decision.
The main event match was surprising bang out stand up affair between David Branch (15-3) and Yushin Okami (30-9). The former UFC vet came in as a slight favorite but quickly felt the power of Branch. While it may not have started as the most entertaining fight, it looked as either man could pull off a decision. While there was a moment on the ground early in the match, the latter rounds showed both fighters willing to trade with no desire at a take down. In the fourth round, Branch found the chin of Okami and set him to the mat followed by a few more hard punches. The fight was stopped and Branch remained the middleweight champion.
Saturday night showed once again that the WSOF has the ability to put on a truly entertaining show. How it dealt with the momentum of the other two promotions is yet to be determined but the best outcome for the promotion is what we got Saturday. Great performances by their guys reminds the mma world just what they are capable of. Up next for WSOF is the welterweight title fight between Rousimar Palhares and Jon Fitch.
Full results from WSOF 15
Main Card
Dave Branch def. Yushin Okami via TKO (strikes) – Round 4, 3:39 – to retain middleweight title
Justin Gaethje def. Melvin Guillard via split decision (28-29, 29-28, 30-27) - 159-pound non-title catchweight
Jessica Aguilar def. Kalindra Faria via unanimous decision (50-45, 50-45, 50-45) - to retain women's strawweight title
Jorge Patino def. Eric Reynolds via unanimous decision (30-27, 30-27, 29-28)
PRELIMINARY CARD
Matt Frevola vs. Josh Zuckerman
Maurice Salmon def. Javier Torres via TKO (doctor's stoppage) – Round 1, 5:00
Anderson Hutchinson def. Troy Gerhart via unanimous decision (29-28, 29-28, 29-28)
Ryan Keenan def. Jose Cortes via submission (rear-naked choke) – Round 3, 2:16
Tony Way def. Frederico Moncaio via submission (guillotine choke) – Round 3, 2:03
Hector Ochoa def. Robert Reed via split decision (29-28, 28-29, 29-28)
Reggie Pena def. Joe Johnson via submission (rear-naked choke) – Round 1, 4:15