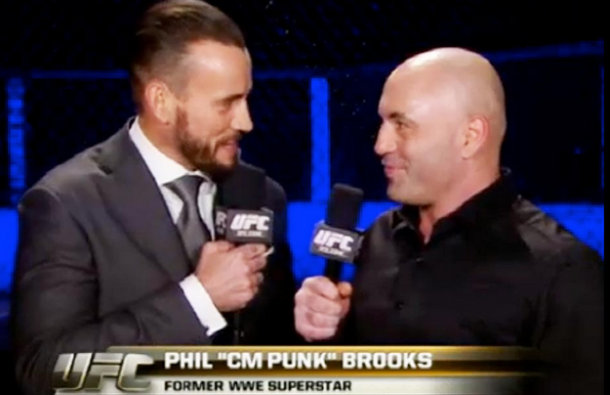 Last night at UFC 181, the 300th event put on by Ultimate Fighting Championship, Robbie Lawler won the UFC Welterweight Championship from Johny Hendricks in a hotly contested rematch that went to a decision. Lightweight Champion Anthony "Showtime" Pettis successfully defended his title for the first time, over a year after winning it. This morning, however, the big news from the event isn't Lawler or Pettis. Nor is it KO of the Night winner Josh Samman, or the Fight of the Night between Sergio Pettis and Matt Hobar. The big news comes from a short interview, less than three minutes long, conducted following the opening fight of the main card. An interview with CM Punk, in which the former WWE Champion set the internet ablaze for the second time in a fortnight when he announced to Joe Rogan and the world that, starting in 2015, he will be a UFC Fighter.
Punk, who it seems will be fighting as Phil "CM Punk" Brooks, was rather stingy with the details. He said that it's "now or never" for him, and that it was "now or never three years ago, but [he] decided to re-sign with the WWE." He says he will try cutting weight before committing to a weight class, but he will likely be fighting at Middleweight, or possibly Welterweight, but definitely not Light Heavyweight. He did not share which fight camp he will be fighting out of, only saying that he "has made some enquiries".
UFC President Dana White stated in an interview with Jim Rome that Punk will be treated like any other fighter with an 0-0 record, will be given a fight against someone with a similar record, "he's not going to come in here like Brock Lesnar and f*****g fight" and be thrown in at the deep end. Whilst that is probably fine by Punk, imagine the huge pressure that will be felt by his opponent. In this writer's humble opinion, it may be better putting Punk up against someone who has been with the UFC for a bit longer, but hasn't been setting the MMA world alight.
As it is, it's up to Dana and Joe Silva who Punk will fight, and when. I think that everyone here at VAVEL, and everyone who follows the UFC or Pro Wrestling will be following this story closely. And as for Punk? When wished good luck by Joe Rogan at the end of the interview; he replied with a line which, as well as being classic CM Punk, shows just how confident 'The Best in the World' is:
"Luck is for losers."