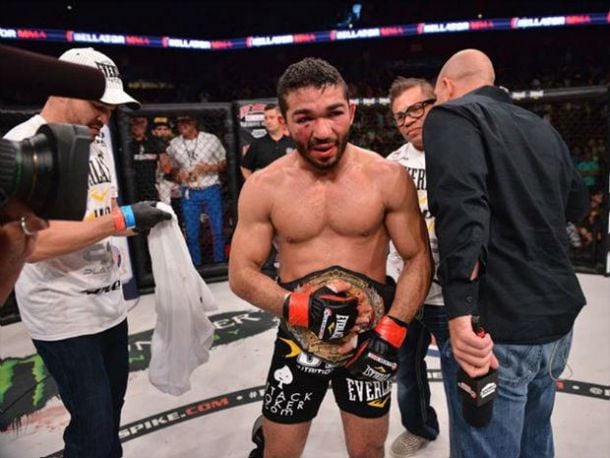 Patricio "Pitbull" Freire and Daniel Straus capped off a very good night for the Bellator mixed martial arts promotion. In a hard-fought four-round banger, the two men stood toe-to-toe taking each other's best, but it would be on the ground where the fight was decided. In addition, George Karakhanyan put himself in position to face Pitbull for the featherweight title with an outstanding first-round submission of Bubba Jenkins. The first episode of the true Scott Coker era begins tonight, and even the social media exploding return of a former fighter couldn't outshine this card.
Daniel Straus (23-6) will go back and look at this fight with a heavy heart. He was one more combination or one more solid round away from winning this fight. After losing a point in the second round for an eye poke, he remained focused enough to look the part of the better fighter. Patricio Freire (23-2) was, for once, out-matched in the striking by Daniel but showed an impressive ground game that those new to the promotion may not know he has. While he is clearly a knockout artist, he is as dangerous on the ground, especially against someone with the length of Straus. Late into the fourth round while on the mat, Daniel went for an kimura that allowed Pitbull to climb on his back and slide his right arm under the chin of Straus to start the choke. Once it was secure, it was deep enough for him to place the left arm over his head and lock in the submission. It was a tough loss for Daniel, but he showed so much improvement on his striking once again that we will be eager to see his next fight. Freire and Karakhanyan should be a good one as well.
Two chokes by Georgi Karakhanyan (24-4-1) was all that it took to finish Bubba Jenkins (8-2) in round one Friday night. After two dynamic takedowns by Jenkins, we thought we were in for a long night of wrestling. The mistake of Jenkins's placing his head in the arms of Georgi during the takedowns is what cost him. While he escaped the first one, the second was locked in two tight. Jenkins passed out under the fresh strong grip of Georgi. It is a mistake that the young prospect will learn from and a great return to the Bellator promotion for Georgi Karakhanyan.
The heavyweights of Houston Alexander (16-11-1) and Virgil Zwicker (13-4-1) was the back-and-forth mauler we expected. The fight ended in a split in favor of Zwicker, who was busier in the last two rounds of the fight. Neither one of these fighters seemed to have the strength to produce a knockout after the middle of the second round. The third round could have gone either way, but the takedown at the end by Zwicker could have forced the difference. It was a great back-and-forth between Marius Zaromskis (20-9) and Fernando Gonzalez (23-10) to kick off the main card. Marius tried all he could to out work and out strike Gonzalez, but Fernando was too much for him tonight. His accurate and precise striking found him in a comfort zone early with no need of rushing the fight down to the ground. Gonzalez cruised to a unanimous victory for his first win of 2015.
The prelims for Bellator were exciting and bloody as we saw wins from Everett Cummins, John Salter Steve Kozala, Derek Anderson Albert Morales, and Chris Herra. Every single fight on the prelim had a finish, and fans cannot ask for more than that. Next up for Bellator 133 is Manhoef - Shlemenko on February 13th from Fresno California.
The full results from Bellator 132:
Main Card
Patricio Freire def. Daniel Straus via submission (rear-naked choke) (R4, 4:49)
Georgi Karakhanyan def. Bubba Jenkins via submission (guillotine) (1st, 1:49)
Virgil Zwicker def. Houston Alexander via split decision (29-28, 27-30, 29-28)
Fernando Gonzalez def. Marius Zaromskis via unanimous decision (30-27 x3)
Prelims
Everett Cummings def. Jason Glaza via submission (rear-naked choke) at 1:55 of R2
John Salter def. Dustin Jacoby via submission (rear-naked choke) at 3:32 of R2
Steve Kozola def. Jonathan Rivera via KO (punches) at 1:25 of R2
Derek Anderson def. Danny Navarro via TKO (punches) at 3:51 of R3
Albert Morales def. Fabian Gonzalez via submission (rear-naked choke) at 3:12 of R2
Chris Herrera def. Luc Bondole via KO (punches) at 3:21 of R2