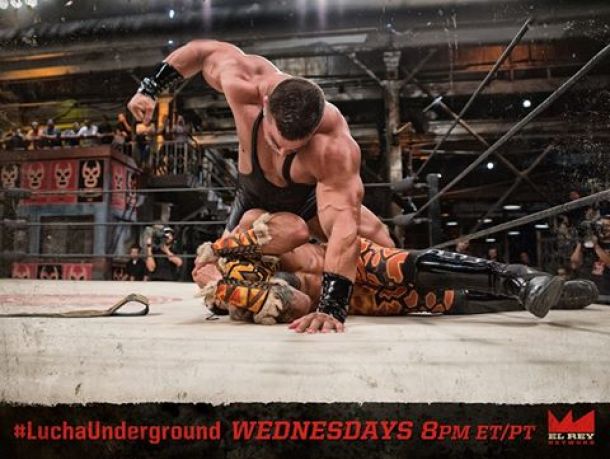 After returning from a long delay and crowning a champion in Prince Puma, the Lucha Underground continues with four new wrestlers and an immediate title shot for one worthy luchador. While Puma may be the instant favorite among viewers of the temple, Fenix is building a nice little following himself with his highflying antics that have no boundary.
In episode ten we are introduced to the powerhouse known as Cage, a balanced highflyer and grappler in Argenis, the skyrocketing superstar Aerostar, and South African athlete Angelico. The four put on hell of a show even though the match was clearly aimed at showcasing the monster that is Cage. It's nice to know Mil Muertes and Big Ryck have another brawler to play with as we are starting to see some balance in this talented roster. Outside of Cage these guys are mostly imports from the Mexican AAA promotion. Even Vampiro mentioned how you may see a luchador here one minute and gone the next. That could keep things from going stale which is always good.
Truly the only real feud in the Lucha Underground is between King Cuerno and Drago. They press on even after the battle royal with intentions on each other's destruction. This episode would crown no victor as both competitors gave it their all but fell short. After a nice back and forth in the ring we found the two luchadors make their way outside with no care for the count out. As King Cuerno reached for a table he eventually found himself on the receiving end of the destruction. Drago matched Fenix's measure by jumping off the same platform roof of Dario Cueto's office to pull off the suicide attempt. Soon after both men were counted out and would need medical attention to leave the temple. That is not the last we have seen of those two.
The main event of the evening saw Prince Puma defending his title in just a week after winning the Aztec Warrior battle. He faced Fenix who was asked by Dario to destroy Prince but would only accept the match when he put the belt on the line. It was a crazy rope running, top rope flipping hell of a display of athletic ability that shows what really stands out about the promotion. Puma eventually got the best of Fenix as a top rope move did not pan out for him and that set up an easy 630 finisher from Puma. There was not much time to celebrate the victory as Cage came out to let the champ know he has arrived. Power bomb after power bomb Prince Puma could do anything but lay there as this beast of a man stood above him. It should be nice to see where this goes as clearly Cage has a path of destruction in mind. The question is who will be the one to stop it.
Rating: 4 / 5