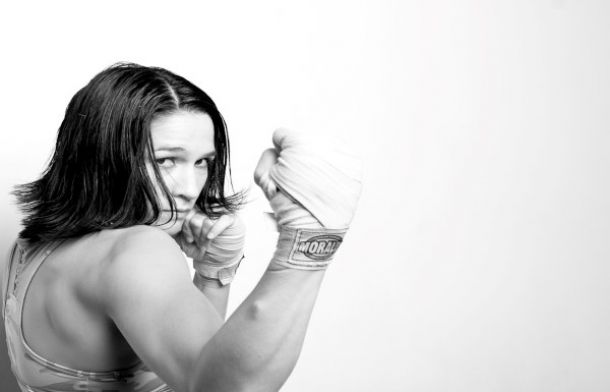 It's easy to give credit to women like Ronda Rousey and Gina Carano for breathing new life into the world of mixed martial arts. Now there seems to be an emphasis on women's boxing and it's time to meet the faces of the women carrying the sport into the future. Women's boxing has been in the limelight before but has recently lost some luster with people such as Jessica Rakoczy and Holly Holm leaving the ring for the octagon. If you were to look at the current landscape of the sport you will see there is a new generation of boxers making noise and it's something you should be paying close attention to. One of those ladies leading the charge is Lita Mae Button. Fighter, mother and a living inspiration, she carries a historic ammy record while currently 1-0 as a pro. Travis Brown had a chance to speak with her before an event she was hosting this weekend and lucky enough to get a fight announcement out it. Enjoy the following interview with this extraordinary fighter who should be on your combat sports radar in the near future. We would like to personally thank Lita for her time.
-
Happy New Year Lita, how are you and the family doing?
Happy New Year Travis. My family and myself are doing really well. Minor challenges with raising a pre-teen, but with challenges come new excitement. Lol.
How was your holidays? Is there anything you are looking forward to in 2015 and have you healed up since we last spoke?
The holidays where really great, thank you for asking. I love my family and friends, so it was really nice to have a full week to spend with them. Last years holidays where shorter lived. For 2015 I am looking forward to working with more strength and conditioning clients, organizing/hosting a couple fundraising events to help support the community and grow awareness for women's professional boxing. I have healed up very well thank you and I am very excited to get fighting again in 2015. Boxing and fighting is like an itch that just doesn't ever seem to go away. Lol.
So now that we can call you a pro is there any significant changes in you life so far after this transition or is it just business as usual?
Business as usual, with the exception of being able to have my coach there at every one of my fights (as an amateur, with tournaments, he was unable to go away outside of Toronto area because it would often conflict with the other professional fighters fights) and also getting paid, that is pretty Cool. It is a nice feeling getting paid for my passion.
With fighters of your pedigree it begs to ask what took you so long to turn pro? Did it just need to be the right opportunity or the right opponent? What was the determining factor?
What took me so long to turn pro, it is definitely a combination of things, coaching, funding, family, and opportunity. My coach is the best coach I have had and I told RG (Headrush Training Center) that I will be his fighter until I retire. I did really well in tournaments that I went to, the year before I turned professional. I had some great help with other coaches while away, but it is never the same relationship as my day to day coach, RG, who knows me inside and out of that ring. I did not want to go to any more tournaments without him. There is a synergy that occurs between a fighter and their coach and I did not want to step into another fight without him there. As an amateur, funding is almost next to none, so that was a no brainer. In addition, marketing as a professional fighter, is a lot easier. I know women's boxing, especially professionally, needs as much push from all the female fighters, family, fans and sponsors to give the sport the momentum it truly deserves. As for family and opportunity. When I was asked to be a part of the first all female professional boxing card in North America only 4hrs away from home, I could not pass up on that opportunity as my professional debut. Watching and helping Mary Spencer train for 1st time women would be boxing in the Olympics. The Nordic Coliseum Women's Boxing Card August 15, 2014, it had the same feeling behind it for me. Utter excitement to be a major part of Women's boxing history. And fortunately because it was close to home, I was able to bring my son to witness a lot of it.
Tell me about your experience with Nordic Coliseum Women's Boxing and Daniel Damphousse. As a fellow Canadian how proud where you to see the all female card on in your native country?
So, so proud. And extremely thankful for the opportunity to be apart of Daniel Damphousse's event. Especially being the co-main event to such seasoned and well known professional fighters as Kaliesha West and Olivia Gerula.
Tell me about this event you are promoting for January 17th?
It is a fundraising event for the Toronto YWCA. Inviting women to come out and look me and other female boxers spar. After the sparring session is finished, I will put the women through a boxing session, similar to what we go through after we are done sparring. People pay $30 at the door. All proceeds will go to the Toronto YWCA, the goal is $3000 which supports a child for 2 months in YWCA home to recover from violence. The whole premise of the event is to raise awareness towards women's boxing and raise money for a good cause that goes towards women.
It seems as if you enjoy posting videos of your workouts and teaching others. Is that one of the most fulfilling aspects of being a professional athlete?
I love being an athlete. I will be competing in some form of sport for the rest of my life. Boxing, just happens to have been the most influential, challenging and rewarding sport that I have done in all my years of competition. Part of the competition, has been the learning process to be a better athlete, through Strength and Conditioning and other forms of training. This translates over into my other love, teaching people how to be stronger and healthier. Role Modeling and posting videos to inspire others to do this, comes as a fun by-product of teaching and role-modeling this love and passion.
Lets talk upcoming fights is there anything on the horizon for you?
I just got word tonight that Edmonton is wanting a fight for March 20th. WOOT WOOT!!! My fists are getting super itchy to be in a professional fight again, lol.
If not is there anyone in particular you would like to fight or maybe just a match up that you think makes sense?
I have a list of 8 Canadian Women on my wall that I stare at almost every day, that would be potential match ups. I am gunning for a fight on the United Promotions card in the next few months. Any of these women will do. To grow women's boxing, to be the best that I can be and be the best in the sport in Canada and worldwide, I will fight anyone my coach gives me the go ahead to. Lol. I laugh, but I call him my boss for a reason. He has the final say.
I saw you were mentioned in an article about bringing more exposure to women's boxing. Do you feel its up to the media, the promotions or the athletes themselves to help make this push happen? What are some things we can do to help bring the exposure?
If you are referring to the article written by Jason Adams, he articulated so well what the sport of women's boxing is like and that really, it is about a community of support to grow women's boxing. Ultimately, yes, it first does start with the female athlete herself, if she is not willing to start promoting herself, then it will be a lot harder of a process for others to get behind her to support her. My personal feeling about the media, in general, is that women in boxing are more promoted as that a "sex sells kind of image", versus a women can be strong, lethal and not portrayed as sexual image to be promoted. Her athletic boxing skill in and of itself is what the media needs to focus on, that way other young girls looking, do not have to think it is the normal to portray themselves as a sexual object first and then an athlete/fighter second.
Lita it's an honor to speak with you thanks so much for your time and I look forward to your next bout and good luck with your training and is there any sponsors or anyone else you would like to thank?
I would like to thank Head Rush Training Center, they are my daily home away from home to train. TLAC Toronto Printing and Publishing studios, my first sponsor who have supported me the last 2yrs of my boxing career. Rebalance Medicine, the best PhysioTherapy and Massage Therapy in Toronto. Blast Athletic, with amazing coaching, ongoing support & teaching to get me stronger and faster. Beatdown Sports, where I love to go for all my tomboyish fighting apparel (usually with a little bit of pink to tone down my inner boy) and Finally Mandraa TV, they have been doing a lot of work with me in the last 3 months to help promote me because they believe in what I have to teach and offer this world. I am very blessed to know such amazing sponsors and groups of people.