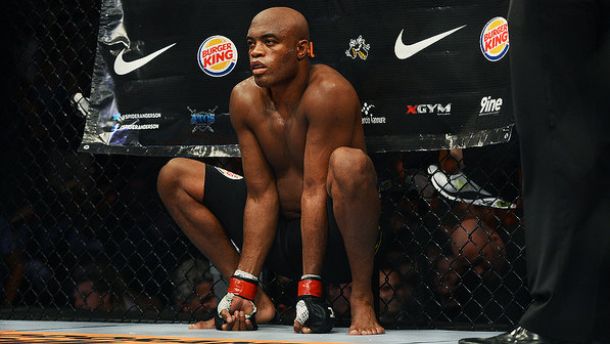 It was announced Sunday evening on the Brazilian website Veja that the UFC withheld the payment to Anderson Silva (34-6) after his victory at UFC 183. The article cited that the $600,000 fight purse, $200,000 win bonus and the money he made off of his pay-per-view "points," or percentage of PPV revenue, for the Jan. 31 pay-per-view fight was the payment in question. This morning the UFC quickly got on top of the claim stating that it was false primarily due to the fact they are unable to do such a thing. Many speculate it would have been due to the recent allegations of cheating by Silva and that he would not receive the funds until his February 17th temporary hearing but it seems as if none of that is true.
The UFC reached out to mmajunkie.com and issued a statement that coincides with the regulations that only the NAC has the right to do such a thing. Junkie posted the relevant information from the statement:
Before the start of a contest or exhibition, the promoter shall deliver to the Commission, checks, letters of credit or another method of payment that is approved by the Commission for distribution to the entitled persons. All methods of payment other than checks must be submitted to the Commission not later than 10 days before the date of the contest or exhibition.
Immediately after the contest or exhibition, the person designated by the Commission will release the payments to the entitled persons and will obtain their signatures on a list in which they acknowledge the payment.
Is it possible this is just another attempt to tarnish the name of the UFC by the brazilian media? There is no speculation that his country is behind Anderson's stance that he did not cheat. While most of the banter has been water cooler talk this is one of the first true claims that has popped up on the national radar. No matter the case the UFC is not at fault for this and should not be looked as as the scapegoat. They are a business and each choice they make love or hate for the greater good of the company as a whole. So while we may criticize their notice to allow these fighters to compete after testing positive or allow to remain on reality shows no one in America watches it is is all on them. You have to question the legitimacy of such bold claims as facts even state that there would be no way for the media outlet to review such information that soon. It begs the question then why do it, but it's not like a nation of fans haven't been fooled before.