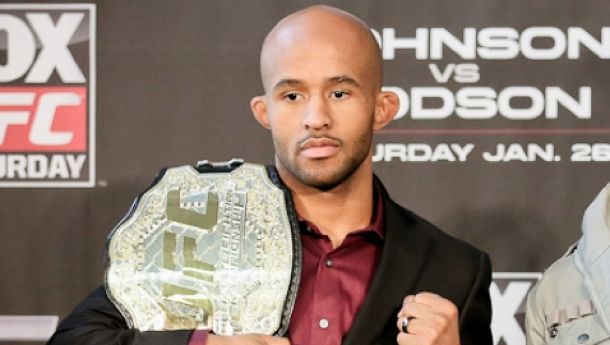 The rematch between TJ Dillashaw and Renan Barao now has a new co-main event with a flyweight title bout between 125 champion Demetrious "Mighty Mouse" Johnson (21-2-1) and up and coming prospect Kyoji Horiguchi (15-1). This replaces the previous matchup between welterweight contenders Rory MacDonald and Hector Lombard and will take place at the Bell Center in Montreal, Quebec on April 25th.
Horiguchi previously said that he did not feel he was ready for a title fight and should maybe take a few more. After the catastrophe of an overweight John Lineker knocking Ian Mccall out of title contention at UFC 183, many thought DJ would be on the shelf for some time. Guys like Kyoji and Henry Cuedo were being primed to face the flyweight champion but Cuedo's weight issues and Horiguchi star power kept those thoughts at bay.
It looks as if the UFC is ready to place him in the spotlight no matter the case and is ready this could prove to be a very entertaining fight. Experts will pick DJ as a clear favorite in this fight but maybe this could lead to the shake up the division needs.
Also announced to this card is TUF Nations champion, the hard-hitting Canadian Chad Laprise (10-0) who will be facing American Bryan Barberena (10-2). In Laprise's hometown he should get a roaring ovation as he was one of the more likable fighters from that season. Bryan is on a seven fight win streak and has recently notched wins over fighters like Joe Ellenberg. This should be a nice lightweight division scrap as both of the young fighters look to climb in the rankings.
Other bouts already confirmed for UFC 186 are former UFC light heavyweight champion Quinton "Rampage" Jackson (32-10) will make his return to the Octagon after a two year absence. He will face No.13 ranked Fabio Maldonado (22-7) in a battle at 205 pounds.
No.9 ranked Englishman Michael Bisping (26-7-0,) will face a tough test in finishing specialist and No.11 ranked C.B. Dolloway (16-7) in the middleweight division. Veteran power-puncher Yves Jabouin (20-9) fights undefeated Thomas Almeida (18-0) in a bantamweight fight. Patrick Côté (21-9) will meet knockout artist Joe Riggs (40-15) in a welterweight showdown. John Makdessi (12-3) will face 12-6 Abel Trujillo (12-6, 1 NC) in a lightweight bout.
In a battle of The Ultimate Fighter alums, judo black belt Olivier Aubin-Mercier (6-1) clashes with David Michaud (8-1) in a lightweight tilt. Welterweight Nordine Taleb (10-2) meets Brazil's Claudio Silva (11-1).
World champion boxer Jessica Rakoczy (1-4), originally from Hamilton, Ontario, makes her return to the Octagon after becoming The Ultimate Fighter runner-up in 2013. She will meet another striking specialist and fellow Canadian, Valerie Letourneau (6-3), in a strawweight bout. Both women have dropped a weight class and enter the newest division in the UFC. Look for more updates on this card soon!