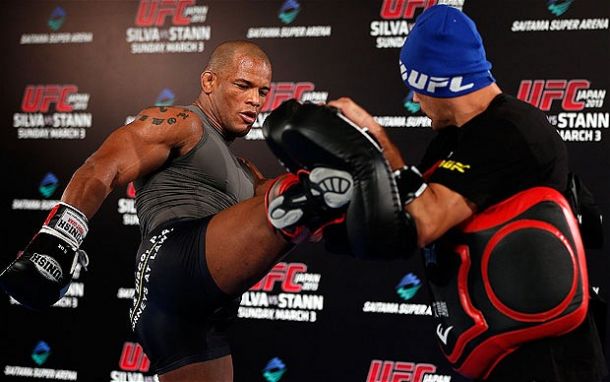 No matter how you may feel about him currently being inactive in the sport it looks as if GSP got it right all along. He himself wants to take no credit for something he knew long ago and had the fortitude to act upon. While it is no surprise in the world of combat sports that performance enhancers run rampant, these recent claims against some of the top fighter is the UFC is more than alarming.
On Monday evening, the UFC announced that Hector Lombard and Rory Macdonald would no longer co-main UFC 186. We were all waiting on an injury announcement sometime later this week but it looks as Lombard failed a test back in January which is what truly caused the fight to be scrapped. It was reported by MMAFighting.com that Hector tested positive for PED's for his bout against Josh Burkman at UFC 182.
The NAC received the results of the failed test on January 13th and four days later, the UFC announced the bout between Rory MacDonald and Hector Lombard. This once again creates more than one issue as we see the timeframe of the results coming into play. This is just another case in the long line of possible outcomes in the near future with out of competition testing becoming more prevalent in the sport.
On Monday's edition of the popular video podcast The MMA Hour, host Ariel Helwani spoke with UFC middleweight Tim Kennedy asking what percentage he thinks fighters are using and he stated a daunting over 65 percent. He even mentioned that he would have said more but feels most guys are really trying to go about it the right way. Lombard tested positive for desoxymethyltestosterone or DMT a designer anabolic steroid.
NSAC commissioner didn't have much to say on why the results came out so late after the fight with Burkman (January 3rd). He only mentioned that there was no inquiry for the results which is why they remained private until now. Not really what you want to hear during one of the toughest times the sport has been through.
As of now Macdonald is searching for a new opponent and this is just one more shot to the eye for a horrendous start to the month for the UFC. It seems as if every fight from this point out will be questioned until someone requests the results from the testing.
You would think it is in the best interest of the UFC to stay on top of this especially with their top guys now falling into the mix. It's a tough day to not only cover but to be a fan as things are really starting to emulate the issues and problems we see in the larger sports. The UFC has issued a statement on Hector Lombard as followed:
The UFC has been notified by the Nevada State Athletic Commission that UFC welterweight Hector Lombard has tested positive for a banned substance following his fight at UFC 182: Jones vs. Cormier on Jan. 3, 2015 in Las Vegas, Nev. The UFC has a strict, consistent policy against the use of any illegal and/or performance enhancing drugs, stimulants or masking agents by our athletes. As a result of his positive test, Lombard has been informed that he has violated the UFC Fighter Conduct Policy and Promotional Agreement with Zuffa, LLC. The UFC will cooperate with the commission on the matter and fully supports Lombard's right to a due process hearing before the commission. -UFC.com