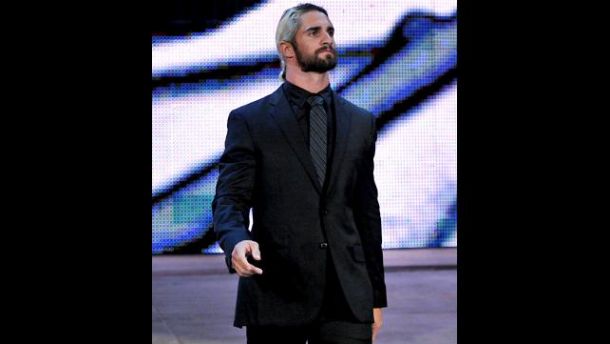 The weekend is here and by now everyone knows. This past Monday, moments before RAW went on the air, a photo was posted on Seth Rollins Instagram, Twitter and Facebook accounts of Zahra Scheiber. Nude photos of Seth Rollins were later posted on Rollins' fiancée, Leighla Schultz Twitter account. This has certainly been an unexpected order of events that has sure stirred a bit of controversy. What is the story behind all of this and what affect does this have on Seth Rollins?
There hasn't been anything reported as to why Scheiber's photo was posted on the media or why Schultz would leak the nudes of Rollins, but it's obvious what happened. Seth Rollins clearly cheated on his fiancée and this was her way of retaliating. Not sure how the photo of Scheiber was posted but rumors say that Shultz hacked into Rollins' Instagram account and posted them herself. Schultz also posted a few statuses on her Facebook wall that revealed Rollins wanting to leave her. There is still no clear story about what is going on in Rollins' personal love life.
This is a very racy issue that would normally have a lot of backlash. So far the WWE has requested that the wrestlers not discuss what is going on to the media and Rollins tweet an apology to all of his followers on Twitter about the photos that were posted without his consent. It is highly unlikely that Rollins will get a lot of heat from this because of how much he is being used right now in the WWE. The WWE can't let him go now when he is at the height of his career.
If someone is to get hurt during all of this, it might just be Scheiber. Although she had nothing to do with her photo being leaked, the WWE might not see it that way. Scheiber is only in developmental so it's not like she has a place in the company yet. If WWE had to fire someone, it would probably be her and that's not right, but she is expandable at this point.
Coincidently this scandal occurs after Triple H comments on Chyna's place in the WWE Hall of Fame. Triple H stated that it is naked photos that are keeping Chyna from getting inducted into the WWE Hall of Fame. If Chyna can't become a Hall of Famer, because of her now occupation, then Rollins could probably kiss his chances at being inducted into the Hall of Fame goodbye. That would be unlikely though because the WWE tends to play favorites.