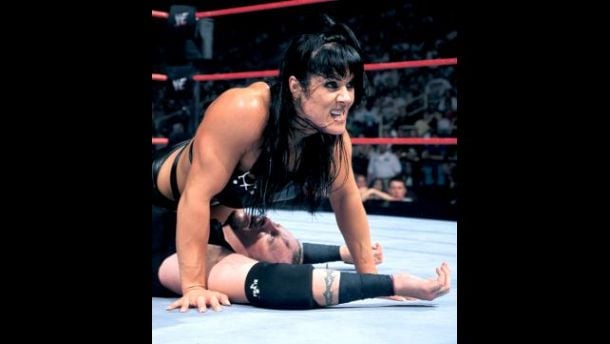 This past week Triple H appeared on the live Stone Cold Steve Austin Podcast and no question was off limits. When asked about the possibility of Chyna ever getting inducted into the WWE Hall of Fame, Triple H did not give a pleasing answer. WWE's COO stated that it was Chyna's porn career that is keeping her from an induction. This is one messed up reason to keep Chyna out of the Hall of Fame. Triple H said that when his kids search Chyna , he doesn't want them seeing her porn. This is an outrage and unfair to the woman who changed the view of women's wrestling!
Chyna is hands down the best female wrestler there ever was and will be. She walked into the business as a force to be reckon with, not some dainty flower like the Divas of today. She wrestled with the guys and entered the Royal Rumble, not once but twice. She's won the Intercontinental Championship, which is a man's title and she fought in the King of the Ring Tournament. What other WWE Diva can say they did all of that! Chyna isn't known as the Ninth Wonder of the World for nothing.
Of course this is WWE, a company that continues to not give credit where credit is due. Chyna is one of several wrestlers who have not received the recognition that they deserve; others include Lita, CM Punk and the list goes on. Chyna literally showed that inside the ring a woman can be just as strong as a man. WWE can't erase everything that Chyna has done for the company.
Yes Chyna is a porn star. Yes she may have made a few poor decisions with her life but she hasn't had the best life as it is, but that's her PERSONAL life. Chyna wasn't a porn star when she was working for the WWE, so whatever she does after leaving the company should not affect everything she accomplished when she was a wrestler. If Chyna isn't allowed to become a wrestler because she stood naked in front of a camera then all of those Divas who posed for Playboy, while working for the WWE, should not be allowed in the Hall of Fame. Shawn Michaels should not be in the Hall of Fame because after all, he did pose for Playgirl.