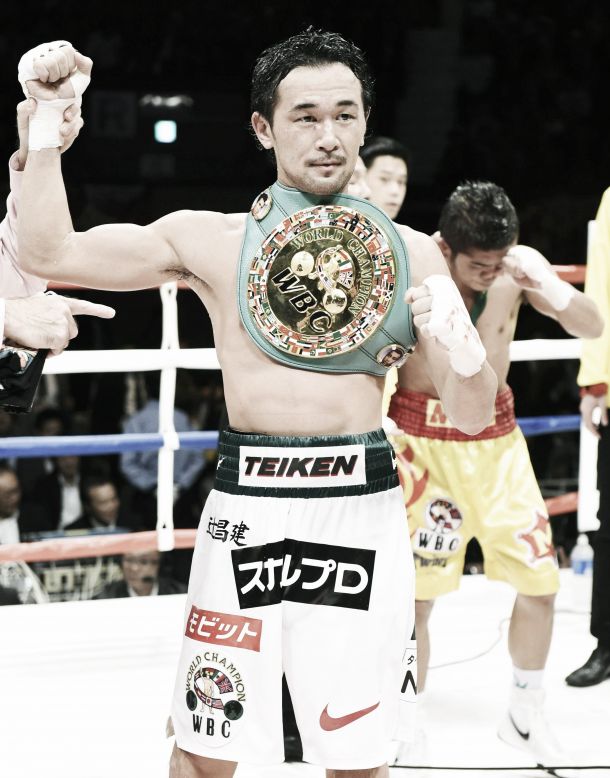 Shinsuke Yamanaka makes the eighth defence of his WBO World bantamweight title in Osaka, Japan on Thursday against Argentina's Diego Santillan.
Santillan (23-0-0) is making his first trip out of his native Argentina for this shot at Yamanaka's title and he comes into this fight as a huge underdog. Santillan has won all of his fights but Yamanaka is considerably better than any of his previous opponents, just ten of whom had winning records at time of fighting. The Argentine has fought just once in the last eighteen months, beating Diego Luis Pichardo Liriano (12-4-1) for the interim WBC Latino bantamweight title on points. His opponent has fought three times in that period.
Yamanaka (22-0-2) won his world title back in November 2011 with an eleventh round TKO win over Christian Esquivel. In his seven defences he has managed to win five by stoppage and two by decision. Yamanaka has never fought outside Japan and despite being a world champion for almost three and a half years he receives little publicity in the UK and USA so VAVEL caught up with http://www.asianboxing.info/'s Takahiro Onaga to find out more about him.
VAVEL - Shinsuke Yamanaka doesn't get much coverage in the UK so can you tell the fans over here a bit about his fighting style?
Takahiro Onaga - Yamanaka is a southpaw fighter with a very powerful left hand. He likes to fight as a counter puncher and although he's technically a solid all rounder he does seem to have fallen in love with his own power in recent fights. In many ways I would describe him as a Bantamweight Adonis Stevenson. He has intelligent movement and always keeps the left hand cocked looking for a chance to land a straight left though often ignores the jab and hook that would help him set them up.
V - He remains undefeated despite drawing twice early in his career but who do you believe was his toughest opponent?
TO - In Japan we don't protect our prospects like they do in the west and those draws act as a learning experience. I believe the toughest opponents for him so far have been Vic Darchinyan and Suriyan Sor Rungvisai. Darchinyan gave him trouble early in their bout whilst Suriyan gave him problems though out, and maybe even showed the gameplan to beat Yamanaka.
V - All twenty-four of his fights to date have took place in his home country. Do you believe he will ever fight outside Japan?
TO - I believe he might end his career with a fight or two outside of Japan. He has big TV backing here with NTV putting up the money for his fights and Teiken, the biggest promoter in Japan, working with him. If he wants to travel he can but it would only be for a big fight, maybe a Tomoki Kameda fight in the US for example. I can't see any other fight that has that level of appeal.
V - Yamanaka is widely regarded as the best fighter in the Bantamweight division but do you see anyone who could pose a threat to him?
TO - I think Tomoki Kameda could give him a very tough time due to styles, Zhanat Zhakiyanov probably has the power to hurt anyone in the division. I'm not sure if Iwasa poses a problem but that's a fight I'd like to see, their first one was very good.
V - Do you believe he could move up to Super Bantamweight? Surely a fight between him and Nonito Donaire would be huge in Asia?
TO - At todays weigh in he was 117.75lbs so I don't think he would struggle with Super Bantamweight. If he fights Donaire it's a big money fight, he has also spoken of a fight with Rigondeaux but I think both fights are going to be ones that we don't get. He could move up though and still pose a threat to anyone with his left hand. Donaire is well known in Japan and has done a lot of work for WOWOW TV so maybe a fight in Macau would be fun for both men to end their careers.
V - Japan are very strong at Bantamweight with Tomoki Kameda set for a unification fight with Jamie McDonnell next month. Do you believe Kameda will win that one?
TO - I believe Tomoki is in a completely different league to McDonnell. Though I think WBO are going to strip Tomoki before that fight. Right now Japan are incredibly strong at Bantamweight. Tomoki and Yamanaka are best known at the weight but they also have Ryosuke Iwasa, Ryo Akaho, Ryo Matsumoto and Shohei Omori, who won the Japanese title earlier this week.
V - Who do you believe is Asia's biggest up and coming prospect at the moment?
TO - Oh where do I start. For Japan Kosei Tanaka (105lbs) is probably going to win a world title in fight five, the Inoue brothers Naoya and Takuma are both amazing though Naoya is no longer a prospect, Shohei Omori and Ryo Matsumoto are both very good prospects at Bantamweight, Ken Shiro looks like a special fighter, Hinata Maruta will make his debut later this year and he is regarded very high as a superstar in the making, Kazuki Tanakais is very good and of course Ryota Murata. In the Philippines I like Albert Pagara, a lot, whilst Thailand have Kongputorn CP Freshmart. If asked to pick just one I would say Kosei Tanaka. He is going to be the next Naoaya.
VAVEL would like to thank Mr Onaga for his time and encourage all our readers to follow @AsianBoxing on Twitter and visit their website, http://www.asianboxing.info for all the latest news on Asian Boxing.