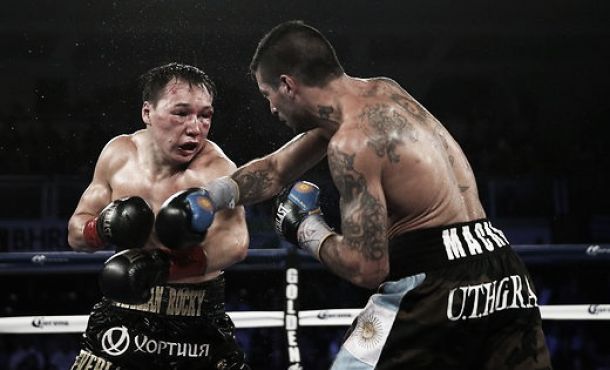 Argentina's Lucas Matthysse came through a fascinating encounter with Ruslan Provodnikov to earn a majority decision victory in Verona, New York.
Matthysse made a good start to the fight and was landing more combinations in comparison to Provodnikov who was having some success with single shots. The Argentinian was seemingly able to land right hands and upper cuts at will in the early rounds and opened a cut on Provodnikov's left eye in the opening seconds of round two.
Provodnikov finally found his range in the fourth and rocked his opponent with several right, left combinations. Matthysse landed some shots himself in what was an excellent round but the Russian had the better of the exchanges. Unfortunately for the Siberian Rocky he was unable to maintain it and was outworked in round five before being completely dominated in the sixth in what was arguably Matthysse's best round of the fight.
Round seven was a tight affair with little between the fighters but Matthysse showed his superior boxing skills in the eighth by getting in and landing before backing off out of the way of Provodnikov's shots.
In round nine Provodnikov came out like a different fighter and showed some great boxing skills and more movement than he did in any other round. He was unable to maintain it though with Matthysse outworking him in the tenth although Provodnikov did land a superb left that shook the Argentine.
Round eleven started slowly with little happening in the first minute until the referee asked the timekeeper to stop the clock while he got Matthysse's corner to cut some loose tape on his gloves and this allowed Provodnikov to really catch a second wind and dominate the remainder of the round, hurting Matthysse along the way. The Russian continued his onslaught in the twelfth but Matthysse held firm to ensure the final bell sounded to take the fight to the judges scorecards.
Judge Don Ackerman scored the fight a draw (114-114) but Judge Glenn Feldman and Judge John McKale both saw the fight as 115-113 in Matthysse's favour which handed the Argentine a majority decision win. In reality the judge's might have done Provodnikov a favour by judging it as close as they did but regardless Matthysse walked away with a deserving victory.
After the fight Matthysse suggested he would like a shot at the winner of Mayweather and Pacquaio but it is more likely that we will see either a rematch of this or Matthysse in a world title fight, possibly for one of the titles belonging to Lamont Peterson or Danny Garcia that look likely to be vacated in the coming months.
Also on the card in Verona there were wins for Eddie Gomez, Patrick Teixeira, Vitaliy Kopylenko, Lamont Roach Jr, Vitor Jones Freitas and Sidney McCow who will all look to continue their rise in their respective weight divisions and work towards future title shots.