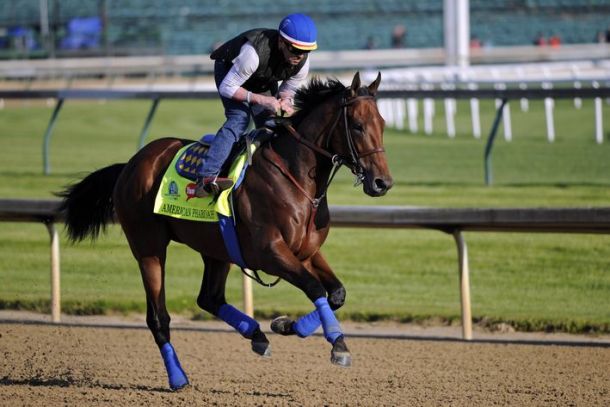 That's all from Churchill Downs for the day, and that's all for the coverage of the Kentucky Derby here on VAVEL. Last year, it was California Chrome. In 2015, American Pharoah is the winner of the Kentucky Derby. This is Aaron Durant saying so long!
6:49 pm ET: He had to work for it, but he got it done; Espinoza has won it twice in a row!
6:48 pm ET: "I feel like the luckiest Mexico [en] earth!" says Victor Espinoza.
6:47 pm ET: An exciting race that was. The pick of many, #18 American Pharoah has won the 2015 Kentucky Derby.
6:45 pm ET: Victor Espinoza has won the Kentucky Derby two years in a row!
6:44 pm ET: Coming to the finish! American Pharoah and jockey Victor Espinoza win the Kentucky Derby!
6:44 pm ET: The field rounds the far turn as Dortmund leads before Firing Line takes the lead as American Pharoah now takes over from the outside - coming to the line!
6:43 pm ET: Dortmund leads from Firing Line and Carpe Diem.
6:43 pm ET: The race is on! They're off!
The horses are to their posts. Into the gates they go. Just moments from the start!
Pre-race events have concluded and the time for the horses to enter the gates nears.
170,513 have turned out at Churchill Downs - a record crowd. All four major U.S. sports are also in the headlines today with the NFL draft, NHL and NBA playoffs, as well as the MLB regular season. Of course, the Pacquiao and Mayweather fight is tonight as well. A massive day in the sports word.
The Kentucky Derby is just moments away!
Ocho Ocho Ocho leads Carpe Diem, Materiality, Tencendur, Danzig Moon, and the rest of them onto their first steps of the track.
The horses are on the track. The jockeys are on their horses.
Riders up! Ocho Ocho Ocho is first out of the paddock.
The jockeys are making their way through the crowd and down to the paddock. The 141st Kentucky Derby is coming up!
With the race just minutes away, American Pharoah's odds remain at 3-1 with Dortmund just behind at 4-1.
The walkover has begun as the horses and horse-men are walking to the paddock before this evening's race gets underway. So much anticipation in this moment.
The National Anthem has been sang! Kentucky Derby 2015, America's grandest race is just under an hour and a half away.
The $500,000 Woodford Reserve Turf Classic has been run.
Here is a full list of Kentucky Derby 2015 today's odds.

Dortmund has second best odds with 4-1.
American Pharoah has the best odds going in with 3-1.
The Derby will be back soon.
We got Tom Brady and Rob Gronkowski in the house.

Private Zone with a strong performance, really powerful horse and he showed it, the winner of the Churchill Downs Stakes. 2nd: Nates Mineshaft. 3rd: Pants On Fire. 4th: Gentlemen's Bet.
Private Zone PULLS away to win, Bayern ends up in LAST!
Nates Mineshaft on the outside, Private Zone and Nates Mineshaft neck and neck!
AND THEY'RE OFF. Private Zone to the early lead, Bayern in third.
Martin Garcia is jockeying Bayern and Dortmund today. No, these are not the Bundesliga soccer giants. These are American Thoroughbred racehorses, ladies and gents.
This is a 6 horse race. Horses are nearing their posts.
Churchill Down Stakes about to begin. Bayern, the famous winner of this past year's Breeders Cup Classic, is the immense favorite. Private Zone is a very fast horse, and Pants On Fire is up there as well.
Julian Leparoux is a winner with Tepin. Will the jockey race well with Danzig Moon in the Derby later on this afternoon? He seems confident. However, Danzig Moon only has 1 victory in 5 starts. 30/1 odds right now.
WINNER: Tepin. Coffee Clique 2nd. Sandiva in 3rd. Tepin led wire to wire, a bit of a shocker. Hardly much of a challenge whatsoever.
Maid on a Mission in striking position. Coffee Clique had a poor start. Tepin still up front.
Tepin with early lead. Kiss Moon on the outside, past the first turn.
Horses in their position.
Lady Lara, Coffee Clique, and Sandiva are all favorites for the Churchill Distaff Mile. Water Hole, Tepin, and I'm Already Sexy are potential contenders as well.
Churchill Distaff Mile about to begin, 2 minutes away.
Josh Groban, who is signing the National Anthem this evening, has bet $8 on Ocho Ocho Ocho, whose odds are very slim, the smallest horse in the field.
"(American Pharoah) just floats out there," said Baffert, who has won three Kentucky Derbys, the latest in 2002. "The other horse (Dortmund) runs hard all the time. American Pharoah has not been tested. If both of them are on their game (Saturday), that will be good. But you have to see who else might be on their game. You know, I believe in fate. Something really good is about to happen or else it will very disappointing."
Owners and trainers of American Pharoah are very confident, the most hyped horse in this race. Bob Baffert's horse is the one to beat, and his performance in the Arkansas Derby really proved his worth.
Some more massive news is that Ocho Ocho Ocho has not looked sound when practicing yesterday and this morning before Kentucky Derby 2015. Animal rights activists have been concerned about his health, and the horse has been examined thoroughly. It is still up in the air whether or not Ocho Ocho Ocho will be allowed to Kentucky Derby 2015 race today.
Update: International Star has just been scratched from the Kentucky Derby 2015 due to a cracked hoof. International Star had 20/1 odds to win the race. "I am sad to announce that International Star has a quarter crack in his hoof and has been scratched from the Kentucky Derby," the farm said through social media.
As the race draws nearer, more analysis and probability notes will be added on this Kentucky Derby Live. For now, though, notes about the race and the odds and a summary for each horse in the race are directly below.
The Kentucky Derby is certain to draw another massive crowd. With a forecast of mostly sunny skies and a high temperature of 78 degrees, the track could surpass the 165,307 record for the 2013 Derby.
Notes about the race: Purse: $2 million guaranteed minimum . Distance: 1 & 1/4 miles . Track record: 1:59 2/5 (Secretariat, 1973) . Weight: 126 pounds . Post time: 6:24 pm Eastern
The field of 19 horses are listed below in post position, with each of their odds and a summary included.
Kentucky Derby 20151. Ocho Ocho Ocho, 50-1: As the smallest horse in the field for this year's Derby, this horse finished third behind Carpe Diem and Danzig Moon in Blue Grass. Don't expect a contender out of this horse.
Kentucky Derby 2015 2. Carpe Diem, 8-1: An accomplished horse, but he has a terrible post to overcome to have a shot at a great finish. In 1978, Affirmed was the last post to win from where he'll be starting today. This horse does deserve to be regarded as a topic of conversation, though.
Kentucky Derby 2015 3. Materiality, 12-1: Would be the first Derby winner without a race under his belt since Apollo in 1882. This horse is lightly raced, having not raced at all last year.
Follow Horse Racing live Results
Kentucky Derby 2015 4. Tencendur, 30-1: Runner-up at The Wood Memorial, this horse has a big task ahead of it in this evening's race. He struggles with switching leads and has not been consistent.
Kentucky Derby 2015 5. Danzig Moon, 30-1: This horse's owner, John Oxley, won the Kentucky Derby in 2001 with the hore Monarchos. The difference this time around? Danzig Moon is no Monarchos. He has a single win in five starts.
Kentucky Derby 2015 6. Mubtaahij, 20-1: Irish-bred, Dubai-owned, South African trained, and ridden by a Frenchman - what an interesting winner's circle that would be. He could be the first horse from Dubai to win the Kentucky Derby.
Kentucky Derby 2015 7. El Kabeir (Scratched)
Kentucky Derby 2015 8. Dortmund, 3-1: This horse is 6 for 6. He looks like a man in a field of boys compared to his competition, and he is able to lead the race or pounce to get there. A serious contender.
Kentucky Derby 2015 9. Bolo, 30-1: Not expected to be a true factor in today's race. He has won two races, but they were both on turf.
Kentucky Derby 2015 10. Firing Line, 12-1: Winner of the Sunland Derby, this horse has been training nonstop. He's lost to Dortmund twice by less than a head.
Kentucky Derby 2015 11. Stanford (Scratched)
Kentucky Derby 2015 12. International Star, 20-1: This horse has won three races in a row. He did miss training on Thursday, which is something to be worried about (although his trainer said everything was fine).
Kentucky Derby 2015 13. Itsaknockout, 30-1: The most buzz about this horse leading up to this evening's race was the Mayweather-Pacquiao sponsorship. Minus finishing fourth on a tiring surface at the Florida Derby, he has finished in the money in three of four races.
Kentucky Derby 2015 14. Keen Ice, 50-1: Nothing makes him stand out in the field. He has won a single race in the month of September, and International Star outclassed him in two races in Louisiana.
Kentucky Derby 2015 15. Frosted, 15-1: As a question mark of sorts, this horse won the Wood Memorial - by two lengths - after a throat procedure.
Kentucky Derby 2015 16. War Story, 50-1: He's been beaten three times by International Star; not a contender here.
Kentucky Derby 2015 17. Mr. Z, 50-1: This horse has just a single win in 12 starts.
Kentucky Derby 2015 18. American Pharoah, 5-2: Nobody is doubting that this horse and Dortmund are the best in the running this year, but both of them don't always win.
Kentucky Derby 2015 19. Upstart, 15-1: This horse has never run a bad race, but he has missed some training due to illness. Having posted a career-best 108 Beyer in his second place finish at the Florida Derby, this New York-bred colt has trained well and shows an ability to close out the race.
Kentucky Derby 2015 20. Far Right, 30-1: This horse is not on the level of the more major contenders.
Kentucky Derby 2015 21. Frammento, 50-1: This horse drew in when Stanford scratched. Extremely overmatched in this race, this is not the horse that will see trainer Nick Zito return to Triple Crown prominence.
Each horse running in this evening's race is outlined above with a short summary and its odds (beginning above, in reverse order).
Post time is at 6:24 pm ET, but above you will find analysis, predictions, and more as the race draws near. To ensure you don't miss live coverage of the race, be sure to return here at post time!
Welcome to live coverage of the 2015 Kentucky Derby from Churchill Downs! My name is Aaron Durant and I am excited to be bringing you coverage of the most renowned annual horserace there is - right here on VAVEL USA.